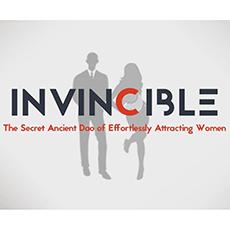 DSR Editor Rating
Go to Invincible
Editor Review
33 of 36 people found the following review helpful
"Home Run. Practical and Innovative Program to Transform Your State & Confidence"
Ease of Implementation
8.0
Packaging/ Customer Service
10.0
The Good
Best inner game & confidence course to date. Takes big strides to making a difficult area more practical and easily implemented.
The Bad
Requires considerable time and effort (actually doing all the exercises) to get the end results. Relatively expensive price point compared to the majority of courses.
The Bottom Line
If you can afford it, this is the top course in the inner game & confidence area. Excels in giving you clear practical advice and exercises to implement the work. Highly recommended if you're serious about changing your dating life permanently.
Relevant to pretty much everyone - one caveat: Men who understand or are openminded as to the importance of inner game and state, and ready to put their faith in a process to get them there will get the most value from this course.
FULL DETAILED REVIEW
Invincible is a course launched in 2015 by
David Tian
, which aims to resolve your dating and relationship problems across the board by working on your state and confidence. What we call at DSR, the skillset of "
Inner Game & Confidence
".
There are a number of programs that have delivered "state control" based advice to help you take control of your dating life. Historically, it has been one of the hardest areas to teach - because of how intangible it is.
Think about this - have you ever heard a woman say "I like men that are confident" or "confidence is the most important in a guy"? Of course you have. And you've heard it throughout the press all the time - you even see it portrayed in movies. We have known for a long time, from science, that confidence is key to attraction and the quality of relationships - in particular for men.
But practical advice in how to take someone from a place of low self esteem, insecurity, neediness and low or no confidence to where he needs to be - highly confidence, secure in himself and non-needy - has been few and far between. Basically taking you from a mind state of low confidence, to a mind state of confidence consistently.
The best program to date was
Hypnotica's The Collection of Confidence
, and while being an excellent program, was originally created over 10 years ago.
So a program taking advantage of many of the new science and discoveries and applying this in the form of practical and actionable information has been a long time coming. It's finally here - in the form of David's Invincible program. While not perfect, it is a huge upgrade on what has existed to date.
Read on to understand why...
Do You Understand Why Confidence or Inner Game Is Important?
This course tackles why you need to spend your time and effort working - seriously - on your inner game, from a clear framework. Before jumping into exercises and more practical material, David ensures to cover why it's worth your time, and to explain how and where it sabotages or interferes with your current efforts.
I know from experience that this is an essential step. Part of the issue is that changing your mind - reprograming it - isn't easy. It takes effort, and following and working through exercises - properly. Something that sadly, most students just don't do. They skip exercises, not engaging with them properly, and thus don't get the results they seek.
So David's clear breakdown at each step of his process as to why you need to follow through - is essential. He's very thorough with this and it's all relatable, with many examples, metaphors and analogies that anyone should be able to relate to.
Broad Set of Practical Mind Reprogramming Tools
The biggest focus of the program are two areas of practical information:
Techniques and practical tips to get you into the right state of mind and to control your state.
Mind reprogramming exercises to do at home
In total there are over 32 hours of video and around 5 hours of audio. It's a lot of material to get through - but here's the reality - changing your mind and it's thought patterns and behavior is not just a click away. So the mass of material is warranted, and there isn't a lot of fluff or superfluous information in the course.
There are areas that are repeated here and there - however, I personally feel from experience (my own personal, my peer group, and students over the years) that this is necessary to get the results.
David has drawn from his own experiences and journey basically combining every tool he found and used to get himself to where he is today. You may recognize some of these tools, if you've been actively working on this area previously - David draws from the work of Antony Robbins, and a lot of the popular and researched science that has been published over the last 10 years.
This area of the program is where the money is - it's where this course sets itself apart from everything before it. At DSR we've known for a long time that "ease of implementation" is the biggest weakness of courses and programs, because it's the hardest part of a coach's or expert's job. This course has taken the hardest skillset area, inner game and confidence, and made huge strides of progress in making it easier for you to actually implement the advice and get it to work for you.
The Benefits of Strong Course Delivery
David is a strong speaker and delivers his content well - with power and emotion.
This isn't something you typically think about when you buy a course or sign up to a program - but it is an essential ingredient. We've all heard that the majority of communication is based on non verbals and tonality. What we hear when we watch someone, and importantly how it impacts us - whether we trust it and act upon it, is defined more by their presence - than what they say.
So if you're interesting in getting the results from a course - delivery is key. And David is one of the strongest and grown into one of the most powerful speakers in this space. David is upping the standard in this area.
More importantly for this course specifically - and for confidence specifically - he exemplifies the "State" and "State Control" that the course is designed to give you. So you can learn not just from the course, but from watching him - seeing the connection of the course with him by taking him as a good solid example of what it will ultimately look like.
(Study Tip: Consider how free he is in what he says, his emotions and his responses to students).
Some Content More Applicable to Culturally Asian Audiences
David is a Canadian, but he has been based in Singapore for the best part of the last decade. As a result, some of the content he includes in this course is specifically responding to members of an audience in his seminars in Singapore.
For someone based in the US, or elsewhere, some of this will be less relevant to your situation - not something you have to be concerned with as much. There are specific cultural traits in Asia that influence inner game and confidence, and behaviors more so than elsewhere. David points these out, and references them at times during the course.
The downside for someone outside of Asia: Primarily these parts, probably 5% of the course total, may not be as relevant to you and your mindsets. However, I'd suggest paying attention - and pondering how much these points are relevant to you. There are some people, regardless of culture, that these will still be highly relevant too. For the majority though, the rest of the course will be what you should focus on.
Well Researched, Balanced and To the Point
David is a PhD, and formerly held a position at a University. So he has a strong academic background, which comes through in his presentations. He's obviously researched well, and broadly the topic. He references many further sources of information for you to study - the important books or footage you can use to go back to the science if you find that valuable. (Note: If you want to master this subject you should take advantage - and put time into studying these sources, so that you can see where David's program came from and it's based upon)
The program also has a couple of other good points - in terms of his approach to it - he balances out use of different approaches, based on his experience of trying things out with student, so you aren't just given one way ignoring other tools. It's practical.
Additionally, David doesn't pull punches when he's talking. In fact it's more the opposite. He's quite happy to point out flaws and issues with anything he talks about, and challenge you to tear down previous learnings where he doesn't think they are beneficial. It's not a soft padded approach here - he does challenge you. And this may be uncomfortable for you, or get a slightly negative reaction from you at first (as you try to defend your beliefs) - but it's actually necessary.
Tackling Some the Main Issues with Pickup Artist Community Advice
One topic that comes up at several points in the program are some of the issues that guys are dealing with if they have studied a lot of pickup artist originated material, or they are participating in the pickup artist community (or are friends with a lot of pickup artists).
You'll see that some of the men in his seminars are of this nature - and he spends time tearing down some of the things they have learned, that he sees are going to hold them back in either the short term or the long term. This is very valuable. I see many many guys who lack fulfillment, satisfaction and stagnate due to these issues. There is something about pickup artistry that draws men in - which would be fine if men didn't also take on some of its negative values, and long term self sabotaging beliefs (where it comes to actually feeling better about your life).
Now, if you are a hardcore fan of pickup artistry, it goes to say you are going to have a rough time and get shaken up here. You may not be ready for that. I'll tell you that it's necessary - I went through it 8 years ago, I've seen many of my peers who now consider themselves ex-pickup artists (including David) go through this process. If you ultimately want happiness - rather than serving your sexual need to hook up - or you are interested in relationships of any form, it's a process you will have to go through.
If you haven't studied pickup artistry or been part of its community, you'll learn how to avoid these types of ideals or ideas and approaches to your whole dating life - an important mine to avoid.
Targeting Specific Confidence Failure Points
Confidence can be situational. It's often situational.
For example, you may be able to converse and attract women easily. However when it comes to making a move on them (kissing or taking them home) you flounder, are insecure, hesitate and blow it. Those are different situations.
I was happy to see David's program breaking out in some of its modules the different situations and providing tools to use in those situations. That's an innovation I haven't seen anywhere else - historically, the same tool has been said to help you in all areas. But it doesn't work like that in my experience.
So this is an area of practical innovation, that will be very effective. It's more specific and targeted to your individual needs.
How Does the Program Content Compare with the Marketing?
The main promise made by the marketing is that you will be put through an 8 step process that will put your state within your control. David calls this the "Dao State".
I don't think you should focus too much on that name (originating from Chinese culture). David's background was in part in study of Asian Philosophies, Culture and so on. So he draws from some of his material, and ideas from there. It's part of how he looks at the world - through an additional lens, many of you won't have. (I have some of this lens myself from having lived in Asia a decade myself - and it broadened and deepened my understanding of women. You can listen to David and I talking about this in
this interview
).
The 'dating promise' behind the program is that you will thus be able to attract higher quality of women, without so much hard work, and that the women will love you, for you - and stay with you. Rather than leave or not be interested enough to date you longer than 3 months.
It is a fact that virtually all men need both more State Control, and a better and stronger Natural State baseline in order to get all these things. And his program, as previously mentioned, does a good job at giving you this.
The marketing, as is typical, makes it sound easier than it really is. It's true that once you nail your state down it becomes effortless. The hard part is getting there. And that is an investment of effort and time into David's program in this case. Also - it's perseverance. Since change of this type is uncomfortable - and when you get uncomfortable you tend to ponder dropping it - the key is to just push through that, keep to the program, and ignore it.
That's my only real criticism of the marketing - otherwise the claims of results are reasonable. Put the time and effort in, and you'll get there.
Who is this Program a Good Fit For? Not a Good Fit For?
This course is relevant to you if you understand the value of state already, but don't know how to practically access and use it.
Or if you are open minded enough to just have faith in it - and work through this course. David supports this process by providing a lot of the "WHY it Works" information.
Having established that, it is also probably that you are a better fit for this course if you tend to like to study, understand how things work, have a high educated background and so on - simply due to the fact that David presents a lot of research and references in his courses - it's aimed at people who want to get deeper than just a superficial understanding.
Course Availability, Cost and Other Items
David has chosen not to leave this program open to sign up to all the time. He restricts intakes to a few periods of each year.
So if you do decide to buy the course, and then are confronted with a "Wait List" option only - it will be because it's currently closed. David notifies people who put themselves on the wait list whenever the next "Open Phase" starts for the program sign-ups.
This cost of this course, at between $497 - $597 is also higher than many of the others in its category. There's certainly a lot of content provided to back up a high price point (Over 32 hours of video) - however whether the price point is a good fit for you or not, will depend on your personal situation.
The program is delivered within Aura University's (David's company's) programs, so has access to his private member's forums also.
The number of men in the forums are not many at this point, in part due to David's premium pricing of his courses. However, when you dig into the forums - the people who are there, are actively engaged with the programs and that's a positive sign.
Also David himself posts responses to queries etc. in the forums. You can see he takes a hands on approach to his programs - which is relatively unusual for online courses.
The Bottomline
This course is without a doubt the best in this category. It excels in providing you some clear practical advice and exercises to implement the work. To change your inner game and confidence, and put it where it needs to be for long term fulfillment and sustainable results in this area.
Here's what I think you need to consider before buying this:
Will you actually follow the exercises? You will feel uncomfortable, need to put your energy into them, and you'll need to put faith in the process - as you more than likely won't fully understand all these exercises.
What are your current goals? Are you just looking to get laid a lot? Or is there something more you are looking for - relationships, inner fulfillment, satisfaction, happiness? From experience, if you are more focused on your short term need for sex - you will be better served by taking the shorter route by learning some conversation and attraction skills. I know that it's not what you'll need in the long term, but I also know that I can't persuade most men about that until they've been through the process, had the experiences, and learnt about it for themselves.
Help other users find the most helpful reviews
Was this review helpful to you?
Product Information
PROGRAM AVAILABILITY NOTE: Sometimes Invincible is closed / filled. So you may find that only a waitlist is available currently. In this case, you can get on the program early notification reopening list via providing your email address.
Invincible is offered as "The Secret Ancient Dao of Effortlessly Attracting Women". This new program by David Tian reveals how to be your natural self and attract the woman of your dreams, as well as attracting others into your social circle.
This eight-week online video course is designed to give you control over your dating and social interactions, become your best self, and give you total emotional self-control. It is intended to help you:
- Get a woman to actively pursue you
- Trigger a woman's romantic thoughts
- Avoid wasting time cold approaching women
- Appeal to the deepest part of a woman's emotional core
- Make a woman feel a strong, immediate attraction to you
- Naturally and effortless succeed with women and relationships
The program also shows you how to become sexually confident. It uses The Dao State, the ancient attraction code of ancient kings and emperors, to show you how to attract an abundance of women.
Invincible is comprised of 4 modules:
- Module 1: The Dao State of Power
- Module 2: The Dao State of Attraction
- Module 3: The Dao State of Value
- Module 4: The Dao State of Seduction
- Module 5: The Dao State of Freedom
- Module 6: The Dao State Escalation
- Module 7: The Dao State of Control
- Module 8: The Dao State of Mastery
- Module 9: The Dao State of Victory
The program covers what is taught in David Tian's "The Desire System", in addition to 35+ hours of online video and audio, slides, worksheets, and built-in accountability.
Includes:
- Lifetime access
- Bonus bootcamp videos
- Access to Invincible private community
---
Skillsets:
Inner Game & Confidence
Experience Level(s):
Beginner
Learning Format:
Online Access
Release Date:
March 01, 2016
Price:
$497.00 - $597.00
(depending on product format or options purchased)
---
Feedback
If you have a question or problem, ask us:
Table of Contents/ List of Topics Covered:
Module One: The Dao State of Power
- How to be attractive just by being who you naturally are
- What all women want in a man and how you can have it
- Internalizing what you learn so you can effortlessly do it all, without thinking
- How to make your life amazing, attract women, and bring you happiness and fulfillment
- The secret science and ancient philosophy behind The Dao State, Flow, and Effortless Charisma

Module Two: The Dao State of Attraction
- Luring women into chasing you
- Creating an aura of desirability
- Implanting your ideas into a woman's mind
- Creating an attractive presence so a woman is drawn to you
- Using vulnerability strategically so her guard is not activated
- How to incite desire in a woman to get her obsessed with you

Module Three: The Dao State of Value
- How to be more sexually attractive at a biochemical level
- The two fundamental fears driving every man and woman
- Using body language to control your emotions, as well as hers
- Using the Power of Reflection to rewire your brain for happiness and success with women
- Why most people have no control over their emotions or success, and avoiding this mistake
- Changing unconscious, basic beliefs sabotaging your happiness and attractiveness to women

Module Four: The Dao State of Seduction
- How to make a woman pursue you
- How to make her dependent on, if you want
- How to keep the relationship strong and passionate
- How to get a woman to fantasize about you so she can't resist you
- Getting women to trust you, feel comfortable with you, and believe your sincerity

Module Five: The Dao State of Freedom
- Breaking free of limiting beliefs preventing you from success with women
- A method for developing powerful confidence that women can feel from you
- Using the mind to fix the inner issues preventing ultimate success with women
- How to eliminate "internal B.S." and instill mature self-confidence that quality women look for
- The hidden link between your upbringing and the fears preventing you from attracting women

Module 6: The Dao State of Escalation
- How to think and get laid
- Developing Flow and making it your default state of being
- The best ways to approach women and initiate conversations
- How to control and direct a conversation where you want it to go
- Develop the ability to make conversations last as long as you want

Module 7: The Dao State of Control
- How to get women to pursue you
- A powerful technique to become your most attractive self
- What women really want from a man and how to be their ideal man
- Using body language and voice tone to turn women on in a powerful way
- The 3-part model for knowing exactly what to do in every situation with women
- Discover your deepest motivations and inspiration to live a fulfilling and attractive life to women

Module 8: The Dao State of Mastery
- How to touch a women so she welcomes and enjoys it
- Five simple steps for giving a woman the date of her dreams
- How to project a sexual vibe so women will want to sleep with you
- A script for what to say to a woman over the phone so she's excited to meet you
- How to actualize yourself as a better human being in order to attract a "Total 10"
- How to easily and naturally show a woman that you're a leader through your touch

Module 9: The Dao State of Victory
- How to make any conversation with a woman fun and sexy
- Using humor to make a woman chase you in a way that she enjoys
- Convincing even the most intimidating women to chase and prove themselves to you
- A mental exercise that integrates the Invincible program towards guaranteeing you success
---
What You Get:
- 35 hours of video classes
- Private Invincible forum
- FAQ worksheets and handouts
---
Guarantee / Terms:
60 Day Money Back Guarantee

Payment options:
- Three monthly payments of $199
- One payment of $497
User Reviews of Invincible
9.3 out of 10 stars
Share your thoughts with other users:

Most Helpful User Reviews
View all user reviews
View Other Home Study Courses (Books, DVDs, CDs, MP3/ Video)