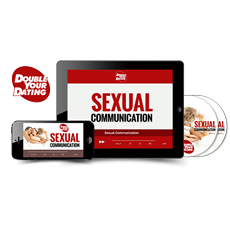 DSR Editor Rating
No Editor Review Available Yet.
Go to Sexual Communication
Product Information
"Sexual Communication" is a guide to understanding and using the language of attraction to meet women.
---
Skillsets:
Meeting Women
Attracting Women
Release Date:
January 01, 2004
---
Feedback
If you have a question or problem, ask us:
Table of Contents/ List of Topics Covered:
- The four separate components of Sexual Communication, and how they fit and work together
- The history and evolution of why women feel attraction for some men
- How to get in touch with the "masculine" side of your own personality
- How to always see when a woman is testing you or trying to control you
- How to flirt with women and communicate with them
- How to start and keep a conversation going with a woman you're interested in
- The qualities of a sexually attractive man
- A step-by-step process to take things with a woman, from hand holding to the bedroom and beyond
- A way to approach a group of women in a nightclub
- A way to use your voice to communicate sexual power and confidence
---
What You Get:
- 6 disks of double-sided Audio CDs and Video DVDs
- Workbook of teaching slides and aides
- Detailed track listing for quick access
- 3-ring binder to hold all of your discs, workbook, and other materials
- An "Interviews With Dating Gurus" Bonus CD
---
Guarantee / Terms:
30-day trial. You will be charged after 30 days from date of purchase.
User Reviews of Sexual Communication
Most Helpful User Reviews
5 of 7 people found the following review helpful
"I would Not Recommend it."
Ease of Implementation
3.0
Packaging/ Customer Service
1.0
Reviewed by
PhilosopherKing
April 08, 2006
I think DavidD went through a couple of phases: When he was new on the scene and trying to prove himself he was putting out good material. But as he warned in his Mastery series, success was his own undoing. After that he was just about rehashing old material for a new program to make some more cash, coupled with increasingly lame marketing.
Unfortunately Sexual Communications comes in his "riding on my laurels" phase. I would not recommend it. Just get Attraction Isn't a Choice. Then you'll have 80% of what DavidD teaches. If you are really itching for the remaining 20% then shell out the big bucks for Mastery and Advanced.
Now, I think he had the chance to develop even after Mastery:
He has good ideas, but he never really seems to get much further than C&F as being the only tool for dealing with the seduction game.
Fundamentally I am not sure that this stuff is a big deal to him (anymore) and I wonder if he even likes women that much. I detect some residual bitterness when he speaks.
Now it seems to be just business for him. I don't feel there is much passion in there. Very anti-seductive.
Help other users find the most helpful reviews
Was this review helpful to you?
3 of 6 people found the following review helpful
"Nearly Worthless"
Ease of Implementation
4.0
Packaging/ Customer Service
4.0
Reviewed by
StrykerTex
September 02, 2006
Rating: 4/10. I found this series to be nearly worthless. I would've sent it back for a refund, but I waited too long.
Help other users find the most helpful reviews
Was this review helpful to you?
View Other Home Study Courses (Books, DVDs, CDs, MP3/ Video)