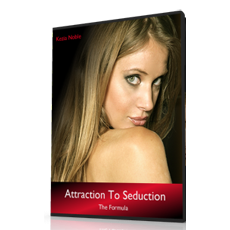 DSR Editor Rating
No Editor Review Available Yet.
Go to Attraction To Seduction
Product Information
Kezia Noble created "Attraction To Seduction" to give men the techniques and methods they need to seduce beautiful women.
The material is aimed at providing game change understanding of the female mind and what to do in situations with a woman that a man wants to sleep with.
The areas covered:
- Get out of the friend zone
- Overcoming doubts
- Lust attraction techniques
- The insight in what women want
- Ways to turn a woman on
- Understanding the female mind
- How to seduce women
- Turning negative reactions into positive results
- Exposing the nonsense women say to men
- Methods to convince a woman to sleep with you
---
Skillsets:
Attracting Women
Experience Level(s):
Beginner
Learning Format:
DVD (Video)
Release Date:
June 01, 2013
---
Feedback
If you have a question or problem, ask us:
Table of Contents/ List of Topics Covered:
Section 1
- Approaching women with confidence
- How to be sexually direct
- Dealing with a woman's reactions
- Go from a negative situation to a positive one
- The failing myths that pick up artists teach
- Understanding the female mind
- A non-creepy approach to seducing women
- Conveying strong confidence and high value

Section 2
- Giving women compliments
- Double-sided confidence and how to use it
- The non-verbal ability to seduce women
- The dipping technique to arouse a woman
- How to deal with a woman's reactions
- How to gaze seductively

Section 3
- Flirting techniques
- Touching a woman
- Why nice guys finish last
- How "bad boys" appear irresistible
- Reading a woman's signals and how to react
- Understanding disinterest and interest indicators
- How a great man becomes more irresistible
- Discovering what she really wants in bed
- The words a woman wants to hear in bed, and the x-rated talk to use
- What to do when she resist or suddenly changes her mind
- Seducing women while maintaining your principles
---
What You Get:
DVD set or online access
---
Guarantee / Terms:
NA
User Reviews of Attraction To Seduction
Most Helpful User Reviews
12 of 14 people found the following review helpful
"very average product from average teachers"
Ease of Implementation
4.0
Packaging/ Customer Service
2.0
Reviewed by
masterofdolls
May 27, 2014


alot of kezia's material gets bashed because her teachings are not very clear, being a woman, she can't effectively teach men how to seduce them...

as the old saying goes, you don't ask a fish how to catch fish, you ask a fisherman, or something like that.

this dvd is poorly put together. and kezia comes across as quite nervous when she's attempting to get sexual on screen, and because of this, her message doesnt come across very clear. she will attempt to talk seductive to the camera, but because of her lack of confidence in doing it, she will suddenly stop and expect you to accept that as a full demonstration.

she teaches triangle gazing and the dipping technique and since both are already found on her book, there's little point in them being here as she doesnt explain it in the best possible way.
this dvd does feature her freeze-out game when you get a girl back to your house, that's quite good. she also teaches and explains why guys come across as creepy. she explains that there is no such thing as a creepy guy, but then why later bash guys for being creepy in nightclubs etc?

the dvd is half arsed, and is not worth the money she's asking. and putting her image on the cover of every product is very cheap and tacky.
the demos she tries to show with her sister are very swift and poor, if this was properly thought out and planned with proper demos it would be good.

one thing i do like here is that she does teach a bit of MODE ONE, that i am a big fan of, and thats being sexually direct.


Help other users find the most helpful reviews
Was this review helpful to you?
2 of 3 people found the following review helpful
"PUA from a women's perspective but nothing revolutionary"
Ease of Implementation
7.0
Reviewed by
Insight
July 08, 2016
I understand this review is probably a bit long. However, I feel this is necessary when reviewing product; It gives you the necessary information to make an informed decision.

Most PUA products all talk about the same thing. You eventually figure out that it is just a rehashing of what you have already read but in a different way. Hint: It all comes down to confidence in yourself. Essentially, this is a product that talks about it from an attractive women's perspective which is interesting in its own right.

Is it revolutionary? No. Can you hope to learn something from it? Yes.

Whenever I read or watch something to learn, I follow a simple rule. I always write notes so that I can review them at a later time. If I have plenty to write, I consider the product to be pretty good because I learned a lot from it. For this DVD set, I wrote about 2.25 pages which I would say is about average.

Something I really respect about this product is it brings in a female perspective about Pick up. She explains what women wants and gives you some material that will help in the long run. The things that she explained that were really well done was: Negative reactions from women to your approach, attraction spikes, double-side compliments, "Dipping Technique", last minute resistance, focusing on indicators of disinterest rather than interest, and what to say in bed.

I love the comment before me about how you don't ask fishing advice from a fish, you ask a fisherman instead. The problem with this mentality is that a fish is not able or willing to give you insight into how to catch other fish. If it was, I guarantee every fisherman will ask a fish for its advice and use there own experiences to create something new and better. I used this product as an insight into the female mind which is what I got.

However, this DVD has some glaring weaknesses but most products do. This is a list of everything she says this DVD offers that it doesn't. Another thing I would like to add is that a lot of what she says it offers could be consolidated greatly.

The skills to approach women with confidence.
Conveying unapologetic confidence.
(I never once felt this DVD will all of a sudden give a burst of confidence which you never had before. If you weren't confident before you watch this, your probably not much better afterwards. Confidence is the trust in your own abilities. There are plenty of other books that are far suited to meet these needs.)

My biggest problem with this was sometimes it seemed like she was doing this to get back at men. This as especially evident when she was talking about last minute resistance and she mentioned that a man had used this on her before. She thanks him but you can notice some subtle body language where she appeared resentful. There were some other remarks as well that was littered throughout the DVD that made me feel the same way. However, I never once felt that she was making things up. Rather, it would be detrimental to her to do so since it would take away from her profits greatly.

Another thing that I didn't approve of was her constant bashing of other PUA styles to make hers appear more superior. I did sales at one point and any good salesman will tell you that it is never appropriate to bash the competition. Rather, you should show clients that value of your products instead.

With at that said, I still believe it is important to go over what this product offered from my viewpoint. (This list will be far more consolidated that hers)

The ability to be sexually direct with a woman
Knowing how to deal with her reactions
A clear and honest insight into the female mind
Discovering the REAL REASONS for why some girls think some guys are creepy
Attraction spikes
Breaking rapport
Demonstrating high value
How to compliment women
The ability to seduce women on a NON VERBAL level
The 'dipping technique'
Understanding her indicators of disinterest
Dealing with 'Last minute resistance'
What she wants to HEAR you say in bed

If any of these interest you, I highly recommend you check it out. Otherwise, your time might be better spent reading something else.
Help other users find the most helpful reviews
Was this review helpful to you?
View Other Home Study Courses (Books, DVDs, CDs, MP3/ Video)