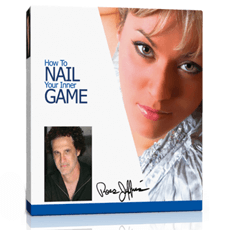 DSR Editor Rating
No Editor Review Available Yet.
Go to Nail Your Inner Game
Product Information
A system for untangling the confusion and re-infection that keeps guys stuck entirely, or stuck at a very underachieving level, created in a way where anyone can use it.
Bonuses include:
- Maui Speed Marketing
- 3 follow-up teleseminars
- "The Super Trance-formational Super-Trance Induction" CD
---
Skillsets:
Inner Game & Confidence
Release Date:
January 01, 2009
---
Feedback
If you have a question or problem, ask us:
Table of Contents/ List of Topics Covered:
- How to develop focus so you can choose and redirect your thoughts
- How to train your mind to spot anything
- The power of emotional transmutation
- The Sarge Review Process
- How to quiet and clear your mind
---
What You Get:
- Audio CDs
- Video DVDs
---
Guarantee / Terms:
90 Day Money Back Guarantee
User Reviews of Nail Your Inner Game
Most Helpful User Reviews
6 of 6 people found the following review helpful
"Funny but unstructured presentation of scattered ideas...some of them good."
Ease of Implementation
4.0
Packaging/ Customer Service
9.0
Reviewed by
Brainbuster
August 27, 2012
This is the best Ross Jeffries video I've seen in terms of audio/video quality,
and maybe the worst in terms of content.

To justify teaching in a disorganized and rambling manner, he claims (as he has before) that his audience will learn better if the concepts are presented in a "non-linear" fashion. For another product, however, perhaps because of complaints, he proudly affirmed the "linear" instruction.

Maybe Ross Jeffries, being such a genius (I honestly believe he is), learns best by not writing down anything and closing one eye and randomly reading a page from a book. Not me. I believe I internalize concepts better when the concepts are presented logically.

I just finished watching the videos and just have the same feeling I'd have if I watched a thought-provoking comedian like Bill Hicks.

I also am reluctant to trust how reliable his info is...RJ and Yates have a lot of clever ideas, many of which are borrowed, but most of which are supported only by anecdotal experiences. Yet they present them as if all the scientists who have written peer-reviewed journals should bow to them. For example, students should sit on one side of the teacher for some of the class, and for a different portion of the class the student should sit on the other side. This is because the information hits your brain from different angles. Really? Ross Jeffries must get his info from sensational pop science books instead of from rigorous science--from which there is plenty to draw.
RJ however is not alone here. Some PUAs are more scientific in their conclusions than others, but most still just rely on personal experience.
That works for them, but then when they teach it to hundreds of followers, it may not work for the followers.
For example, I am an attractive man. Women often call me a "pretty-boy." I have a good body. Therefore I can't do cocky/funny in the same way that maybe most can. And if I were ugly, then super-confidence would work even better for me. Since I am physically attractive, I really need to say things so as not to appear snobbish. If I come off as confident at the outset, the woman might think my "looks" are why I'm confident, and reject me just to prove a point.

Here I am rambling like RJ, but at least you didn't pay $200 for it.


3 of 3 people found the following review helpful
"Review for First 3dvd's... Good but Much Better Products Available."
Ease of Implementation
8.0
Packaging/ Customer Service
9.0
Reviewed by
SecretRevealer
July 29, 2012
This Review is for the First 3DvD's that are approx 2hours and 30 Minutes in length.
------------------------------------------------------------------------------
1) Limited Inner Game Quantity.
This product really does one thing well. Yes, that one thing it does really well but that's kinda it. It doesn't really teach you other inner game stuff. So if you're buying this product your basically buying it for that one thing it does teach you well and that's;
How to Take Frustrations and Confusions and Messed Up Feelings that are holding you back and how to transform them into what he calls "Pure Energy." And that's mostly what the 2:30+ video is about.

2) Only a Few Powerful Strategies.
So he tells you how to transform those feelings with a step process that I felt was quite interesting and powerful. And he does explain it very well (I mean that's kinda of what the whole product is about). It has to do with meditation, de-tangling your emotions,becoming aware of the emotions and visualizing it being cleansed... stuff like that which he really, really believes in.

5) I liked when he talks about how to learn from mistakes.
One thing that he does mention which I loved was how to learn from your mistakes. I don't think it was anything revolutionary... it was just common sense. But really a lot of products just tell us common sense. He mentions 2 powerful ideas and that's kinda it. Again, this product lacks more ideas and quantity.

3) He does drop a few very powerful ideas here and there but I don't think it comes near to the amount that should be expected from an Inner Game Product. Also although he does mention those very powerful ideas, he doesn't really go in dept in them. I would have really appreciated if he spoke about more different inner game tactics instead of just such a limited amount.
He talks about how any failure you encounter in life is just there for you to learn from and become stronger.


5) Somewhat entertaining. He's not super entertaining but he's not drop dead boring either. He drops in some jokes and fun stuff (I wish it were more often). Like at one point he pointed out that he was wearing a animal penis bone around his neck as part of his necklace and a bunch of other funny/weird jokes. You see in the product how much he believes that he's the best out there and he's like da man.

BOTTOM LINE.
Yes he does teach you how to transform bad feelings into energy and he does drop in a few powerful ideas BUT... the quantity is missing. It's one powerful strategy and a "f e w" powerful ideas here and there in 2:30 hours. I think there are better products out there that are cheaper and perhaps even better quality, quantity within a shorter period of time. If you want to improve your inner game and dealing with negative emotions and learning how to learn you're probably better off with other products. RJ is good but I feel there are mmuch better products than this one out there. Sorry RJ, I love you but I gotta say it like it is.


1 of 1 people found the following review helpful
"nail your inner game"
Ease of Implementation
5.0
Packaging/ Customer Service
7.0
Reviewed by
mark
October 31, 2010
Not the best I was dissapointed, it went into completely irrelevant rants on, just to confusing and complicating. The lectures on Speed Seduction and knowing where to go next was almost worth the price of admission. You would get the same from a $150.00 per hour Consultation. But the Marketing Videos might be worth the purchase.
View Other Home Study Courses (Books, DVDs, CDs, MP3/ Video)