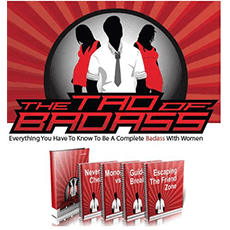 DSR Editor Rating
Go to The Tao of Badass
Editor Review
30 of 31 people found the following review helpful
"Tao Of Badass Is A Good Guideline To Become Better With Women But Could Use More Practical Examples"
Ease of Implementation
6.0
Packaging/ Customer Service
7.0
The Good
Tao of Badass covers a lot of the main concepts that are important to improving your success with women. Explains important topics such as why women test men and the importance of gender roles really well. Solid information on creating rapport and connections with women. Has a lot of extra content in the members section.
The Bad
The practical examples are not quite of the same standard as the theory and ideas presented. Less useful on the topics of meeting women initially and verbal attraction. Lots of marketing in the bonus section, some of the content is merely just a sales pitch for other products.
The Bottom Line
There is some good information in The Tao of Badass, although most of it isn't anything new.
If you're wanting to learn how to create deeper bonds and develop more meaningful relationships with women, then this is worth checking out. Also useful if you want a deeper understanding of why women are attracted to masculine, confident men.
While this course is reasonably good, a better course to get started with is "Make Women Want You" by Jason Capital.
If you're looking for guidance on how to talk to girls and have more attractive conversations, there are better products than this one - such as Conversation Escalation: Make Small Talk Sexy or others in our top Approaching Women advice ranking).
FULL DETAILED REVIEW
The Tao of Badass has been getting a lot of buzz in the dating industry, so does it live up to the hype?
Joshua Pellicer is a guy who has a heavy background in Neuro Linguistic Programming (NLP) and has clearly read extensively on the subject of psychology. This comes across clearly in the e-book, which is heavy on theory and discusses a lot of techniques that have their foundation rooted in NLP. He is clearly an intelligent guy and this is reflected in how the book is written.
So for people who enjoy learning about the 'why' and not just the 'what', you'll appreciate the science and research that is talked about here. Personally, I find this sort of thing interesting but it did make for a dense read in places and some of it was not really necessary.
Theory Versus Practical Examples
I would have liked to have seen more practical examples given here that would help the average guy do better with women. There are various models and structures taught, that while good in theory, aren't always fully explained with clear examples of how to apply them.
An example of this is when it comes to the attraction part of this system. The book tells you that it's important to display high value, but the explanation of this is not great. The main advice consists of having 'content-free conversations' and to just banter and be playful, with no real explanation of how to do this. The members section includes a banter list with a number of examples of banter lines, but there isn't a single original line included. They are all well-known and were developed by other people, some of which are good and some I wouldn't think of using myself.
While bantering is an important skill to have, there are other conversational techniques that can be used for attraction and that is lacking here in the book. So if you're looking for precise examples of how to attract women early on with conversation, there are better products out there.
The general model discussed is the Map of Interaction, which consists of attraction, rapport, seduction and relationship balance. This is pretty much in line with most other models taught and discusses how to progress the interaction all the way up to a relationship.
While a lot of this information is good, it would have been nice to see some advice given on how to actually begin an interaction in the first place. There isn't anything mentioned about how to approach women and start a conversation with them, which is a critical step obviously. There's a lot of talk about what you should be doing while talking with women, but for guys with less experience, I couldn't help wonder how they are supposed to meet these women.
It's also worth pointing out that pretty much everything discussed in this book assumes you are talking to a woman in a bar. There isn't any mention of meeting women during the daytime or any other venues, including any adjustments that you might want to make for different situations.
Body Language
So while the verbal side of attraction here is somewhat lacking, the book is a lot stronger in the area of body language. There is extensive information on what sort of body language you should have for different stages of the interaction, and how to adjust it to reflect how the woman is reacting.
A lot of the techniques revolve around things like not leaning in too much, using body language to reward and punish behavior and how to appear more dominant. These concepts are not new, but they are always worth covering and for guys that haven't seen this information before it's important to know. At times it does make it sound a bit too complicated, so don't overthink it to the point where you are worried about the exact angle of your body instead of focusing on the bigger picture.
Because it's quite hard to convey body language via words, there is some video footage in the members section that goes into this in more detail, and shows the concepts more clearly.
Playing Your Gender Role
One of the strongest parts of the book is this area on gender roles. It covers the subject of how a strong masculine energy will be attracted to a strong feminine energy, and why it's important for you to always be playing the male gender role. This is information that is really crucial to know, and a lot of other dating products don't talk about this enough.
There's a lot of explanation on it here, including beyond dating and how it is one of the main keys to a healthy and long-lasting relationship. If you've never seen this information before, just learning about this would have a big impact on your success with women and be worth the cost of the course alone.
Judging Someone's Value
There are a few ideas that I haven't seen mentioned elsewhere. One of those involves trying to work out what someone's value level is based on a numerical figure of between six and ten. The theory being that the best way to deal with people is to try and figure out how they operate and then you can figure out how to deal with them accordingly to make them like you.
While this sounds good in theory, the real world application of this technique would be fairly difficult. To start with, it's a gross generalization to try and categorize everyone into one of five different modes of behavior. And even if this were true, it's going to be extremely difficult to do in a bar with someone you've only just met.
The result is likely to be a lot of guys worrying too much about trying to determine someone's value level to try and figure out how they should respond, instead of being in the moment and enjoying themselves. If you're very experienced and can work this stuff out on an instinctual level then it has some merit, but for most guys it's going to require too much thinking, which is almost always a bad idea in bars and clubs.
Passing Tests From Women
One idea that is commonly taught in the dating community is that of women testing men. Here, Pellicer describes the different tests a woman throws at a man as either being a congruency test or a compliance test. His explanation of what tests are and why women test men is spot on. Some of the examples are good, others less so. It would have been nice to maybe see a few more examples and perhaps a few better ones.
For example, he mentions a response you might give for when a woman tells you to wait there for her while she does something. He gives an example that he says is not the best technique, but is a sufficient response. In reality it's a terrible response and I would have liked to have seen better examples provided.
Creating Rapport And Forming Deep Connections
As is often the case with NLP, the strongest area centers on creating rapport with people. There is a lot of information in the book on creating connections with women, so if this is an area you struggle with this book will be very helpful.
There's a lot of information on how to go about this the right way, and how to know when to focus on wide rapport versus deep rapport. He also makes it clear that too many guys focus on trying to create rapport before they have attraction, and how to know when it is the right time to seek rapport.
It actually goes a step further and tries to cover the subject of love, and how you can create it. While the information on rapport and creating connections is solid advice, I don't agree with Pellicer here when he says that you can learn a formula to make anyone fall in love with you. This is really misleading, as you're never going to be able to make everyone fall in love with you, the same as you will never be able to pick up every woman you talk to.
If you can disregard the hyperbole, the general outline given is worth a look. The process of creating love, as discussed here, involves creating rapport and then bonding over shared emotional experiences and life lessons learned. It's obviously discussed in a lot more depth in the book and you are shown exactly how to do this.
I liked the theory, such as using the 'I' perspective instead of the 'You' perspective, more than the actual examples. The main topic used here as an example involves having an adventure at the supermarket, and to be honest I found it very strange. I certainly wouldn't recommend using this particular example, so you'll need to take the ideas presented here and tailor them to your own personal experiences.
Tao Of Badass Bonuses
There are a lot of different bonuses that come in the members section when you order this book. Some of the bonuses are written reports, some are video footage and some are audio interviews with other dating instructors.
The reports are on topics such as how to break up like a man, how to avoid the friend zone and how to never get cheated on. These were all pretty good and have a lot of solid information on them.
Similarly, the videos provided in the members section on topics such as body language are pretty good also.
The audio interviews are probably the least useful as for the most part they are light on content and heavy on marketing. Essentially they introduce you to other companies and their products in the hopes that you will purchase whatever they are promoting on the interview.
Some people have a problem with this, as they don't like being marketed to when they are expecting actual content versus a sales pitch. The other side of the argument is that you're not obligated to buy any of these products and you might be introduced to some new ideas that are really beneficial that you wouldn't have heard about otherwise.
Personally, I didn't find the audio interviews to provide much value, as they discuss a lot of concepts and what can be achieved, but little to no information on how to do so. This is of course where the other products step in to fill in the blanks.
But overall, there is plenty of value in the members section, and you can post questions and chat to other people who have bought the product and discuss the different ideas and techniques.
The Bottom Line:
There is some good information in
The Tao of Badass
, although most of it isn't anything new.
If you're wanting to learn how to create deeper bonds and develop more meaningful relationships with women, then this is worth checking out. Also useful if you want a deeper understanding of why women are attracted to masculine, confident men.
If you're completely new to dating and pick up advice the best book to start with is Make Women Want You" by Jason Capital.
If you're looking for guidance on how to talk to girls and have more attractive conversations, there are better products than this one - such as Conversation Escalation: Make Small Talk Sexy or others in our top Approaching Women advice ranking).
Help other users find the most helpful reviews
Was this review helpful to you?
Product Information
"The Tao of Badass" is Joshua Pellicer's guide for helping men to understand and handle four important areas when attracting a woman, and establishing and functioning through relationships.
The areas covered in the Tao of Badass address:
The Friend Zone – That it can be controlled as long as men avoid continuously making the same mistakes. It is for men desiring to be a badass with women by learning to guide their interactions, keep themselves out of the friend zone, and how to put a woman in the friend zone. It also explains the how to and importance of touch escalation. A man's mentality should consist of three phases: attraction, rapport, and seduction.
Monogamy vs. Polyamory – Once a man has the confidence and opportunity to decide whether to be with one woman or several at the same time, he must understand monogamy vs. polyamory, and the difference between being a "player" and being polyamorous.
Breaking Up Like a Man – Learning how to break up a relationship like a badass, because these experiences are inevitable. A major badass rule is to end a relationship leaving a woman you've dated better than when you both met, remembering you were in it together. This section includes the do's and don'ts of breaking up.
Never Get Cheated On – The realization that a partner will seek out what is missing (a need) from their relationship in someone else, instead of asking for it from the partner. This section provides a number of "don'ts" and "why's" to avoid this happening. In addition, your life should be dedicated to improving the Three Pillars of Badass: a) business, b) survival and protection skills, and c) relationship psychology – attracting people into your life. There is also the do's and don'ts of handling a woman you suspect of cheating on you, as well as an explanation of the six rules to a successful long-term relationship: Familiarity, propinquity, chemical attraction, socio-biological attraction, reinforcement, and similarity.
---
Skillsets:
Attracting Women
Experience Level(s):
Beginner
Release Date:
January 01, 2011
---
Feedback
If you have a question or problem, ask us:
Table of Contents/ List of Topics Covered:
- How to convince a woman to buy you a drink and flirt with you
- A particular sitting position that is a turn off for women
- Understanding and increasing your confidence level
- What reading a woman's eye movements will tell you
- Understanding your emotions and how to control them
- Changing body language in the way you walk to attract more women
- Using 5 Mind Hacks to increase a woman's desire for you
- A technique to keep a woman from cheating on you
- The signals a woman gives that let a man know she is attracted to him
- How to naturally show woman you are the attractive and confident man she wants
- Eliminating mis-calibrated and creepy actions from your natural behavior
- The biggest mistakes that will cause a woman to lose interest in a man
- Showing a women how sensitive you are can be damaging to getting further with her
- The one sentence to use in order to eliminate the competition when pursuing women
- Using 'triangulating' to go from being friends to making out, without taking the first step
- What removes a woman's "plausible deniability" and chances of intimacy with her
- Dominant body language vs. positive body language: how not to confused them to avoid rejection
- Three rapport types and the correct one to get a woman thinking you are unique, in a good way
- How to recognize if your seduction methods are not working and how to fix your approach
- How a man can change his flirting technique to tap into a woman's emotions and increase attraction
- What not to do to avoid being put in the friend zone and missing the chance to become more than friends
- Why women are attracted to rich men and how imitate their qualities to attract women
---
What You Get:
- ebook
- Access to online community and services

---
Guarantee / Terms:
60 Day Money Back Guarantee
User Reviews of The Tao of Badass
7.3 out of 10 stars
Share your thoughts with other users:

Most Helpful User Reviews
View all user reviews
View Other Home Study Courses (Books, DVDs, CDs, MP3/ Video)