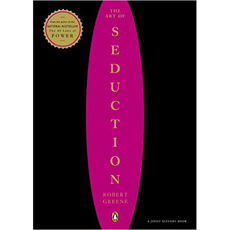 DSR Editor Rating
Go to Product Site
Editor Review
4 of 7 people found the following review helpful
"Lots of Insights into Seduction, But Difficult to Implement"
Ease of Implementation
1.0
Packaging/ Customer Service
7.0
The Good
It provides an interesting take on the history of seduction literature. This may be useful for 'inspiration' for those more advanced daters who can use it to improve and carve their skills with supporting mindsets and ideas.
The Bad
The content is based on recounts in literature and the authors own perspective of famous societal figures in history. The rules the author establishes are relatively abstract for the most part and requires an advanced level to implement beyond 'mindsets'.
The Bottom Line
If you are at an advanced level and know how to study, research and apply information in the form of new mindsets and techniques of your own this is a great book to give you more ideas.
For others, this will likely be more of a hindrance (confusing) than helpful due to the lack of practical implementation advice.
FULL DETAILED REVIEW
The book provides the only review of publicly accessible information on seduction through to the year 2000. It is a huge work of research on the part of Robert Greene, who is know for his rigorous research and investigation of human behavior. To pull it together he studied every seductive character that he could find in history and pieced together their characters, approaches and strategies to seduce.
It is a really commendable piece of work and many of the coaches to come out of the seduction community have studied and learned from this book - it's a classic.
I interviewed Robert Greene to discuss the book in late 2013 - you can listen to the interview here. It's a great interview where we discuss amongst other things, some of the modern day seducers and how they are putting seduction into practice. Highly recommend you listen to it.
Abstract and Lacks Practical Tips - Not for Beginners
Robert Greene's writing style is deep, technical and best suited for those who are used to book based study. It's not high on 'entertainment' factor, so requires this type of mindset to go through and get value from it.
The purpose and content of the book is not immediately or directly practical advice. The focus is primarily on mindsets, strategies and approaches of some of the greatest seducers we have seen throughout time.
This makes it unsuitable for anyone just starting out or without success in dating already. What you want is some quick wins to improve your motivation, this book is more likely to overwhelm you and get you lost in possible details and your own interpretation of how it should be implemented.
The good news is that many of the seduction and attracting women advice today has been in some way inspired by the research in "The Art of Seduction", so when you are learning from other training courses - you in fact, many times, learning aspects of what was originally covered in this book and expanded upon and developed into more practical hands-on advice by others.
Stepping Stone in Mastering Seduction
For those who are interested in understanding the history of seduction and really mastering it, this is a must read at some point.
While much of the learning points are relatively abstract, for someone with experience, you should be able to see how these fit in to the process of seduction.
Where I see the real value in this book, is to provide new ideas or insights or perspectives into why what you are doing is working - or not working. I myself took ideas from this book in my early years for experimentation and to further round out my skills.
The Bottomline
This is a clear case of a book that some men will use to develop and master new skills, while for others... it will just lead them to confusion.
It's not for everyone - and there's a right time and a wrong time to read it.
I'd recommend you get this book if you are already adept at meeting and attracting women and you have a 'studious' and learning by yourself nature. That will enable you to identify new ideas to try and experiment with inside this book - without these though, the book is more likely to confuse and distract you than help.
The book is an excellent piece of work - just make sure it's right for you before you get it.
Help other users find the most helpful reviews
Was this review helpful to you?
Product Information
Following the international success of The 48 Laws of Power, Robert Greene released his second book The Art of Seduction. This book compliments 48 Laws of Power by serving as a handbook on how to use the power of attraction, and detailed insight into the greatest seducers in history.
In this book, Greene explains that we all have the power of attraction and can realize our individual potential by understanding a person's character. This is where seduction begins.
The book chapters address the nine types of seducers that Greene says exist in the world:
1. Sirens: the ultimate male fantasy figure transporting him to a realm of pure pleasure
2. Rakes: a female fantasy figure that will do anything on earth for a woman
3. Ideal Lovers: an artist capable of creating the illusions you require – your fantasy
4. Dandies: those who cannot be categorized and play with masculinity and femininity to create their image
5. Naturals: embody longed qualities of childhood and exhibit a playful spirit that puts others at ease
6. Coquettes: grand masters of orchestrating between hope and frustration
7. Charmers: manipulators masking their cleverness by focusing on the target with pleasure and comfort
8. Charismatics: exhibiting the confident, sexual, purposeful qualities others lack and want
9. Stars: the standouts with an appealing and distinctive style that commands attention
It also shows you how to nurture your dominant character trait, add a second or third trait for depth and mystery, and realize your Anti-Seducer opposite potential.
---
Skillsets:
Attracting Women
Experience Level(s):
Advanced
Release Date:
January 01, 2001
Price:
$9.60 - $17.43
(depending on product format or options purchased)
---
Feedback
If you have a question or problem, ask us:
Table of Contents/ List of Topics Covered:
Part One - The Seductive Character
- The Siren
- The Rake
- The Ideal Lover
- The Dandy
- The Natural
- The Coquette
- The Charmer
- The Charismatic
- The Star
- The Anti-Seducer
- The Seducer's Victims: The Eighteen Types

Part Two - The Seductive Process
- Choose the Right Victim
- Create a False Sense of Security: Approach Indirectly
- Send Mixed Signals
- Appear to Be An Object of Desire: Create Triangles
- Create a Need: Stir Anxiety and Discontent
- Master the Art of Insinuation
- Enter Their Spirit
- Create Temptation
- Keep Them In Suspense: What Comes Next?
- Use the Demonic Power of Words to Sow Confusion
- Pay Attention to Detail
- Poeticize Your Presence
- Disarm Through Strategic Weakness and Vulnerability
- Confuse Desire and Reality: The Perfect Illusion
- Isolate the Victim
- Prove Yourself
- Effect a Regression
- Stir Up the Transgressive and Taboo
- Use Spiritual Lures
- Mix Pleasure with Pain
- Give Them Space to Fall: The Pursuer Is Pursued
- Use Physical Lures
- Master the Art of the Bold Move
- Beware the Aftereffects

Appendix A: Seductive Environment / Seductive Time
Appendix B: Soft Seduction: How to Sell Anything to the Masses
---
What You Get:

Book options include:
- Hardcover $9.60
- Paperback $12.65
- Kindle $17.43
---
Guarantee / Terms:
See policy of product website
User Reviews of The Art of Seduction
Most Helpful User Reviews
View Other Home Study Courses (Books, DVDs, CDs, MP3/ Video)