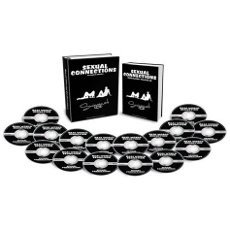 DSR Editor Rating
No Editor Review Available Yet.
Product No Longer Available.
Product Information
This audio course is designed to teach you how to bypass a woman's critical factor and tap into primitive parts of her brain that generate raw sexual arousal and learn how to create the right neurological structures that compel her to act on that arousal.
---
Skillsets:
Masculine Sexuality & Sexual Skills
Learning Format:
CD (Audio)
Release Date:
October 09, 2003
Product No Longer Available.
---
Feedback
If you have a question or problem, ask us:
Table of Contents/ List of Topics Covered:
- Voice
- Pattern Interrupts
- Apposition Of Opposites
- Emotionally Inciting Women To Invest Effort Into Their Interactions With You
- Tapping Into The Primitive Parts Of A Woman's Brain That Generate Colossal Amounts Of Sexual Arousal Regardless Of What You Look Like
- Tools For Opening A Woman's Prizability Filter
- Prying Open A Woman's Comfort Filter
- Compliance Triggers
- Sexual Frames
---
What You Get:
Sexual Connections Audio Course
- 16 digitally recorded CDs
- 163 page workbook
- a three ring binder to hold all of your attraction material
---
Guarantee / Terms:
- 30 Day Money Back Guarantee
- 5 payments of $99.97
User Reviews of Sexual Connections
Most Helpful User Reviews
6 of 6 people found the following review helpful
"Understanding the finer nuances of attraction and seduction"
Ease of Implementation
5.0
Packaging/ Customer Service
6.0
Reviewed by
RockinR
June 14, 2016
I believe Sexual Connections came out roughly around 2007. Having experience within Swinggcat's material...especially RWS 1.0 and RWS foundations audio, I was familiar with the major conceptual approaches, mindset, and processes used within his material.

Courses such as Sexual Connections require a time commitment towards study. I would minimize any cross training with other seduction material unless it is closely related. Although seduction material such as Mystery Method and Swinggcat's RWS might have some similarities as attraction techniques, the influences and mindset of it's originators differ greatly.

Sexual Connections is certainly not for beginners or intermediates. I would suggest extensive field experience combined with either results based off relationships or quick sexual intimacies. Otherwise, this course can be daunting to work through for the novice.

I have personally various different experiences within this realm, and had immersed myself so much into the course, that eventually I would fuse in my own life experiences within Swinggcat's structure.

It is a very difficult course but the inventiveness cannot be touched...even close to 10 years later. Currently working through Masculine Polarity, and it has it challenges, but hopefully I can share within a review in due time.
Help other users find the most helpful reviews
Was this review helpful to you?
0 of 19 people found the following review helpful
"Highly Overrated, Over Complicated, Over Outdated, With A Great Cover In Disguise, That's Overpriced"
Ease of Implementation
3.0
Packaging/ Customer Service
2.0
Reviewed by
LustfuLeo The Guido
November 22, 2014
The Bad-
Most of the concepts taught in Sexual Connections are essentially about persuasion and social influence. However, the way he explains it is in the most over analytical fashion, to the point it ends up confusing the fuck out of you.
Namely Compliance: is when people appear to agree with others, but actually keep their dissenting opinions private.
Identification: is when people are influenced by someone who is liked and respected, such as a famous celebrity and
Internalization: is when people accept a belief or behavior and agree both publicly and privately. In addition to the Gradients of Agreement, Informational influence (or social proof) is an influence to accept information from another as evidence about reality. Informational influence comes into play when people are uncertain, either because stimuli are intrinsically ambiguous or because there is social disagreement. Normative influence is an influence to conform to the positive expectations of others. In terms of Kelman's typology, normative influence leads to public compliance, whereas informational influence leads to private acceptance. In Most of the 'compliance triggers' are extracted from Robert Cialdini's book "Influence: The Psychology of Persuasion".


The Good-
Props are given for deciphering the primitive emotions, and the triune brain that generates attraction and for the additional discoveries such as books, movies, and raw & uncut female confessions that will shock you speechless.

Overall-
Put simply, if you want a few major solid takeaways and inspirations in the form of movies, books, and a bit of scientific neurology to expand your knowledge and trivia, by all means purchase it for the 7 day trial period and then cancel during the allotted 7 day trial period, unless you are financially masochistic and want to be ripped the fuck off. In addition, if you want to listen to this for its entertainment value, by all means go ahead. But DO NOT, I REPEAT DO NOT under ANY CIRCUMSTANCES take ANY of the advice given to heart, because the concepts in Sexual Connections audio course are severely outdated. Take it from me, go to Greg Greenway or Jason Capital. They are reinventing the game in ways that will leave you with plenty of 'A-HA' moments that will shock you speechless that are GUARANTEED to render the most stereotypical 'PUA' tips, tricks, and tactics, such as 'cold approaching', '3 second rule', etc completely obsolete, useless, and outdated.
Help other users find the most helpful reviews
Was this review helpful to you?
View Other Home Study Courses (Books, DVDs, CDs, MP3/ Video)