Alpha Conversation and Persuasion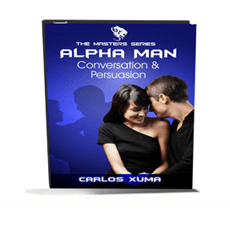 DSR Editor Rating
No Editor Review Available Yet.
Average User Rating
Go to Alpha Conversation and...
Product Information
This program is a 14 CD set of concepts and practical skills to learn the art of conversation and persuasion with women, and others. It offers communication strategies of confident men in order to:
- Eliminate uncomfortable silences with women
- Easily handle difficult women
- Shut down jerk guys getting in the way of your progress
- Build trust, rapport, and banter with women
- Persuade and influence others with ease
Carlos Xuma's program is aimed at helping you to develop the ability to have strong motivational conversations that people are really interested in, and the ability to change and calibrate them depending on the situation.
Bonus:
270 minutes of Advance Coaching
---
Learning Format:
CD (Audio)
Release Date:
January 01, 2002
---
Feedback
If you have a question or problem, ask us:
Table of Contents/ List of Topics Covered:
DISC 1: Concepts - Inner Game
- How to destroy effective communication
- 3 critical skills for opening conversations
- How to ask any woman out
- How to take control of words

DISC 2: STT - Core Skills & Tactics 1
- The 5 essential qualities of charisma
- 8 Power People skills
- Understanding the 4 basic personality types

DISC 3: STT - Core Skills & Tactics 2
- The 4 levels of listening
- How to communicate with your family effectively
- Effective body language in communication

DISC 4: Women & Communications
- How to get a woman interested in you
- The top 6 test questions a woman will hit you with
- How to use banter in conversation with women

DISC 5: NLP & Persuasion Strategies
- The impact of language on experience
- Understanding someone's communication style
- The Ultimate Lie Detector

DISC 6: Rapport and Cold Reading
- How to use cold reading to help you build rapport with women
- 5 step method for gaining rapport
- What kind of questions to watch out for from women

DISC 7: Verbal Self-Defense 1 - Power Questions
- How we make rational errors in judgment
- Fallacy of irrelevant humor
- How people manipulate and train you to respond the way they want

DISC 8: Verbal Self-Defense 2
- How to disagree without looking disagreeable
- How to overcome another person's misguided resistance to you
- The Universal don'ts for conversation

DISC 9: Handling Difficult People
- How to deal with jerks and difficult conversations
- The 9 Personality Types Explained
- How to stay emotionally detached and relaxed

DISC 10: Humor - How to Be Funny
- Rules for using humor
- The 8 reasons why we laugh
- The 3 structure elements of humor

DISC 11: Power Conversations
- The 3 things you should tease a woman about
- Determining your power conversation style
- The correct use of profanity in conversation

DISC 12: STT - Power Tips for Conversation 1
- How to use dramatic volume and tonal marking
- The art of mind reading
- What you must avoid doing with your smile

DISC 13: STT - Power Tips for Conversation 2
- The two types of handshakes you must use
- The 3 basic skills of social networking
- How to destroy your fear of speaking in public

DISC 14: Exercises and Examples
- Facial Expression Exercises
- 10 Vocal Development Exercises
- The Mirror Exercise for developing emotional projection skills
---
What You Get:
- 14 Audio CDs
- Reference eBook
---
Guarantee / Terms:
90 Day Money Back Guarantee
User Reviews of Alpha Conversation and Persuasion
View Other Home Study Courses (Books, DVDs, CDs, MP3/ Video)