Give Women Wild Screaming Orgasms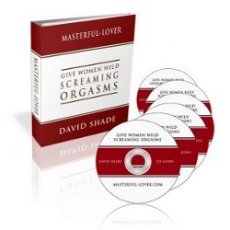 DSR Editor Rating
Go to Give Women Wild Scream...
Editor Review
10 of 11 people found the following review helpful
"Recommended for Guys Already Confident with their Sexual Skills"
Ease of Implementation
6.0
Packaging/ Customer Service
9.0
The Good
Effective and practical. Well researched. Explains well some important healthy mindsets you need to nurture a great sexuality with your partner(s).
The Bad
Has a couple of unhealthy ideas on mindsets towards sex (don't take them on board), relatively expensive, difficult and not a good idea to try to implement for inexperienced guys.
The Bottom Line
I recommend that an experienced guy of advanced level get this if he wants to experiment further with and explore orgasms with his partner(s). It's expensive, but does what it says, ie develop your ability to make women orgasm.
I don't recommend this to beginners or even intermediates. If you aren't already comfortable and confident in the bedroom you need to first check out either Revolutionary Sex by Alex Allman or Female Orgasm Blueprint by Jason Julius. These will give you a good foundation from which you can then build on with the techniques in Give Women Wild Screaming Orgasms.
FULL DETAILED REVIEW
The title of this program says it all. It is a course that is aimed at improving your ability to give girls orgasms. It focuses on using a variety of techniques to develop your female partner's ability to have the different types of orgasm and have multiple orgasms.
You get a CD audio and an ebook with the program. The CD audio is basically the book being read out by David Shade - which is fine as some people prefer to listen and learn than read. To be clear though, exactly the same content is on the CD and the ebook.
All About Techniques - The Good and The Bad
Because of its focus on techniques and solely the orgasm, this is a course most suited for guys at an advanced level. It does not discuss the basics of sex, or basic sexual issues and challenges you may have as a beginner.
For 85% or more of guys this is advanced material. You need to focus on getting the basics right, before you start using specific techniques, rather than pure 'love making' and sex in your relationships. If you haven't got those foundations in place and an existing healthy sex life, this course could warp your approach to sex and make it unnatural. That is something to keep in mind.
The techniques do work for the most part. And can be very powerful. There are a few instances of some I've had less success with and found a little awkward personally. But on the whole, these techniques have added a lot to my sexual life and the pleasure and orgasmic experience of my girlfriends. It walks the talk, and the techniques are a lot more practical than any of those in the standard sex books you find in bookstores.
Keep in mind that every girl is different and some of these techniques will be less effective or not at all on some women. It could be pretty confusing for a guy and lead him to get frustrated, thinking he isn't doing it right, and give up entirely if a technique is not working for him. Or think a technique 'doesn't work' when it is just a matter of a bad fit with their current partner. Readers should keep this in mind while learning from this product. David Shade brings this up, but should have discussed the ins and outs of it more to help his readers with the implementation of his advice.
Good Healthy Mental Attitudes to Sex and Your Woman Overall
In the first section of the program, entitled "Introduction" there is some good material on healthy mindsets towards sex. I feel like this section would be good for a beginner, because it tackles many of the unhealthy inhibitions that men may have, and explains why they are not correct. It talks a lot about what respecting a woman really means and why some of the social conditioning around this is wrong, and undermines your sex life and the sexual pleasure of the woman.
For example, he explains how women want you to respect them differently outside and inside of the bedroom. He goes into a lot of detail on this point, describing how a woman needs you to respect that she is a sexual creature and respecting her means letting her feel comfortable being sexual, showing that you respect her inner desires and are not judgmental about them. Most importantly 'respecting' her, means giving her the sexual experiences she desires and so on. The content on this reflects basic mindsets that every guy needs if he is to make the most of his sexual relationships.
Later in the book he reinforces excellent guidelines to nurturing your woman's sexuality. He talks about things you shouldn't say or do, you should pay attention to and how to open your woman's mind up to her sexuality step by step. There is some great content here.
Setting Things Straight About Female Orgasms
There is a lot of confusion about female orgasms, the different types of them and how they happen and why. I've been reading about the subject for around 9 years and I never found anything that laid things out clearly.
"Give women wild screaming orgasms" goes into great and well researched detail on the topic. It also contains some visual graphics (in the ebook) that show you where everything is for the woman and the man. It has the best explanation of why women have different types of orgasms I've seen anywhere.
Well Researched
Throughout the program David Shade explains the details and gives you background to his advice. This will give you confidence in the methods, and he has clearly done his homework. He also provides some relevant suggestions on good books to read up on more details about subjects such as the G-Spot and Ejaculation.
His introduction into Tantric sex and its purpose is great and clear. It cleared up a lot of confusion in what I've read in the past - again he researched to get to the bottom of what it was really about and how it could help you.
Where I Disagree...
David Shade proposes that
"You should never come inside a girl unless she is having orgasms with you."
Instead he suggests you come on her face, or outside her if she isn't orgasmic already or just isn't having an orgasm at that time. This is to stop her associating you with the other 'losers' who gave her bad sex before.
This is over the top, and is really stemming from quite a negative mindset if you think about it. The underlying theme is "If you aren't giving her orgasms, then you are a loser." Not true. Girls can enjoy sex without having orgasms, there is a lot more to sexual pleasure for women than just orgasms. If you are overly focused on making sure that the girl orgasms with you I would say that you are thinking about it too much and you're missing out on some of the fun (and you very may end up being perceived as a 'loser' as a result - being too try-hard never is sexy).
If you use this course please keep this in mind when you apply the techniques - that way they'll add a lot of value to your and her sex life.
The Bottom Line
There is good, well researched material overall in this course and I would recommend that an experienced guy of advanced level get it if he wants to experiment further with and explore orgasms with his women.
This isn't a course I would recommend to beginners or even intermediates. That's to say, guys that don't already have a good healthy sex life and who are already pretty confident in the bedroom. If this isn't you, I recommend you first check out either Revolutionary Sex by Alex Allman or Female Orgasm Blueprint by Jason Julius. These will give you a good foundation from which you can then build on with the techniques in Give Women Wild Screaming Orgasms.
Keep in mind, that at nearly $200 this is a much more expensive product compared to the two other two products above.
Help other users find the most helpful reviews
Was this review helpful to you?
Product Information
"Give Women Wild Screaming Orgasms" shows you how to take a woman's pleasure beyond what she has imagined possible, and then open her up to things she is too inhibited to do. The program includes a former separate product named "The Art of Sexy Dirty Talk".
The program is divided into 4 parts including:
Part I: Introduction
- Being A Masterful Lover
- Being Personally Powerful
- Being Sensually Powerful
- Being Comfortable With Sexuality
- Getting Over Hurt
- Women Are Highly Sexual Creatures
- Being Comfortable With Her Sexuality
Part II: Sexual Techniques
- Female Anatomy
- Male Anatomy
- Fetal Tissue
- Female Orgasms
- The Clitoral Orgasm
- Fish Lips Cunnilingus
- The Hummer
- The "Nip it in the bud" technique
- The Welcomed Method
- The Body Of The Clitoris
- The U Spot
- The Vaginal Orgasm
- The G Spot
- The Deep Spot
- The Cervix Orgasm
Part III: Give Her Her First Orgasm
- Her First Vaginal Orgasm
- The PC Muscles Method
- If Nothing Works
Part IV: Intercourse
- Taoist Thrusting
- Beginner's Tantra
- Female Multiple Orgasms
- Female Ejaculation
- Anal Sex
- Difficult Case Studies
- Getting Things Started
- Kegel Exercises
---
Skillsets:
Masculine Sexuality & Sexual Skills
Release Date:
June 06, 2008
---
Feedback
If you have a question or problem, ask us:
Table of Contents/ List of Topics Covered:
- Where's the G spot
- What's the deep spot
- Tantric sex
- Your Orgasm Detector
- How to please a woman
- Why women have a clitoris
- 3 reasons married women cheat
- 5 core beliefs of a Masterful Lover
- Women and their secret fantasies
- Developing sexual confidence
- How to build sexual anticipation
- How to give a woman multiple orgasms
- Activating a woman's inner sexual being
- Leading a woman to open up to you as a lover
- Important things to do on the first night together
- Understanding the different types of female orgasms
- Techniques for using your fingers on her clitoris
- How to eliminate your fears and frustrations
- The 2 kinds of power that make a woman hot
- Getting a woman to see you as her sexual trainer
- How to give a woman her very first orgasm
- Figuring out what makes a woman tick sexually
- How to make a woman feel beautiful, sexy, and feminine
- Getting a woman to completely surrender to you
- Understanding the female sexual anatomy and how it responds
- How you talk to your woman in the bedroom
- The importance of dirty talk with your woman
- Why truly sensual women require mental stimulation
- Introducing kinky things into the bedroom
- Linking her orgasm to the sound of your voice
- When to start using sexy dirty talk in a new relationship
- Where the most sexual part of a woman's body is located
- What women desire most in the bedroom
- How an inexperienced lover can be an amazing lover
- How to handle the Paradox of Appreciation
- Sexercises you can do with your woman
- What to do if she does not have an orgasm
- The 6 elements male and female genitalia have in common
- The reason men feel tired and lose their erection after sex
- How a women can immediately detect if a man is inexperienced in bed
- Opening up a woman's emotional channels to make her more responsive to your touch
---
What You Get:
- 6 audio CDs
- ebook
- Printed transcripts of all the audio
- 3-ring binder
- Quick start guide
---
Guarantee / Terms:
1 Year Money Back Guarantee
User Reviews of Give Women Wild Screaming Orgasms
Most Helpful User Reviews
5 of 5 people found the following review helpful
"excellent product - took our sex up many levels"
Ease of Implementation
5.0
Packaging/ Customer Service
8.0
Reviewed by
TD
January 02, 2013
I agree with this website that this product is for more advanced men/couples. I have not had success with every single technique in GWWSO, primarily clitoral orgasm techniques in the product. However,GWWSO has been invaluable in helping me give my woman incredible vaginal orgasms in intercourse or with my finger.

After studying this course, I am able to give my GF 2-3 deep powerful screaming vaginal orgasms per encounter. These are not small events. These orgasms are the kind that leave her unable to move. One "Deepspot" (a technique in the course) orgasm coupled with one vaginal orgasm during sex and she is unable to move until she loses consciousness for an hour or more. I succeeded in getting her to squirt (never done that with a woman before) and last night she said to me, "don't you love it when you come so hard you are outside your body floating in the air?" I must admit I can't relate to experiencing that myself but glad I'm giving it to her on a consistent basis!

I found I had to study this information very intensely and ask a lot of questions either on the phone w/ David or in the VIP forum (a worthwhile investment). It took me about 5-6 months to get the results I am getting now, though I often see people on the VIP forum who say that they were able to get success right away. The more I reviewed the information and tried (and tried, and tried) with the GF the better I became but it did not happen over night.
Help other users find the most helpful reviews
Was this review helpful to you?
View Other Home Study Courses (Books, DVDs, CDs, MP3/ Video)