Derek Cajun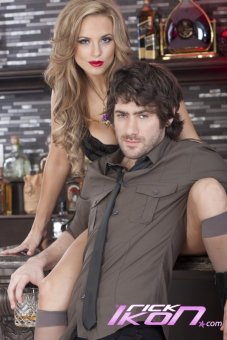 Derek "Cajun" comes from a small town on the East Coast of Canada (In the Acadian region).
He joined Love Systems in its Mystery Method Corp. days in early 2007. He received significant attention after a notable TV appearance in the "Keys to the VIP" live pick up contest which he won in early 2008.
Wiki Contents
Personal Data
Commercial Alias Name:
Derek Cajun or Cajun PUA or just "Cajun"
Real Name: Derek
Nationality: Canadian
Date of Birth: May 29, 1981 (Age 41)
Height: 5"7
Profession(s):
Pick Up Artist (PUA)
Dating Coach
Affiliated Dating Companies: Love Systems
Web Presences
Twitter

profile: @ls_cajun
Facebook profile: cajunthelegend
Trademark Advice
Cajun is best known for his non-routine based approach and making use of his background in acting.
He spent a lot of time developing body language, and with Vercetti was one of the main creators of Love Systems' Body Language seminar and the Beyond Words DVD product.
Biography
Personal Life
Derek "Cajun" comes from a small town on the East Coast of Canada (In the Acadian region).
Derek is a part time freelance actor and writer. He has acted in a number of commercials such as those for a Pepsi viral campaign in 2006 named "Pepsi Access".
He currently lives in Vancouver, Canada.
Pickup Artist Career
Derek found the pick up artist community in 2005 while he was living in Toronto and was then introduced to Love Systems (then Mystery Method Corp.) through Tenmagnet.
He worked with Mystery Method Corp. for the first time in October 2006, and was on the roster as a permanent instructor from early 2007. Today he is a master instructor, and continues to train students on bootcamps for Love Systems.
At the beginning of 2008 he appeared on Keys to the VIP, a Canadian reality TV show where men compete against each other to pick up women in a large night club. When he won the contest it provided a lot of good media exposure for Love Systems because it was the first time a then Mystery Method Corp. instructor had featured in live infield footage in action.
In 2012 Cajun authored his first book "The Gentleman's Guide to Online Dating".
Derek Cajun's Credentials & Experience
Photos of Derek with girls.
Notable Media Appearances
Derek Cajun is one of the most mediatized Love Systems constructors with his first notable appearance on Keys to the VIP where he triumphed over other contestants in a pick up contest. No entries were found
Books, Courses and Coaching & Derek Cajun Reviews
Help Us to Improve this Profile
The information in this coach profile and wiki is verified by Dating Skills Review's Editors to be as objective, complete and close to the truth as possible. It was created by Angel Donovan.
Help us improve this profile of Derek Cajun by sending us any information you believe to be missing, wrong or lacking detail or good quality images we don't have. Please state sources where possible to make our job easier to verify the correctness of the information.
Contact: [email protected]
"Listen In As We Share The Top Takeaways From The Best Dating Products Ever Created... Shave Years Off Your Learning Curve As You Discover What Really Creates Success With Women"
Here's just a few things we reveal in this info-packed interview:
The surefire products that are proven to work - based on 15+ years coaching men to dating success.
Why we dubbed this one product 'idiot-proof' and how it can transform a woman's reaction to you almost immediately.
Feel anxious about approaching women? Discover how to bypass that and set up a stream of dates with gorgeous women in as little as 20 minutes a week.
Dating Skills Review has been featured or quoted in: