Michael Fiore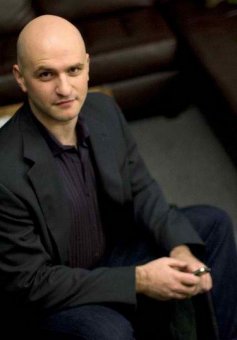 Michael Fiore is a funny, honest, and blunt relationship expert for men and women.
He is also an internationally known expert on interpersonal communication and helping people to use text messages as a way to improve their romantic relationships. Michael delves into the psychology of romance and creating visual text messaging.
He is the founder Digital Romance Inc.
Wiki Contents
Personal Data
Commercial Alias Name:
Michael Fiore
Real Name: Chris Haddad
Nationality: American
Date of Birth: September 18, 1977 (Age 45)
Height: 5'8"
Profession(s): Dating Coach
Affiliated Dating Companies: Digital Romance Inc.
Web Presences
Facebook

profile: michael.c.fiore
Biography
Personal Life
In Michael's free time, he works out, reads, travels, and enjoys playing the drums. He also likes listening to his friends complain about their relationships in developing other strategies to help people have the relationship they want.
Michael is happily married and lives in Seattle, WA.
Dating Advice Career
Michael realized his talent for texting when he was single and partying. While texting a woman that he was dating and wanted to stay in contact with, he noticed how creative he was with words. He eventually became a master at texting women to increase their attraction to him, and developed the techniques and strategies for texting the romance back into a relationship.
Michael is founder of Digital Romance Inc. The site provides relationship solutions addressing the problems people have in their relationships. They show you how to maximize using technological tools (e.g., text messages, email, social media, websites, and apps) to communicate better. The site offers a range of products to teach people how to improve their romantic life through the advances of technology.
Michael's "Make Him Beg to Be Your Boyfriend' turned him into an Amazon Best Selling Author.
He has also taught countless people how to reunite with their ex's with "Text Your Ex Back'.
Notable Media Appearances
Valentine's Day 2011, Michael appeared on the Rachael Ray Show to discuss his "Text The Romance Back Program".
He has also appeared on Fox News, NBC, WebMD, and CBS radio.
Books, Courses and Coaching & Michael Fiore Reviews
Help Us to Improve this Profile
The information in this coach profile and wiki is verified by Dating Skills Review's Editors to be as objective, complete and close to the truth as possible.
Help us improve this profile of Michael Fiore by sending us any information you believe to be missing, wrong or lacking detail or good quality images we don't have. Please state sources where possible to make our job easier to verify the correctness of the information.
Contact: [email protected]
"Listen In As We Share The Top Takeaways From The Best Dating Products Ever Created... Shave Years Off Your Learning Curve As You Discover What Really Creates Success With Women"
Here's just a few things we reveal in this info-packed interview:
The surefire products that are proven to work - based on 15+ years coaching men to dating success.
Why we dubbed this one product 'idiot-proof' and how it can transform a woman's reaction to you almost immediately.
Feel anxious about approaching women? Discover how to bypass that and set up a stream of dates with gorgeous women in as little as 20 minutes a week.
Dating Skills Review has been featured or quoted in: