Lawrence Lanoff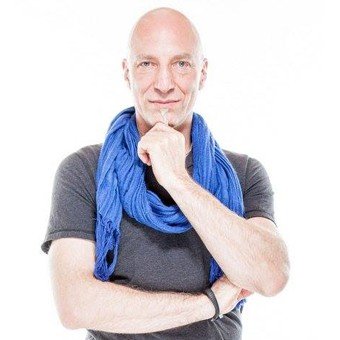 Lawrence Lanoff is a recognized Tantra master, tantric life coach, sex coach / educator, best-selling author, veteran film and television director / producer, and photographer. He offers sex positive "street-wise" life coaching, showing people the cognitive biases happening in their life towards life-changing clarification and self-development.
Lanoff's full immersion into the study of healing has led him to becoming a master healer, sexuality teacher, and tantric master. He chooses to experience life in the here and now via the body and experiences.
He calls himself a "rubber meets the road kinda teacher", applying the focus of practicality to his artistic and spiritual disciplines and skills over the last 20 years. Lanoff continually questions cultural myths regarding sex, life, and religion with the goal of leading others into a new paradigm of freedom and pleasure. He aims to deprogram students from what he describes as "the prison of societal beliefs, norms, and superstitions".
Through Lanoff's "Art of Radical Self Acceptance", he provides coaching for people to unleash the life skills of their own enlightenment towards self awareness and a connection to oneness, while learning to live an enriched, authentic, and sexually empowered life. Lanoff is also the creator of the popular program The Language of Lust (April 2015).
Wiki Contents
Personal Data
Commercial Alias Name:
Lawrence Lanoff
Nationality: American
Height: 6 ft.
Profession(s):
Sex Coach
Spirituality Teacher
Sex Author
Life Coach
Affiliated Dating Companies: Independent Author/ No Affiliated Company
Web Presences
Twitter

profile: @soullight
Facebook profile: lawrence.lanoff
Blog: www.lawrencelanoff.com/blog/
Biography
Personal Life
Background:
Growing up in the 1980's in the Meat Packing District of New York City had a major influence on Lanoff's life. The rough streets of New York City were considered a "no rules" environment during that turbulent time. On the other hand, it also provided Lanoff with great spiritual insight and a grounded practicality to his work.
Lanoff has been practicing and studying Tantra since the age of 12. His mother introduced him to a spiritual teacher in order for Lanoff to learn how to understand and have sex with a woman, and how to accept and manage his sexual feelings and desires. For Lanoff, Tantra made a big influence and became a major part of his life; having gained mastery over his body by the time he started having sex. He became and continues to be sought-after for his in-depth Tantra knowledge and expertise.
Lanoff has studied anatomy, philosophy, psychology, physics and meta-physics, social biology, semiotics, neuroscience, spirituality, yoga, meditation, computer science, NLP, hypnosis, photography, fine art and art therapy, massage therapy, secret Tantra, Taoism, film, television, advertising design, marketing, and business communication.
In his filmmaking career, he came to realize the way in which people understand themselves, dreams, and symbols is similar to the way they understand movies.
Director / Producer / Writer - Lanoff has directed and produced for film, television, commercials, and video. He has directed movies for almost 20 years. In addition to creating Soullight, Inc. in 1984 to explore film, television, and the relationship to brain development and cognitive studies, Lanoff was also a producer / director for Playboy Entertainment Group Inc. (1992 - 2002), and a feature film director for LGL Productions (1991 - 2001).
Film Credits:
The 7th Sense (Director) - PEGI
Playing Dangerous 2 (Director) - Mosaic Films
Club Wild Side (Director) - Universal
Inside Club Wild Side (Director / Producer) - Universal
Hello She Lied (Director) - Showtime
Romancing Sara (Director / Producer) - PEGI
The Chosen One - Legend of The Raven (Director / Producer) - Troma
Temptress (Director / Producer) - Universal
Playing Dangerous (Director) - Mosaic Films
Indecent Behavior (Director / Producer) - Magic Hour
Intimate Obsession (Director / Producer) - Magic Hour
Novel Desires (Director / Producer) - Magic Hour
The Miami Hustle (Director) - Nu Image Films
Television Credits:
Tantric Series (Director) - NWSE
Red Hot Touch (Director / Producer) - NWSE, Inc
Latin Ladies (Director / Producer) - PEGI
Girls of Baywatch (Director / Producer) - PEGI
Playboy: Sexy Girls Next Door (Director / Producer) - PEGI
Passion Cove: Where Have You Been All My Life? (Director) - PEGI
Wild Web (Director / Producer) - PEGI
Confessions and Fantasies (Series Segment Director) - PEGI
Gen X Girls (Director / Producer) - PEGI
We Can Make A Difference (Director / Producer) - LGL Productions, Inc
Playboy's Freshman Class (Director / Producer) - PEGI
Playboy's Girls of Mardi Gras (Director) - PEGI
Playboy's Hard Bodies (Director) - PEGI
Playboy: Best Kept Secrets (Director) - PEGI
Commercial Credits:
Judge Mathis Promos (Co-Director) - Warner Brothers
Mad TV Promos (Director)
Cosby Promos (Co-Director) - Warner Brothers
Hundai Cinema Verte (Director)
Lip Ink Liquid Lip Color (Director / Producer) - LGL Productions, Inc
Lip Ink Space Ship (Director / Producer) - LGL Productions, Inc
The Prosperity Solution (Director) - Institute of Human Development
Video Credits:
Dr. Ruth Westheimer's Love, Sex, Intimacy (Director / Producer) - Sharper Image
Dr. Ruth Westheimer's Communication, Love, Intimacy (Director / Producer) - Sharper Image
Contagious Music Video (Director / Producer) - LGL Productions, Inc
We Can Make A Difference II (Director / Producer) - LGL Productions, Inc
Enlightenment:
In October of 2000, one evening in Sedona, Arizona, Lanoff attained enlightenment after struggling for almost 20 years on a path to awakening. After one of the darkest moments in his life and questioning everything he had ever learned or accomplished, everything suddenly changed - forever.
While meditating out of the depths of hopelessness and darkness, he experienced oneness with everything. The moment became concrete afterwards while observing three birds flying across the sky - only pure awareness with no separation - the infinite.
Going forward, Lanoff experienced everything existing in the depth of stillness, flow, and awareness - the foundation of his teachings. He was also awakened to the realization that everything he was taught and almost everything we know about "spirituality" and the spiritual path is wrong. Lanoff had discovered reality in enlightenment.
Lanoff resides in Sedona, Arizona and enjoys water and snow skiing, bowling, swimming, and stakeboarding. He loves yoga and dancing (disco, salsa, break, club / freestyle), and also speaks Spanish.
Sex Education Career
Lanoff's The Art of Radical Self Acceptance
TM
(LawrenceLanoff.com)
teaches definitive ways of changing your behaviors, thoughts, and actions towards a life of freedom and pleasure. His teachings help others to demolish imprisoning beliefs (sexual, psychological, financial), cultivating pleasure to achieve happiness, and experiencing an awakened body and focused mind. His coaching is a three-tiered Radical Self Acceptance
TM
series focusing on personalized coaching sessions, a private membership program addressing sexual, emotional, and psychological freedom, as well as the art and practice of sexual energetic intimacy, and ESP (Extended Sexual Pleasure).
In 2014, Lanoff also introduced his YouTube channel The Art of Radical Self AcceptanceTM. The channel is devoted to upgrading your beliefs, improving your sex life, and expressing more freedom and pleasure in your life. It includes updates on how to express sexual charisma to naturally attract others.
In 2005, Soullight, Inc. expanded into helping people and organizations to clearly see their lives - free of guilt, shame, and blame - and freedom from the mythology and mental prisons that limit our minds. By May 2012, he had created Soullight Publishing to write and work on his book.
Since 2009, Lanoff has been a blogger for Dodson and Ross. He blogs about sexuality, myth, society, and freedom. Some of his blogs include:
We Humans Like to See Other Humans Having Sex (April 6, 2015)
To be Poly or Monogamous – In This Sense is Irrelevant (February 26, 2015)
What is the Evolutionary Benefit for a Woman NOT Falling Asleep After Sex? (January 26, 2015)
I Don't Believe a Woman Can Cheat. Ever (January 6, 2015)
Sex is the Unifying Factor...The Humanizing Factor That Transcends Cultural Beliefs (October 25, 2014)
We Have to Let Go of Outcomes That We Can't Control (August 5, 2014)
Lanoff's other career highlights have included:
Educator at the University of Southern California (June - August 2009)
Designer at Bullard Computer Aided Drafting (2005 - 2008)
Practitioner at Quantum Quests International, Inc. (1999 - 2006)
Vice President of Lip Ink International (1998 - 2003)
Lanoff's books and courses include:
The Language of Lust: This is Lanoff's most current release (April 1, 2015). Utilizing more than 5 years of research and personal testing, this system addresses female sexual psychology and the secret erotic language of the feminine mind. It is designed to activate a woman's sexual obsession for you and functions as a life, sex, and 'get a girlfriend' survival guide for men. The system is a collection of techniques to activate a woman's lust on command. Publisher: Digital Romance, Inc. - producer of relationship self help guides for men and women.
The Language of Lust system is also intended to help men establish a mutual connection with a woman, get her to fantasize about you, and open her up to her erotic pleasures.
How To Last Longer In Bed - Ejaculation Secrets Of A Tantra Master: Released in November 2014, Lanoff wrote this book to show men how to last longer in bed. It offers ancient Tantra secrets to develop heightened self-pleasure and full body orgasms. It also explains why many men ejaculate quickly or have difficulty ejaculating with their partner.
The book covers such areas as how to pleasure yourself more and eliminate ejaculation problems, freeing yourself from the guilt of pleasure, and how to last all night. It also shows you how to troubleshoot and perfect your techniques.
Tantra-X Formula: This Tantra program (released July 2014) offers training in the basics of Tantric Sex. It is designed to show you how to enjoy multi-orgasmic, full-bodied orgasmic pleasure, and:
How to have better sex with your partner
What gets in the way of most men having great sex
How to create hotter and deeply connected sexual experiences
What women really want, and how women honestly feel about you sexually
Asking for what you really want in bed to unleash your passionate, open, sexual self
Lanoff created this program to help others develop their sexual 'superpowers' towards mastering their sexual pleasure. It also includes interviews from various experts.
A Course In Freedom, The Drunken Monkey Speaks: This is Lanoff's first publication (2007), co-authored with Marilyn Demond and illustrated by Pamela Becker. This book teaches you how to monitor the drunken monkey in your head in order to free yourself from controls associated with the ego, society, culture, DNA, religion, mythology, the media, and even family.
Lawrence featured as one of the main characters in Neil Strauss' latest relationship book, "The Truth: An Uncomfortable Book About Relationships. In it he is the main expert Neil consults on his journey attempting to have healthy open relationships with women and keep his sexual freedom.
Lawrence Lanoff's Credentials & Experience
Relevant Qualifications & Awards
Canterbury University, PhD, UK, 2001: Doctor of Philosophy in Cognitive Studies

Canterbury University, Communications, Syracuse, NY, 1985: Bachelor of Science in Public Communications

Syracuse University, 1982 - 1985: Bachelor of Science

Bennington College, Undergrad, Bennington, VT, 1981 - 1982: Undergrad Program

Certification: NLP - Tony Robbins, June 1986

Lanoff is on a mission to help 100,000 men and women worldwide experience more guilt-free pleasure in life, and so created LK Publishing, LLC. The organization promotes and distributes products that help people open up to the opportunities in life and enjoy fulfilling sexual experiences.

Operation Crossroads Africa II Inc. (June 1981 – August 1981) Lanoff did community service for Operation Crossroads Africa - a cross-cultural exchange program, established in 1958 by Dr. James H. Robinson, in which young North Americans work at the grassroots level with young Africans. The programs are designed to promote understanding of Africa and the African Diaspora. Regarding the program, Lanoff stated, "Life changing in every way. It was the first time I had encountered how it is to be judged by my skin color. I also survived a coup d'etat when the government was overthrown and I remained in hiding for a week with limited food and water with my co-workers and counterparts."

Chicago International Film Festival, Certificate of Merit, 1990 - "We Can Make A Difference" - Independent Video Documentary Social / Political. With help from Lanoff, as a professional producer, students from the Oak Meadow School in Ojai created a 20 minute video about how to help clean up the planet. The video splices footage of Earth photographed from outer space with a Q&A session. In the video, the Ojai area youth voice their opinions regarding their individual contributions to clean up the planet.

United Nations Global 500, Global 500 Award, 1991 - "We Can Make A Difference" was awarded for outstanding contribution to the environment and an exceptional environment and children documentary series. It gained global recognition as well as that of the United Nations.
Books, Courses and Coaching & Lawrence Lanoff Reviews
Help Us to Improve this Profile
The information in this coach profile and wiki is verified by Dating Skills Review's Editors to be as objective, complete and close to the truth as possible.
Help us improve this profile of Lawrence Lanoff by sending us any information you believe to be missing, wrong or lacking detail or good quality images we don't have. Please state sources where possible to make our job easier to verify the correctness of the information.
Contact: [email protected]
"Listen In As We Share The Top Takeaways From The Best Dating Products Ever Created... Shave Years Off Your Learning Curve As You Discover What Really Creates Success With Women"
Here's just a few things we reveal in this info-packed interview:
The surefire products that are proven to work - based on 15+ years coaching men to dating success.
Why we dubbed this one product 'idiot-proof' and how it can transform a woman's reaction to you almost immediately.
Feel anxious about approaching women? Discover how to bypass that and set up a stream of dates with gorgeous women in as little as 20 minutes a week.
Dating Skills Review has been featured or quoted in: