Jaiya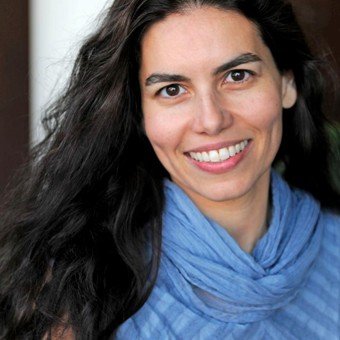 Jaiya (aka Jaiya Ma) is an internationally recognized, award-winning sexologist and trained somatic sex educator.
She is also founder of New World Sex Education, which helps men and women achieve the sex lives they desire through "real" sex education.
Her passion is helping women and men overcome intimacy and sexual issues that may be holding them back from a fulfilled sex life, as well as deepening their connection and communication towards more fulfilling relationships.
Jaiya's mission is to help others unleash erotic ecstasy and to shift the negative cultural view of sexuality to one that is healthy, worth developing, and celebrating.
Her understanding of how sexuality changes throughout life highlights her expertise in helping others on their personal path to greater pleasure.
Wiki Contents
Personal Data
Commercial Alias Name:
Jaiya
Real Name: Unknown
Nationality: American
Date of Birth: February 07, 1977 (Age 45)
Height: 5'9"
Profession(s):
Affiliated Dating Companies: New World Sex Education
Web Presences
Twitter

profile: @JaiyaNWSE
Trademark Advice
Men have a responsibility to create a safe space for women so they can be sexually free.
If you want to be a master lover, explore your own sexuality and get out of the cultural sexual box.
To become a better lover, you have to become aware of your own body and then someone else's. It blows a woman's mind to be wanted and the object of a man's desire.
Learn about your own self and your sexuality through the way that you are self-loving yourself through touch.
Through my own journey of sexual healing towards wholeness and expanded pleasure, I have come to believe that there is a lot more to sex than what our culture has led us to believe.
Biography
Personal Life
Jaiya has attended the University of Cincinnati, Muskingum College, and Wright State University.
November 2011: Jaiya made national and international headline news (Details Magazine, Daily Mail UK, Anderson Cooper, etc.) about her polyandry relationship, in which she decided to settle down with two men. In addition, the poly trio is raising a son.
Jaiya is in a relationship with 48-year-old Ian Ferguson and 52-year-old Jon Hanauer (ages as of 2015). They have a 6-year-old son (age as of 2015). Jon and Jaiya have been in a relationship for approximately 10 years. Ian and Jaiya have been lovers for approximately eight years. They all live together in Topanga Canyon, CA in a designer home overlooking LA.
The family lives a lifestyle that is not so different from a conventional marriage. However, neither Jon nor Ian is legally married to Jaiya.
During Jaiya's relationship with Jon, she met Ian at an improvisational-dance class and they fell for each other. Jaiya got pregnant and Ian moved in. After their son was born, Ian transitioned from "playing-the-field" polyamory to more of a common-law version. Their interaction with the Los Angeles polyamorous community is kept to a minimum.
The trio took classes to prepare for a home 'orgasmic' birth, in which the two men were present and helped Jaiya. The birth took place in a birthing pool, and included a doula as well as a film crew for an upcoming DVD. Jaiya stated, 'It was an amazing experience. Ian was holding me while our son was born and Jon and the doula were at the side of the tub. When he came out, Jon cut the cord and all three of us were crying.'
Sex Education Career
Jaiya believes in being open to possibilities and embracing others in the warmth of a new world of sexual freedom and embodied pleasure. She is incredibly passionate about her work and loves teaching people about their sexuality; guiding them from a mediocre sex life transformation into an experience of embodied, heightened pleasure.
Her years of education and personal experience have resulted in being able to offer no-holds-barred advice to overly welcoming audiences that are known for falling in love with her girl-next-door style and open sexuality.
Jaiya is the founder of New World Sex Education (NWSE), offering comprehensive sexual education. The training programs are designed to enhance sexual wellness and overall well-being through a combination of Eastern and Western sexual models for a holistic approach to intimacy and sexual wellness. NWSE provides DVDs, workshops, and enlightening sessions for the best educational experience possible, as well as bridging the gap between spirituality and sexuality.
NWSE's mission: dispel sexual shame through education while establishing your comfort level as both a giver and receiver of sensual pleasure.
Jaiya's body of knowledge teaching is about sexual wholeness, dispeling myths, and leading people to the truth about their own body. Her teaching also draws from ancient tradition to modern day sexology.
She follows the Ethical Guidelines of the Association of Certified Sexological Bodyworkers.
Jaiya is also a featured expert on the website Passionate U, for adults interested in learning how to be better and more adventurous lovers. The site covers human sexuality and includes experts that are experienced in their fields.
Jaiya's Passionate U article contributions include:
- Researching 40 Days of Kink (for an upcoming book)
- Internal and External Anal Massage
- A New Angel on Sex: Using Pillows & Props
- Male Ejaculation: Separating Ejaculation From Orgasm
- Sensual Touch
- Genital Massage for Men
- Four Obstacles to Sexual Health & Pleasure
- Female Ejaculation
- The Pleasure Wave
- Sex Labs: Exploring for Fun
- Female Genital Massage
- Finding Out What Your Woman Wants
- Is Your Sexual Type Compatible With Your Partner?
- What is Your Sex Type?
Speaker and Lecturer
In addition to being a sexuality expert, Jaiya is also an excellent speaker, with a background in theatrical arts and entertainment. Her appearances include national television, mainstream radio, and film as a Sex Expert. She has lectured and trained students at colleges and universities across the U.S.
Topics include:
- Female Sexual Empowerment- Sexual Abuse Prevention
- Erotic Massage
- Sex, Drugs, and Alcohol: Why they don't mix
- Sexuality 101- Jaiya answers all your questions
- Dating and Relationships
- Sexual Pleasure and Health
- G-Spot, P-Spot, A-Spot- Sexual Anatomy for Pleasure
- Control Your Orgasm For Men
- Sacred Sexuality (Tantric, Taoist, and Shamanic Practices)
- Overcoming Cultural Conditioning for Shame Free Sexuality
- Sexual Charisma- Be A Leader and Manifest Your Desires
- The Truth About Female Ejaculation
- Discover Your Core Erotic Blueprint
Jaiya conducts workshops and lectures teaching people how to go beyond bettering their sex lives, to include their lives in general. She is available for evening lectures, breakout sessions, day long training, and is proud to have taught for Tony Robbins at his Platinum events.
Production Credits
Yoga for Sexual Health and Pleasure (Executive Producer, Director, Writer, Model)
New World Education, 2013
- Volume 1, Solo Practice – Vitality
- Volume 2, Couples Practice – Yoga of Foreplay
A New Angle on Sex: Positions, Pillows and Pleasure (Executive Producer, Director, Writer)
New World Sex Education, 2013
- Non-explicit
- Explicit
Oral Sex for Couples, Volumes 1-3 (Executive Producer, Writer, Expert) Winner, Best Sex Education)
New World Sex Education, 2010)
- Connected Cunnilingus and Fabulous Fellation)
- Orgasmic Cunnilingus, Fellation and Anilingus)
- Sexual Positions for Oral Lovemaking
The Art of Female Self-Pleasuring (Executive Producer, Writer, Host) New World Sex Education, 2009
Sensual Massage for Pregnancy: Pleasure Filled Perineal Massage (Executive Producer, Writer, Host, Model)
New World Sex Education, 2009
Nominated for Feminist Award
Sex and Pregnancy (Model), Sinclair Institute, 2009
Pleasuring the Pregnant Woman (Host / Expert)
Liberator Back Stage, 2009
The Guide to the Kama Sutra (Model)
Sex Guide Media, 2009
The Guide to Tantra and Sexual Massage (Model)
Sex Guide Media, 2009
SinnFive Product Line (Host, Expert)
Liberator Back Stage and SinnFive, 2009
Kama Sutra Film Festival (Host / Expert, Model)
Liberator Back Stage, 2008
Sex With Jaiya, (Host / Expert)
Liberator Back Stage, 2008
RED HOT TOUCH, (Executive Producer, Writer, Host, Model)
New World Sex Education, 2008
Winner at Feminist Awards
Femme-a-Femme Erotic Massage, (Host, Model)
Secret Garden Publishing, 2007
Filmography Credits
Foursome (TV series)
- Blame It on Reno (2012)
- Maid to Order Around (2010)
- Reality Stars Rock (2010)
- Swimming $ Gold (2008)
Documentary: With or Without You, 2010 (Playing herself / interviewee)
Jaiya's Credentials & Experience
Relevant Qualifications & Awards
Certified Sexological Bodyworker / Somatic Sex Educator

Certified Sexologist (Institute for the Advanced Study of Human Sexuality)

Certified Tantric Educator

Certified Tantric Mentor

Certified Reiki Master Teacher

Certified Raw Food Chef

License: Massage Therapy (State of Ohio)

License: Specialty Training

License: Sexual Wholeness with Kip Moore and Lexi Fisher

License: Ipsalu Tantra Level 1-3 with Bodhi Avinasha

License: Power of the Voice with Bodhi Avinasha

License: Craniosacral Therapy I& II with Dr. Upledger

License: Entering the Castle with Caroline Myss

License: Tantsu with Mare Simone

License: Reflexology for Couples at Mercy Hospital Cincinnati

License: Shamanic Trance Dance Facilitation with Wilbert Alix

License: Tantric Shamanism with Sylvia Brallier

License: Sexual Shamanism with Kenneth Ray Stubbs

Membership: ASEP- Association for Sexual Energy Professionals

Membership: ACSB- Association of Certified Sexological Bodyworkers
Notable Media Appearances
Some of Jaiya's media appearances include Good Morning America, Nightline, Anderson Cooper, The Doctors, TMZ, Say Anything with Joy Behar, The Tyra Banks Show, TLC, CNN, Ricki Lake, and Playboy TV.
February 20, 2013: appeared on Joy Behar Show
Jaiya was a guest on the TV show for a "sex ed" segment. During an orgasm discussion, she showed her own skill in reaching orgasm by thinking about it and using her pelvic floor muscles.
Radio Credits
- Sex with Jaiya, Host, Video Blog / Show
- Sex with Jaiya (Host) Voice America Variety Internet Radio, 2009-2013
- Sex Nerd Sandra – The Nerdist, 2012-2013 (Repeat Guest)
- The Inner Circle with Neil Strauss, Sirius/XM, 2012 (Guest)
- Dr. Susan Block Show, 2011/2013 (Guest)
- Tiffany Granath Show, Playboy Radio Sirius/XM, 2008-Present (Regular Guest)
- Night Calls, Playboy Radio XM, 2008 – 2010 (Regular Guest)
- Debbie Reynolds Show, Blog Talk Radio, 2009 (Guest)
- Morning Show, WOCM FM 98.5, 2008 (Guest)
- Multiple Shows, KOA AM 850 (Repeat Guest)
- Sex.com Radio, Sirius Radio, 2008 (Guest)
- The Jay Thomas Show, Howard Stern Channel Sirius Radio 101, 2008 (Guest)
Publications
Jaiya's books and DVDs have been featured in both online and print publications, including Details Magazine, Women's Health Magazine, Cosmopolitan (US and UK), Parenting, Redbook, Gawker, Daily Mail, Liberator.com, and Sex.com.
Books, Courses and Coaching & Jaiya Reviews
Help Us to Improve this Profile
The information in this coach profile and wiki is verified by Dating Skills Review's Editors to be as objective, complete and close to the truth as possible. It was created by Angel Donovan.
Help us improve this profile of Jaiya by sending us any information you believe to be missing, wrong or lacking detail or good quality images we don't have. Please state sources where possible to make our job easier to verify the correctness of the information.
Contact: [email protected]
"Listen In As We Share The Top Takeaways From The Best Dating Products Ever Created... Shave Years Off Your Learning Curve As You Discover What Really Creates Success With Women"
Here's just a few things we reveal in this info-packed interview:
The surefire products that are proven to work - based on 15+ years coaching men to dating success.
Why we dubbed this one product 'idiot-proof' and how it can transform a woman's reaction to you almost immediately.
Feel anxious about approaching women? Discover how to bypass that and set up a stream of dates with gorgeous women in as little as 20 minutes a week.
Dating Skills Review has been featured or quoted in: