Christopher Walker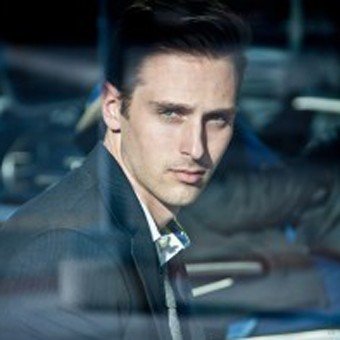 Christopher Walker is a tech entrepreneur, blogger, podcaster, and professional male model. He is the founder of NoGym.net, a clear-cut resource for improving fitness through psychology and proper training.
He is also author of No Gym, Perfect Body – an ebook for his blog subscribers about getting lean and optimizing your hormones.
Wiki Contents
Personal Data
Commercial Alias Name:
Christopher Walker
Nationality: American
Date of Birth: July 11, 1989 (Age 33)
Height: 6"4
Profession(s): Life Coach
Affiliated Dating Companies: Independent Author/ No Affiliated Company
Web Presences
Twitter

profile: @CTheFlow
Facebook profile: ctheflow
Trademark Advice
"I love rousing people to take steps that matter; to stop worrying about minutiae and start focusing on the big, most effective ways to facilitate real, lasting change in your life."
"You need to work your ass off and never stop. It's not about working four hours a week; it's about putting in years of 80+ hour weeks until you get where you need to go. Then you can sit on a beach after you've arrived."
"Most people make the mistake of thinking of their health and fitness as separate from their everyday life. It's not. This is a huge mistake. Your life is a system and your health is the most important investment you can make in life. It affects everything else."
"Much of my advice flies in the face of traditional fitness industry standards: and that's how you know I'm telling the truth. I'm not marketing. This is really high-quality advice. And it gets results."
Biography
Personal Life
Christopher grew up in a military family. His father was in the Marines and instilled in the children a tenacious work ethic.
He holds a degree in Neuroscience from Duke University and is the first student to complete Duke's neuroscience program in three years.
Some of the opportunities he has been fortunate to experience include:
- Surgical bladder stone removal of a man in Mexico
- Taking a tech startup to market
- Meeting with the head of the CAA
- Flying a helicopter over San Francisco
- Competing in National Championships in triathlon & duathlon
The center of his life philosophy includes self-experimentation and foundational learning, which have helped him ease the negative side effects of having dealt with his brain tumor. It also helped him shed approximately 50lbs of fat from his 221-pound body and gain 25lbs of muscle within 3 years, in addition to increasing his testosterone. The weight gain was due to hormonal complications with the tumor.
Christopher is also a professional model having posed for Givenchy and Cosmo.
He enjoys Chipotle, chicken wings, bacon, coffee, and currently splits his living between New York and Washington, D.C.
Dating Advice Career
As the creator of the Testosterone I/O Program, Christopher teaches men how to naturally increase their testosterone without medications or gels. The program helps those suffering from low testosterone by providing the proper knowledge and his step-by-step process using specialized training, nutrition, and lifestyle techniques.
Through his NoGym.net site, Christopher delivers helpful fitness psychology insights built upon the foundation of his elite athletic career and modern neuroscience education. He provides a simple and comprehensive approach to fitness as a part of a person's lifestyle.
He also offers one-on-one 12-week coaching sessions as well as consulting calls for people trying to lose body fat and reach the ideal physique they've always wanted. The process includes bringing the individual into hormonal balance and teaching them how to maintain their progress.
Christopher Walker's Credentials & Experience
Relevant Qualifications & Awards
Co-founded Neurogenesis: The Journal of Undergraduate Neuroscience at Duke University for undergraduate neuroscience research.
Books, Courses and Coaching & Christopher Walker Reviews
Help Us to Improve this Profile
The information in this coach profile and wiki is verified by Dating Skills Review's Editors to be as objective, complete and close to the truth as possible. It was created by Angel Donovan.
Help us improve this profile of Christopher Walker by sending us any information you believe to be missing, wrong or lacking detail or good quality images we don't have. Please state sources where possible to make our job easier to verify the correctness of the information.
Contact: [email protected]
"Listen In As We Share The Top Takeaways From The Best Dating Products Ever Created... Shave Years Off Your Learning Curve As You Discover What Really Creates Success With Women"
Here's just a few things we reveal in this info-packed interview:
The surefire products that are proven to work - based on 15+ years coaching men to dating success.
Why we dubbed this one product 'idiot-proof' and how it can transform a woman's reaction to you almost immediately.
Feel anxious about approaching women? Discover how to bypass that and set up a stream of dates with gorgeous women in as little as 20 minutes a week.
Dating Skills Review has been featured or quoted in: