Squirting Orgasm Mastery - How To Give Your Girl The Ultimate Orgasm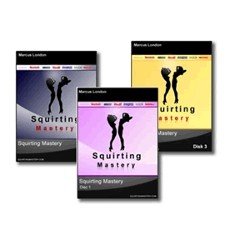 DSR Editor Rating
Product No Longer Available.
2 Girls Teach Sex has closed down and their programs are no longer available. Browse the
Sexual Skills Ranking
for the top rated sex programs.
Editor Review
237 of 246 people found the following review helpful
"Squirting Orgasms Nailed. A More Practical Training than Earlier Products."
Ease of Implementation
8.0
Packaging/ Customer Service
10.0
The Good
Very practical and easy to learn from, instructed by arguably most experienced man with 'squirting orgasms' (Marcus London), very realistic training covering most of the situations you may encounter (scenarios and different squirting and orgasmic ability of women you're with).
The Bad
A bit disorganized, poor 'scientific' research with some factually incorrect information in some of the 'seminar' part of the course.
The Bottom Line
Nails the squirting orgasm topic with the most practical and easy to learn training on the subject. If you already have experience with sex, adding squirting orgasms to your skills is a great way to set yourself apart from other men in bed and help your girl to become more orgasmic.
If you are inexperienced in the bedroom and are not already giving your girl(s) g-spot/ clitoral orgasms, this isn't the best starting point for you. You need to get the basics down first before squirting orgasms become useful. You can learn the foundational skills in the similarly practical 2 Girls Teach Sex main program.
FULL DETAILED REVIEW
Note: This is an update of our original review taking into account a recent reconfiguration of the Squirting Mastery course by the 2 Girls Teach Sex team. You now have the option to get the Squirting Mastery 2.0 training when you sign up for the Squirting Orgasm Mastery program. You can read our review of Squirting Mastery 2.0 here.
2 Girls Teach Sex is the third company to bring out a squirting orgasm training since 2004. While they aren't the first to do it, they have succeeded in creating a better product. Squirting Mastery is a much more professional product than its predecessors. It is also created with arguably the best sex coach for the subject - Marcus London, the porn actor who has become most famous for his ability to give women squirting orgasms on and off screen.
Marcus leads most of the training in the program except for the seminar part of the course which has Marcus, Bobby Bradshaw and Tori Black working together.
This product fixes a lot of the issues we found with earlier products, Squirting 101, Squirting 201 and White Tiger Tantra. The biggest difference is that this product is easier to learn from.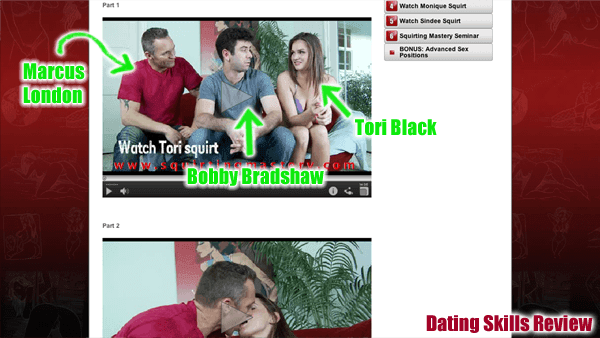 The Squirting Orgasm (or Female Ejaculation) Technique
The technique used by Marcus London in this video course is the most popular technique used for making girls squirt reliably. The technique is a hand technique that you can use during foreplay or between sessions of penetrative sex to give your girl a single or multiple squirting orgasms.
The tech originally comes from tantric sex and was made famous in the Porn Industry by Axel Braun's Squirting 101 in 2004. I learned the technique myself successfully from the Squirting 101 DVD at the time, although it's a pretty amateur video production as was the training and instruction within it. So Squirting 101 wasn't very easy to learn from. I had to watch hours of porn to see what Axel was doing, experiment with it afterwards, and learn some of the details myself through trial and error to get it working properly - and I was already very sexually experienced.
Fortunately, the Squirting Orgasm Mastery program is a lot more comprehensive and easy to learn from. So you can avoid all the monkey business I had to go through to get this working, and even if you are a beginner, this course is straightforward to learn from.
Keep in mind though, that mastering squirting orgasms, is not an essential sexual skill. Squirting orgasms is an advanced skill. It's a great technique to add more fun, variety and make a more unique impression on a girl - but if you don't already have the basic skills mastered, you won't go far with it.
So if you haven't already mastered sex and orgasms, check out the 2 Girls Teach Sex program (similarly practical to this course) or one of the other top programs in our sexual skills ranking. You can come back to squirting orgasms later once you've got the all-important foundational skills nailed.
Practical Hands-On Teaching
The best aspect of this training, as with other 2 Girls Teach Sex courses, is that you get shown through step by step demonstrations how to do it.
In this case Marcus London does a great job of talking you through what he is doing while he is doing it. He stays focused on being an instructor throughout the demonstrations, explaining what he is doing and why. This was an issue with earlier programs which were more porn-like and lacked the instructional value.
Another strong point of this course is the repetition with different scenarios. In total there are 2 hours of video content, of which about 75% is made up from these live demonstrations. So you will watch 90 minutes of live instruction which gives you a lot of material on the technique in different scenarios and positions to learn from. This means you will be prepared better for the realities of using the technique during sex which won't always fit one style.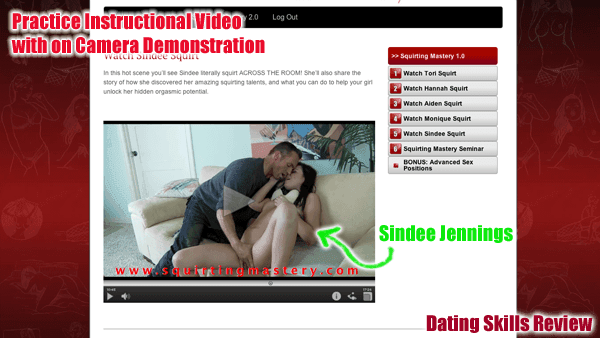 Preparing You for the Realities of Female Ejaculation
All girls are different when it comes to sex, and even more so where it comes to their ability to squirt. The fact its, that there are very few "porn movie style" squirters in the world - it's unique, and that's partly why those films attract so much attention. So it would be a waste of time for you (and deceptive) if a course showed you how to use a technique with porn actresses who have this unique ability to "squirt across the room", but not on regular girls with much more tempered squirts (the norm).
Squirting Mastery gets this right. In fact, they do a great job of covering all the situations you may come across with the girls you try these techniques on and coaching you on how different each girl can be.
Additionally, Marcus London and Tori Black discuss throughout the seminar part of the course how each girl being different and how when it comes to squirting orgasms. "Every girl is different" is something you hear regularly from both of them throughout this course.
From a more practical point of view, they use 5 girls (Hannah West, Tori Black, Aiden Ashley, Monique Alexander and Sindee Jennings) in the demonstrations that have different squirting abilities. This means you get to see how Marcus brings each type of 'squirter' to squirt, how much effort it takes, and the different approaches he takes. Importantly, you also see who the girls react and feel about squirting. Which goes from not looking so happy about it (think it's a little weird), to being ecstatic about it "300 times better than normal orgasms".
For one of the porn actresses, Aiden Ashley, it was her first time on film. For another, Monique Alexander, it was her first time squirting. Sindee Jennings is one of the best known squirters in the porn industry, so you get to see how different her reactions are to it in comparison (while Marcus literally gets soaked in the process).
I've been giving girls squirting orgasms for 5 years or so, and while I've never come across a "Sindee Jennings" squirter, I've seen an incredible amount of variety in responses as seen in these videos.
A minor note: Marcus London says every girl can squirt. While I believe that is ultimately true for any girl that has been sexually awakened, there are some girls that are not "yet" awakened and are unable to have even traditional orgasms. For these types of girls the technique from these videos wouldn't work. Similarly to standard clitoris or g-spot orgasms, squirting orgasms require that the girl be able to get into the right mental state. While girls like this are in the minority, be aware that there are some out there and you will first have to work with them on getting traditional orgasms.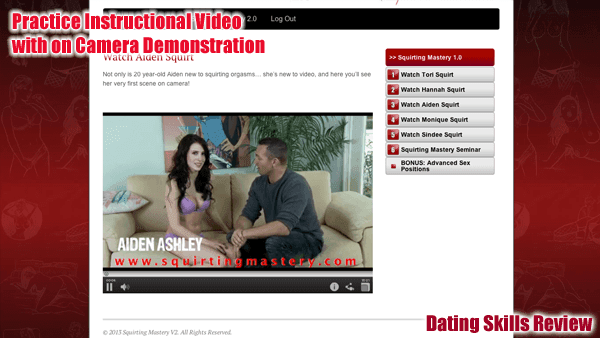 How Could this Course Be Improved? Scientific Research Issues and Disorganization
There was very little "technical" explanation in this course about how squirting orgasms work and the science behind them. Where they do discuss it in the seminar with Bobby Bradshaw, Marcus London and Tori Black, it is clear that this aspect isn't well researched and some of the information is incorrect.
This is a shame, because it takes away from what is otherwise a professionally put together training course. As a result, we recommend you don't pay too much attention to the scientific explanation of squirting orgasms in the seminar in this course. This is corrected in their second course, Squirting Mastery 2.0, where they give the correct explanation for how squirting orgasms work.
Note: If you are interested in learning about the scientific background behind squirting and other types of orgasms David Shade's Give Women Wild Screaming Orgasms course is the best researched we've found and will get you up to speed with how the biology works.
Another weakness of the course is its organization and structure. The advice for squirting orgasms is widely distributed across the videos, so you have to learn it in bits of pieces and put it all together. This is fine for some people who have no problem learning this way - by absorbing information without thinking about it too much. On the other hand, if you are someone who has to think everything through carefully you'll have to pay attention and note down advice as you learn it from different places to put your complete picture together. On a couple of minor subjects like if and when to use lube this could give you a little bit of confusion, as at different times different advice is given. It's not a big deal, but again, a shame to have this 'smudge', when overall the course is professionally put together.
The Advanced Positions Bonus Material
As a bonus you get another 90 minutes of video teaching you about sexual positions and other aspects of sex broken down 50:50 between seminar and live demonstration content.
This is a really good bonus with a lot of 'rock solid' tips on sex. Tori Black really stands out in the seminar presentation giving some very down to earth, practical and relevant advice on a variety of sexual topics. This works well with the two men (Marcus London, Bobby Bradshaw) giving the male and male porn star perspectives. Marcus is very careful to keep advice relevant for everyone - in particular girls who are a lot less experienced than the porn stars and sexually open girls he's more used to.
A lot of subtle but important details of sex are discussed from what you should focus on, how to think about sex, how to approach sex and changing positions - which positions women prefer and why and so on. Even if you're very sexually experienced, say have slept with over 100 women, you will find some gems in here.
The live demonstrations live out some of the advice given and put it into practical demonstration. They stick to the program and details of some of the most important positions. This is very practical and useful for pretty much anyone - you should learn some tricks even if you are very experienced and for beginners it's very accessible.
Dion Lee (Marcus London's wife) is also featured in the demonstrations so you can see the chemistry they have together vs. Tori Black and Marcus. Dion is a little less focused on instruction, playing around more, making jokes and such which can be a bit distracting for someone trying to learn. Tori, however, stays firmly on the ball as does Marcus, walking you through and explaining what they are doing. Tori and Marcus make a great "coaching team" as they're good at staying focused on instruction while they're acting out the sex.
The Bottom Line
This is a practical hands-on course that will fully prepare you to give women squirting orgasms - whether she's had one before (rare) or if she's had them often. It's better than any of the other competing products on the subject since it's easier to learn from. It also has some excellent 'general sex' content that pretty much anyone should benefit from.
However, if you are inexperienced at sex, we recommend you don't start with this. You should first start with a practical general sex course like 2 Girls Teach Sex's main program to learn the foundational skills.
Squirting orgasms won't be very helpful to you if you haven't got those foundational skills already. You can always come back to this course once you've got the foundation to add squirting orgasms to your repertoire, and also use the Advanced Sex Positions portion of this course to build on that.
Help other users find the most helpful reviews
Was this review helpful to you?
Product Information
This video program from Marcus London (2 Girls Teach Sex) is a video instruction course that provides the how-to's on giving women squirting orgasms, even if for the first time and regardless of his or her sexual experience.
The program includes demonstrations from porn stars including Hannah West, Aiden Ashley, Monique Alexander, Sindee Jennings, Devon Lee, in addition to the sex coaches (Marcus London and Tori Black).
Bonus includes:
- Advanced Sex Positions For Killer Orgasms (1 hour 35 minutes duration)
---
Skillsets:
Masculine Sexuality & Sexual Skills
Learning Format:
Online Video
Online Access
Release Date:
September 01, 2010
Product No Longer Available.
---
Feedback
If you have a question or problem, ask us:
Table of Contents/ List of Topics Covered:
- Where to touch a woman to make her squirt
- A new way to make your girl feel sexy "down there"
- How often to give a woman a squirting orgasm
- Additional techniques for making a girl squirt
- What to do with your fingers that are not inside of her
- How to warm her up before touching her squirt spot
- How to handle a "conservative" woman in the bedroom
- An upper body technique that triggers an intense vaginal reaction
- The fingers to use, where and how to use them, and how much pressure
- The "secret" sex position that gets a girl have a squirting orgasm during penetration
- What to do with your hands before touching a girl so she feels comfortable with you
- Five mental things that get your girl relaxed enough to squirt without putting pressure on her
- A woman's body and when she squirts, using this knowledge to give her intense orgasms
---
What You Get:
Access to members online video training site:
- Squirting Orgasm Mastery course (1 hour, 57 minutes duration)
---
Guarantee / Terms:
90 Day Money Back Guarantee
User Reviews of Squirting Orgasm Mastery - How To Give Your Girl The Ultimate Orgasm
9.4 out of 10 stars
Share your thoughts with other users:

Most Helpful User Reviews
View all user reviews
View Other Home Study Courses (Books, DVDs, CDs, MP3/ Video)