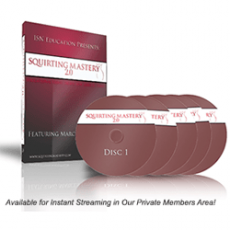 DSR Editor Rating
Product No Longer Available.
2 Girls Teach Sex has closed down and their programs are no longer available. Browse the
Sexual Skills Ranking
for the top rated sex programs.
Editor Review
17 of 18 people found the following review helpful
"Comprehensive and Very Easy to Learn. A Bit Overkill."
Ease of Implementation
10.0
Packaging/ Customer Service
9.0
The Good
Comprehensive course for squirting orgasms, easy to learn from even for complete beginners, good sexual material on using dominance.
The Bad
Overkill for the more experienced (at times dialogue wanders a bit, repetitive in places) and disorganized. Some random bad advice from the girl coaches (E.g. Veronica Avluv).
The Bottom Line
This course is very comprehensive with a lot of material, 5 hours of video, covering virtually everything you will ever need to know about squirting orgasms.
It's main weakness is that it is a bit 'overkill'. If you're a beginner this isn't a problem as the repetition of content will help to drum it into you. If you are fairly experienced you'll get to a point half way through where it gets a bit tedious and you want to skip through parts that you're already up to speed on.
FULL DETAILED REVIEW
The Squirting Mastery 2.0 program is sold as an add on to the
Squirting Mastery 1.0
. You get access to Squirting Mastery 1.0 as soon as you sign up, access to Squirting Mastery 2 month 1 in the second month, month 2 of squirting mastery 2.0 in the 3rd month and the last month's content in month 4. If you haven't already read our
Squirting Mastery 1.0 review
, you should go back and read that before this review.
A Celebrity Porn Star Line Up
As with Squirting Mastery 1.0 Marcus London leads the training throughout this course. The other porn stars recruited to appear in Squirting Mastery 2.0 to help with the training include a line up of many high liner award AVN Award winners.
The female pornstars featured include well known squirters (Veronica Avluv, Annie Cruz) and other stars who have a lot less experience with it (Kelly Surfer, Vicki Chase, Madelyn Monroe and Ash Hollywood) - but of course are highly experienced and sexually open compared to your average girl.
The 'squirters' featured in this 2nd edition, Veronica Avluv and Annie Cruz, have a bigger reputation for squirting and you see much bigger squirts from them compared to those you see in the 1st edition of this training course. While watching these girls squirt you have to keep in mind that while it looks very impressive, these two girls are extreme in their 'biological' squirting ability and you are very unlikely to see something similar with a girl you try these techniques on.
Very Easy to Learn From
This is without a doubt the easiest course to learn how to make a girl squirt from. No matter your sexual experience, and how little it you may have, you will easily learn the squirting techniques.
What makes it so easy to learn from is:
Context setting: The course is clearly structured with an interview first with the girl to learn about her and then the demonstration with her. This gives you a context for the girl's background, experience and her attitude toward squirting before you go through the demonstration. All girls are different, so this will help you to calibrate to girls in real life.
Repetition: There are 10 separate demonstration videos with different girls, scenarios and situations covered. There is a fair amount of overlap in each of these, so you will learn by repetition.
Clear demonstration: Marcus London shows and explains the techniques outside and inside the vagina many times. There are diagrams showing the technique which are visually useful and a lot of advice on where to aim for, where you should be pressing and so on so you can't get confused. In addition to seeing Marcus use the techniques you also see him teaching Kelly Surfer how to do it in one video, which has more instructional value as you watch her go part way through the learning process.
This course will literally
"drum squirting mastery into your brain"
because of the amount and repetition of content. It's probably one of easiest to learn courses I've seen yet - so anyone should be able to master the techniques from it.
This brings me to an important point for some of you...
Are You Already Very Sexually Experienced and Quick to Learn?
If you are more experienced sexually, are quick to learn new things, you are probably going to find this course "overkill".
It is long, measuring in at nearly 5 hours of video training on squirting orgasms (split equally into 3 parts split over 3 months). That is a lot of viewing time, and you will find a fair amount of repetition of advice and 'drumming points in'.
If you are quick to learn, experienced and want something concise, you will inevitably find yourself wanting to hit the fast forward button at times as a result.
Having said that, see the point on Additional Useful Content below, because it is worth watching through the whole course to pick out some scattered 'gold nuggets' of advice, even though it may get a bit tedious at time for the advanced student.
How Does Squirting Mastery 2.0 Work as an Add On to Squirting Mastery 1.0?
Currently you get Squirting Mastery 2.0 as an add on after the original
Squirting Mastery 1.0 course
. As I mentioned above, this is going to be overkill the advanced, but will probably work well for beginners and the less sexually experienced. Especially if you learn well from repetition and you know you're not the quickest of learners.
Watching Squirting Mastery 1.0 and then Squirting Mastery 2.0 has its pluses and minuses.
Pluses: Squirting Mastery 1 introduced you to squirting with girls that mostly had never squirted before, or weren't experienced with it. This was great for setting your expectation as to what you are going to find in 'real life'. In this course, squirting mastery 2.0, you get introduced to girls which are more advanced squirters or have more experience, which can give you an idea of how far you can take it if you work with your girl to develop her squirting ability. So there is a nice follow on between the courses from this perspective.
Minuses: Together, these two courses are a lot of content to get through for quick learners and the experienced. If you're already very comfortable in bed and with your sexual skills, there will be a "boredom factor" with this course at some point.
Additional Useful Content: Dominance and Comfort
While it's not the selling point of this course, there is some more generic sex advice worked into the squirting mastery course that is very useful.
The highlight example of this is the step by step demonstration of dominance while talking through how to do it properly. Being dominant in bed is really important, but many men are either too shy to do it or go over the top and do it too aggressively. Studies have shown that this makes it a negative experience for the woman. So the steady talk through Marcus London gives while he is using dominance on Vicki Chase in one of the modules in month 1 of the course, Animalistic Squirting, is really valuable for men who are unsure about this.
I'd even say that men who think they do this well should still watch it because it could help you get better calibrated. If you are too aggressive or do it in the wrong way, but not aware of it, the material here could open your eyes up to that and get you better calibrated - making it much more enjoyable for the woman.
Another aspect discussed repeatedly is "comfort", especially in the interviews with the women. Most of the women in the videos are very candid about the importance of comfort and what it means to them, which will help you to realize its importance. If female porn stars (read unusually sexually open women) are talking this up, it should be clear to you how even more important this is with the general population.
The Anal Orgasms Bonus
In month 3 you get a bonus program "Anal Orgasm Mastery" including 119 minutes of seminar and video demonstration content. This section features Ryan Mclane, Dana DeArmond, Danica Dillan and Marcus London. Note that, 2 Girls Teach Sex has a complete course dedicated to anal orgasms named "
Rear Entry Made Easy
" with
Tori Black
. This bonus content is not the same course.
There are a number of very useful and innovative techniques introduced to you to get talking with a girl about anal, introducing it, and going through the step by step escalation from foreplay, to sex, to anal sex with her.
Overall the instruction is quite long in duration for the actual instruction you get out of it. In particular this relates to the videos led by Ryan Mcnally (a seminar video on deep anal orgasms and two demonstrations) at the back end of this mini-course. The material, at times, is also little better than a porn movie, with you just watching Ryan "pumping ass". Not very instructive.
Most of the valuable instructional material is got from the first two videos featuring Marcus London, although the quality of these is also a bit lower than the Squirting Mastery 2.0 main content (less clear advice, more wandering discussions).
An important topic (I'm telling you this from experience unfortunately..) that needed attention but was missed out is how to avoid UTIs (Urinary Tract Infections) and Yeast infections particularly for the girl. That can put a big downer on her experience of it and she will be unlikely to want to do it again. It was brushed over and said to not be a big deal in the seminar material of Anal Orgasm Mastery, but for many women it can be a big issue.
Finally another aspect I've seen covered in more depth in other product's such as David Shade's Screaming Orgasms, is the mental aspect of introducing the concept of anal, and getting a girl to desire it, if she has never done it before and is resistant to it.
Some Weak Instruction Points - Could Have Been Improved
The science of squirting is the weaker part of the course, which I'd attribute to a lack of organization and to weaker instruction from Veronica Avluv (as compared to Tori Black featured in most of the 2 Girls Teach Sex courses for instance).
Both Veronica and Marcus wander quite a bit around during this part of the course, with the same points gone over too many times. The science discussed is actually very limited so the name of this part of the course doesn't really fit. Whereas Tori Black's advice always comes across as practical and she's careful to make it relevant for the general population, Veronica is less good at this. A couple of times she gives some pretty strange advice which could have been a joke but didn't seem to be? An example is where she advises women to learn more about squirting by putting their finger in their pussy while driving." So if anything said sounds a bit strange, just strike it off your list of things to remember.
As a final note, there is an issue with the structure of the modules also. Some of the modules that you get access to in Month 3 would have been very useful to have seen in Month 1. This applies for some in Month 2 also. A re-sequencing of the content would make the learning curve faster and avoid any confusion a long the way. For instance, Marcus does the clearest demonstration of the hand techniques he uses for squirting in Month 3. These would have been good to see up front, so when you see him in the demonstrations you know exactly what he's doing already.
The Bottom Line
This course pummels the subject of squirting orgasms into your head through repetition. If you are a beginner, you can rest assured that you'll have covered the subject fully after this. It also provides some good instruction for the less experienced on general sex themes such as dominance and comfort. As always with 2 Girls Teach Sex, the value is in
the live step by step demonstrations
- and Marcus has clearly grown into his role and got better at this since the first course he taught with 2 Girls Teach Sex.
If you are really experienced, are a quick learner, and already have some experience with getting girls to squirt this will feel like overkill for you - and you may struggle to get through all the content. Having said that, I'm very experienced myself, and while it wasn't fun to watch through so much content (particularly the repeated points), I did learn quite a few new tricks that are scattered throughout the course that made it worthwhile.
Help other users find the most helpful reviews
Was this review helpful to you?
Product Information
The "Squirting Mastery 2.0" program is an add-on program to the original Squirting Orgasm Mastery created in 2010.
Squirting Mastery 2.0 shows you more about squirting orgasms including penetrating squirting orgasms and anal. The program is designed to give women squirting orgasms that satisfy them and change the way they think about sex.
In addition to the two sex coaches teaching in this video training (Marcus London and Veronica Avluv) you see a number of porn actresses featured in the demonstrations including: Ash Hollywood, Vicki Chase, Kelly Surfer, Alyssa Branch, Madelyn Monroe, and Annie Cruz.
Bonus includes:
- Anal Orgasm Mastery
---
Skillsets:
Masculine Sexuality & Sexual Skills
Experience Level(s):
Intermediate
Learning Format:
Online Video
Release Date:
January 01, 2012
Product No Longer Available.
---
Feedback
If you have a question or problem, ask us:
Table of Contents/ List of Topics Covered:
Month 1
- Squirting induction with Kelly Surfer
- Animalistic squirting with Vicki Chase
- Squirting made easy with Kelly Surfer and Vicki Chase
- Squirt building penetration with Madelyn Monroe

Month 2
- Squirting techniques with Ash Hollywood
- Squirting techniques with Madelyn Monroe
- Squirting orgasm wizardry with Alyssa Branch
- Bonus: Advanced squirting mastery with Veronica Avluv

Month 3
- Science of squirting orgasms seminar (Marcus London, Veronica Avluv)
- Squirting penetration orgasms with Veronica Avluv
- Full body foreplay with Annie Cruz
- Bonus: Anal orgasm mastery (Danica Dillan, Ryan Mclane, Dana DeArmond, Lyla Storm)

Marcus London leads the whole course with an assortment of other female and male porn stars featured in each of the sections.

The material to be taught in the course includes:
- Learn the tricks how to make women comfortable enough to unleash the orgasm.
- The right way to warm her up by kissing before her first squirt orgasm.
- Will show you the tips how to get her juices flowing by oral sex.
- The right zones to focus on during foreplay.
- The special techniques to make women scream and squirt by The Fluttering Orchid Trick.
- How to give women the orgasm without taking off your clothes.
- Learn how to use your finger when it is inside her.
- The secret spot to rub for squirting orgasms.
- How to give women multiple orgasm and make her wants it again and again.
- Tricks how to make her pussy become more sensitive during foreplay.
---
What You Get:
Access to membership site to view videos. This is a 3-part (1 each month) program.
---
Guarantee / Terms:
90 Day Money Back Guarantee
User Reviews of Squirting Mastery 2.0
View Other Home Study Courses (Books, DVDs, CDs, MP3/ Video)