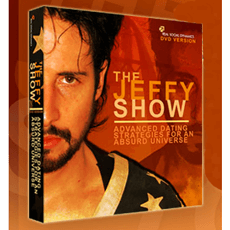 DSR Editor Rating
No Editor Review Available Yet.
Go to Product Site
Product Information
This program is designed to motivate you to succeed using a step by step method to take an interaction from initial contact with a woman to the bedroom.
---
Skillsets:
Meeting Women
Attracting Women
Learning Format:
Online Video
Download (Audio)
Release Date:
May 14, 2008
Price:
$169.00 - $438.00
(depending on product format or options purchased)
---
Feedback
If you have a question or problem, ask us:
Table of Contents/ List of Topics Covered:
Module 1: Steroids for the Soul
- Getting your mind right
- How to direct the rhythms of interaction
- The 4 classes of women you should never sleep with
- How to engage a woman with hyper focus
- How to maintain your own little magic bubble, just you and the girl
- The RSD Triangle
- 9 characteristics of being in state
- How to avoid trash talking
- The mindset of "The Hustler"
- See why your biggest enemy is yourself
- How to set yourself achievable, progressive goals
- How to avoid going too far into pickup
- The neutering effects of socialization
- The progression of values
- How to zap irrelevant thoughts out of your reality
- The philosophy of full-contact sports to blitz through social pressure
- The parallel between self-help and personal fitness

Module 2: Step-by-Step Supercharging
- How to plow to maximum effect
- How to step up to a group of girls
- How to avoid the horrors of the dreaded chode crystal
- The douchebag opener
- The four levels of fashion
- The walk up
- How to avoid the problem of the lingerchode

Module 3: Unleash the Beast
- Details of the push/pull
- How to use creative misinterpretation and elastic snapbacks
- How to use your cellphone to create scarcity
- The key to crystallizing yourself in her mind
- The lay of rage
- The value of brevity
- How to use routines to enhance natural game
- The dreaded friend zone
- The 2 core keys of subcommunication
- How to open interactions with a blitz mentality
- Dealing with interlopers
- How to instantly neutralize any guy
- The total eclipse of the chode

Module 4: Hyper-Magnetic Pulling Power
- A sign that a girl is in the club just to find a guy to sleep with
- How to merge groups of women together
- How to hammer yourself into a woman's mind
- How to hook a girl into meeting you
- The legend of chessclub
- How to get threesomes
- Dual inner game
- The benefits of female mind translation
- The dual induction massage

Module 5: Revelations of a True Player
- The importance of internal value
- How brutal honesty and vigilance are your two best friends
- Jeffy's breakdown of top 'ancillary' skills
- Overcoming adversity

Module 6: The New Way
- A way to reconcile a total, uninhibited flow of words
- The power of word choice
- The power of mixing the urbane with the profane
- The concept of the Nimbus
- The 4 rules of dominant masculinity
- Developing your intuition
- How to dovetail all aspects of your life into a coherent whole
- How to open any group of women
- The truth of the transition
- How to react if a woman wants to distance herself from you
- The truth about keeping your word
- How to develop identity level change
- The "closer mentality" and its importance
- The mentality you need for same-night pickups
- How to supercharge your state while in the club
- How to shatter the clinical indifference threshold
- How to avoid the dreaded friend zone
---
What You Get:
Purchase options include:
- Jeffy Show Audio CDs $169
- Jeffy Show Video Membership Site Access $269
- Jeffy Show Audio CDs and Video DVDs $438

Bonus: RSD Mastermind Audio Collection ($19.95 monthly subscription service)
---
Guarantee / Terms:
30 Money Back Guarantee
User Reviews of The Jeffy Show
Most Helpful User Reviews
5 of 6 people found the following review helpful
"Great Combination of Natural and Structured Game"
Ease of Implementation
8.0
Packaging/ Customer Service
7.0
Reviewed by
Satisfaction
December 31, 2009
In my opinion the Jeffy show is a great product, it is a great combination of natural and structured game. I guess many people don't like RSD products because they don't offer many "lines" (openers etc.) but the point is that you should make up your own in the beginning until the creation of lines on the spot becomes natural. They do this to avoid that you get the, "oh I have heard that before" response from girls.

To settle this with a quote from Jeffy, actually Bruce Lee: "Take whatever parts work for you and discard the rest" Having good game is not about pledging allegiance to VA, RSD, Love Systems, Speed Seduction, Juggler or whoever but it is about developing your own style while staying open minded to new things, methods, mindsets.
3 of 4 people found the following review helpful
"It is Unique"
Ease of Implementation
8.0
Packaging/ Customer Service
8.0
Reviewed by
Top_Gunn
January 13, 2009
wow this dude 'unleashes' the caveman within you. there is no product like it. i would say it is absurdly hilarious some of the stories he tells. it is unique and unlike any other product i have ever tried out...7.5/10
0 of 2 people found the following review helpful
"You Take What You Need and Find What Works Best."
Ease of Implementation
7.0
Packaging/ Customer Service
7.0
Reviewed by
Insanity
December 31, 2009
I'm watching some jeffy stuff at the moment and i'm actually feeling that I have some similarities to the guy and like Mystery Method there are parts of his game that I can naturally put into my own character.

you take what you need and find what works best.
View Other Home Study Courses (Books, DVDs, CDs, MP3/ Video)