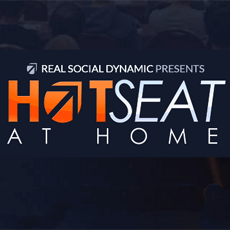 DSR Editor Rating
No Editor Review Available Yet.
Go to Product Site
Product Information
"The Hot Seat at Home" is based on RSD's Hot Seat teleconference program, recording extensive infield footage, and helping thousands of men achieve results with women.
The program consists of taking the most informative clips of pickups and breaking them down, analyzing them, and extracting the core principles and techniques. This is followed by exercises to reinforce the core concepts you learn in the videos.
The at home program parallels this experience. It is designed as an at-home experience including the most critical mind-bending concepts.
This program aims to help men:
- Understand the necessary steps to get to where you want to be
- Improve your communication skills in a way you never thought possible
- Break through your limiting beliefs and become unstoppable with women
- Visualize the path that you need to take in order to quickly get really good
- Challenge your current state of awareness and transcend to a new level of game
- Establish an unshakable sense of belief to propel you forward through circumstances
Bonus items include:
- Tyler's classic post collection
- Tyler live event and video seminar
- Bonus video with RSD instructors
- Webinar with RSD's newest instructors
- Private coaching session with Tyler's coach - Glenn
---
Skillsets:
Attracting Women
Experience Level(s):
Beginner
Learning Format:
Online Video
Release Date:
February 10, 2016
Price:
$297.00 - $497.00
(depending on product format or options purchased)
---
Feedback
If you have a question or problem, ask us:
Table of Contents/ List of Topics Covered:
The program consists of five parts:

1. Infield Footage Breakdowns: What good game actually looks like that is broken down, explained, and implanted into your subconscious mind.

2. Interactive Exercises: To push, challenge, and transform you by internalizing the core principles of game.

3. Compelling Challenges: To compel you to take action, move you out of your comfort zone, and make you realize your full potential.

4. Bootcamp Footage Breakdowns: To revolutionize what is considered to be 'good game'. Includes pickups, openers, and game demonstrations.

5. The Hot Seat Tribe: A supportive community of like-minded guys, complete with weekly missions, Facebook Group, Phone App, and Invitation-Only Teleconferences.

Some of the areas covered:

- How to eliminate your limiting beliefs
- How to Develop a genuine approach to game
- Root behaviors that trigger all female attraction
- Blueprint for approaching, escalating, closing, etc.
- Keys to keeping conversations interesting and engaging
- How to transcend to a new level of Real Social Dynamics
- Get an up-close-and-personal view of what good game actually looks like
- Developing unbreakable inner game by learning to draw state from within
---
What You Get:
Purchase options include:

Standard Level 1 - $297
- The Hot Seat at Home
- Intensive Interactive Exercises
- Weekly Missions
- Live Event Recording
- Exclusive, Invitation-Only Facebook Group
- Special Phone App Access

Transform Level 2 - $397
- Everything in Standard Level 1, plus:
- 1 Additional FULL Hot Seat Seminar
- Ticket to the Private Live Event
- One Bootcamp-in-a-Box Breakdown
- Special Hot Seat Breakdown (Power of Vulnerability)

Evolve Level 3 - $497
- Everything in Transform Level 2, plus:
- Special Hot Seat Breakdown (Vocal Empowerment)
- A Special Webinar with Tyler
---
Guarantee / Terms:
30 Day Money Back Guarantee
User Reviews of The Hot Seat at Home
Most Helpful User Reviews
7 of 7 people found the following review helpful
"Perfect if you're willing to work HARD"
Ease of Implementation
7.0
Packaging/ Customer Service
10.0
Reviewed by
Jaxxon
May 17, 2017
When I say hard I mean hard. This program pretty much gives you everything you need to work on yourself and become a confident, fearless man that has fun, engages with life and wins. It also includes a ton of in-field footage of how these principles apply, so therefore it's not something bogus or a scam. The only issue with this program would be "ease of implementation." It's obviously not easy. It takes time, work, reference-experience, and effort to get to a place of being super fun and social and charming. If you aren't result oriented, this program isn't for you... if you are, however, this program will get you to places you may never have gotten to. Would recommend
2 of 20 people found the following review helpful
"beginner "
Ease of Implementation
5.0
Packaging/ Customer Service
5.0
Reviewed by
nichoolas nichoolas
February 13, 2017
I am a beginner I'm 16 years old and I'm good looking but i have bad game I only give the five stars for all of them is because I don't really know it's really up to you it's all Inner game because I still didn't finish the program and then probably going to return it but this is no magic pill this will take a while this is all about Inner game take lots of action and you will become good like Tyler but if you like something more like step-by-step Jason capital is your guy
I feel like RSD is more about Inner game
and Inner game will always be the best game but if you're like a beginner like me you want something like step-by-step these are the 3 programs you need Jason capital 1 make women want you 2 Text God 3 77 Ways To Make Her Want To
[email protected]
#k You and that's all you need these 3 programs by Jason capital
0 of 0 people found the following review helpful
"Life-Changing ! "
Ease of Implementation
7.0
Packaging/ Customer Service
8.0
Reviewed by
Ema
October 02, 2018
First of all, I'm talking about the core edition (no mastermind).

RSD need no presentation. It is one of the biggest seduction company on the market, so I will go directly to the heart of the review.

THE GOOD : Everything is finally done. I was one of the first people doing this program, and some videos still needed to be done. Now everything it is online. There are LOT of hours of videos, around 4-6 HOURS of INFIELD, almost 4 HOURS of core explanation, and a 90 minutes recap of the advanced principles. Plus hours of video bonuses. There are also around 10 missions (talking about the no-mastermind-edition) to do on the field that will improve your game, making you realize interaction-changing stuff. In my opinion this program is the core from where every Pick Up Artist must begin its journey.

THE BAD : Tyler is not anymore on the telegram chat. I had the honor to chat with him, but actually it is very rare that he will join us on the chat. Still there are lot of active dude in here, even if at the beginning of all, this part of the program was waaaay more active. Same for the facebook secret group.

To conclude this review : In my opinion, the starting point for every Pick Up dude who wants to become a natural. You will return after years seeing those videos, learning and noticing more concept, getting more value from here. I usually check again everything every six monthsa year, getting always a lot, and reminding myself what I want my game to be look like.

A good product.

Ae
View Other Home Study Courses (Books, DVDs, CDs, MP3/ Video)