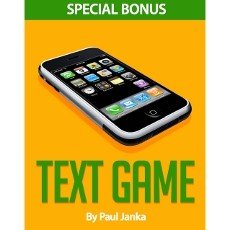 DSR Editor Rating
Product No Longer Available.
Editor Review
2 of 2 people found the following review helpful
"Extremely Simple to Follow Quality Advice. Aims for Efficiency not Mastery."
Ease of Implementation
9.0
Packaging/ Customer Service
8.0
The Good
Effective and systematic advice, simplified better than any other book by strict rules and flow charts making it very easy to implement, good value for money (it's a bonus add on to his main system)
The Bad
Doesn't aim to give you the best chance of meeting a girl you have number of, some slightly quirky tips (potentially confusing) related to Janka's style, little to no advice on calling and talking on the phone
The Bottom Line
The simply applied advice in this book will be particularly good for you if you are new to dating advice. Just make sure that you are okay with Janka's mindset.
If you are experienced, and feel texting and phoning is still complicated, you should also consider getting this - Janka does an excellent job of pointing you to the most important things.
FULL DETAILED REVIEW
This is a great eBook for something that you get as a bonus with the purchase of another product (in this case
Attraction Formula
). Most bonuses we've seen don't add up to all that much. This one could (and maybe should) be sold as a product in it's own right.
The first thing to say about this ebook that it's advice fits with a particular mindset and philosophy towards dating women. In this case, Paul Janka's mindset is the 'industrialised approach'. In other words it is adapted towards 'efficiency', and the goal is to date lots of women (aka sleeping with them) with a minimum of time investment and time wasting. You can learn more about in Paul Janka's Bio.
We discussed the merits and disadvantages of this philosophy previously in our review of Attraction Formula.
As with all Paul Janka material, the upside of his advice is that you can be sure the advice has been tested and practiced thousands of times by Janka during his years as a hard core player.
Systematic Rules to Follow
Some of the best of this book is how advice is given to you. Janka gives you
Hard Rules
to guide you so that there is no misunderstsanding of what he is telling you to do. I don't think dating coaches offer this kind of simple to follow advice enough. It's binary 1 or 0. You do it, or you don't do it. Impossible for anyone not to follow really.
Yes, meeting and attracting women is a question of 'soft skills', but there are areas where you can provide clear rules that will improve your results 90% of the time.
Example of these rules are times he gives you when you should or should not text a girl.
Another aspect I loved about this product is the ruthless flow chart Janka gives you to show you what to do when the girl responds one way or another or not at all. Clear. To the point. Dummies could follow it, and it will definitely improve your results. In a word "Awesome". This is exactly the type of no nonsense diagram some guys need.
Subtle But Very Important Tips on What to Write
Janka provides quite a few examples of texts you can use throughout the book in different situations. All useful.
The part I really liked were the tips on how to construct texts. He provides some excellent reminders of what is necessary to provide the right response from the girl. These include explaining the tone you need to give, what the major issue is with the girl so you know what your texts have to avoid, and tips on how to convey the appropriate mood (and what to avoid so you create the wrong one).
I haven't seen any advice as clear as this on text 'writing style'. Great stuff.
You'll find some of the best material on this point in the full length text conversations Janka provides in the appendix, which true to form, show some of his unsuccessful text exchanges where he points out his mistakes. You can often learn more from mistakes than successes - so this is great. Janka earns respect for putting these out there, and not trying to maintain any image of 'imaginery perfection'. Uncommon amongst dating coaches.
Calibrating Key Moments and Situations to Take Things Forward and When to Hold Your Ground
Many times in the book Janka gives examples of moments where he was able to escalate the text exchange between him and the girl, creating a more sexual mood to it and then capitalize on that to move things forward faster with her. This fits Janka's style, and the advice as a consequence is very good. It's something he's done a lot.
This is good stuff to break some 'limiting beliefs' of newbies or guys who aren't as comfortable with girl's sexuality. Janka breaks down some of these, illustrating how quickly things can move forward, and how sexual a girl can get within a short time, and with knowing very little about you or having spent much time with you.
Great reality breaking material, that will encourage guys to get out of their comfort zone and push things where they wouldn't normally or to hold their ground - more importantly he provides clear ideas on when the girl will appreciate you for it.
Quirky Over Emphasis on Some Parts
You may find a few bits of advice in the book a little bit quirky. By that I mean they are quite detailed for situations that appear relatively straightforward. Knowing how Janka sees this, I can see why he has included these, because they are relevant to his particular hurried approach and mindset when he is picking up women. However, for many guys, and the way they do it, they will be irrelevant.
Examples are some of the detailed advice he gives you on how to take her number and when you shouldn't text a girl. They are valid pieces of advice, just not likely to be applicable to most situations for the majority of guys who read it. They are both more applicable when you are in a really rushed situations.
If you get the book, look out for these if you are a newbie. The only reason I point these out, because they really are very minor, is that I could see a newbie without perspective getting overly focused on these things - when they are really not a big deal at all. You can take a girl's number many other ways just as effectively for instance. So don't get hung up on these details.
Not for Perfectionists or Guys Who Want that One Girl
Nothing new here. Janka's material is not aimed at getting any one girl, it plays the numbers game by meeting lots of women.
There are weaknesses to this approach with texting. Some of the texting advice is basic in its 'efficiency'. So if you want to make more of an effort to get one girl, Janka's advice doesn't go all the way to give you ways to make it work when a girl's phone number isn't as solid (meaning she needs more convincing to engage in texting with you or meeting up with you).
In particular his advice on 'pinging' girls to stay in touch by texting and following up by text to start setting up dates isn't as engaging as other approaches, and will get a lower response rate.
Calling the girl is hardly touched on - only used as a last resort type of move. In my opinion it is under represented in the book and should have been given more time as calling the girl can be very effective at making some less solid numbers work for you, when done right.
So, if you want to master text and phone game and push the skillset as far as it can go - this book doesn't contain everything you need.
The Bottom Line
There is something to learn for everyone here with some good quality advice. Janka's experience comes through by simplifying everything down to what he sees as the most important to get results.
The simply applied advice in this book will be particularly good for you if you are new to dating advice. Just make sure that you are okay with Janka's mindset. Read up on it in our profile of Paul Janka before you invest in buying this.
Help other users find the most helpful reviews
Was this review helpful to you?
Product Information
The "Text Game", an ebook that comes with your purchase of The Attraction Formula, provides you with an idea of the purpose of texting, how important texting is, and how it can be used to make a girl you meet on the street into a friend, or even make her into your sexual partner.
---
Experience Level(s):
Beginner
Release Date:
November 01, 2010
Product No Longer Available.
---
Feedback
If you have a question or problem, ask us:
Table of Contents/ List of Topics Covered:
- How to get her number
- The Easy Case
- The Area Code Trick
- Traveling & Out-of-Towners
- No Network
- Stealing the Number
- The First Text
- A Few Words on Punctuation and Grammar
- Diction and Syntax
- Contractions
- Punctuation
- Capitalization
- Ellipsis
- Tone
- How To Text Flirt
- Did She Have To Say That
- Mass Texting and Screening
- Conversion
- A Few Thoughts on Being Pushy...
- Pushing the Date Out
- Escalation
- Gestation
- Keeping the Goose Warm
- Rotation
- Texting on the Go
- More on Timing
- Raising the Dead
- Golden Rules of Text Game
---
What You Get:
eBook
---
Guarantee / Terms:
Text Game is one of the bonus items that you will receive when you buy Paul Janka's "Janka Method" (http://www.datingskillsreview.com/janka-method-attraction-formula-paul-janka/)
User Reviews of Text Game (Janka Method)
Most Helpful User Reviews
8 of 12 people found the following review helpful
"Disappointment"
Ease of Implementation
1.0
Packaging/ Customer Service
1.0
Reviewed by
Charlie Handson
March 19, 2011

Firstly I am confused as to how 27 pages can be called a book, surely thats just a short story. Secondly I dont belive any word this Paul Janka is saying, His theories are aggressive, arrogant and quite frankly, I'd be highly supprised if they worked with a respectable lady. As a man also in my thirthies I have never had problems with women in my life, there is no need to be rude and childish and lets face it, he's a good looking guy so obviously if he is using a 'number' game he can get women into bed. Paul Janka is also a terrible writer, his grammer is worse than my five year old sons. His niavaty towards women is commical. Im questioning.... is this so called 'book' a joke.

I would not suggest you buy this book if you were hoping for advice and confidence with women, unless you were aiming for a slap in the face and an empty bed.

Help other users find the most helpful reviews
Was this review helpful to you?
6 of 7 people found the following review helpful
"thumbs down"
Reviewed by
scooby
May 03, 2012
The book was ok, but you have to subscribe to the videos, and that costs 40 usd per month. Takes 4 months to complete, (you can only watch a few at a time) and once you've paid for them all, if you cancel, you lose access to all of it. The videos are of his lectures over a weekend course. All to tell you to mass text girls after getting their number in a 1 minute conversation. Not worth it at all. It could have been 20 bucks. And then after way overpaying, you don't get access again. Its bs. Don't bother.


Help other users find the most helpful reviews
Was this review helpful to you?
View Other Home Study Courses (Books, DVDs, CDs, MP3/ Video)