Secrets of 5 Minute Chemistry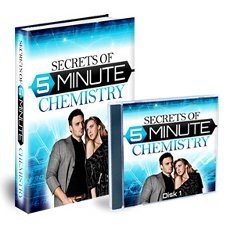 DSR Editor Rating
Go to Secrets of 5 Minute Ch...
Editor Review
11 of 13 people found the following review helpful
"Very Practical. System for Better Conversation and Deep Rapport with Women"
Ease of Implementation
7.0
Packaging/ Customer Service
4.0
The Good
Fixes biggest 'conversation skills' problems well, simple formula for creating 'chemistry' with a woman, practical exercises to aid implementation, fixes common issue that men have with getting 'Mystery Method' style game to work.
The Bad
Noticeable lack of preparation and 'polish' to the product, more examples and guidance on how to connect everything together would have been useful.
The Bottom Line
This is a solid conversation skills program that solves the very common "not knowing what to say" problem and gives you a clear path to create great chemistry with women. It's the best conversation skills program we have found to date.
Note: You can get this course cheaper if you purchase it with Jon Sinn's other course the "Effortless Conversation System". If you purchase this as the upgrade option you are given to The Effortless Conversation System you get both courses for a lower price than this course on its own.
FULL DETAILED REVIEW
The name of this course is a little misleading.
First, it's a course that teaches you about conversation skills taking you from the basic principles and foundations though to building rapport and chemistry with women. So it's really a much broader course that covers on 'conversation skills with women' including the material on creating chemistry (deep rapport), which is more on the advanced side.
Second, you can put the "5 minutes" to the side. This program (or any program for that matter) isn't going to assure that you create chemistry with a woman within 5 minutes. In some situations it's possible - yes, but in other situations, and probably most, it takes more time.
So don't get too focused on the product's title.
Having said that, it's a solid beginner to advanced conversation skills course. It comes in three parts, covering how conversation and chemistry works in the first part, giving you conversation tools in the second part, and pulling it together for you to implement practically in the third part.
The Role of Conversation Skills and Chemistry
The first part contains some innovative material and insights into meeting and attracting women.
The role that good conversation skills play in meeting and attracting women is explained with details such as how they contribute to social dynamics, attracting women, 'getting along' with people and building deeper rapport.
This may sound like simple stuff, but most men will definitely take away a new perspective on making conversation and the larger role it plays in "the game".
An interesting point to note is that Sinn makes a point of modifying teachings you may have learned from Mystery Method here (Note: Jon Sinn was first trained under Mystery (Erik von Markovik) with this system). If you've read or used Mystery Method you'll find that Sinn's approach naturalizes parts of Mystery Method that are a bit mechanical and potentially awkward - especially when starting conversations with women.
Mystery Method places a lot of emphasis on conversation pieces that attract women, and this is really where Sinn brings some good value explaining how this can 'sabotage your results' and there are steps in meeting women when you really need to just use normal conversation skills. This is actually a very common problem for men who have learned a Mystery Method style dating system. Sinn addresses the problem here in a clear and more common sense way than I've seen before. Good job.
What is Deep Rapport/ Chemistry?
Deep rapport is what you have with your best friend or a buddy you can joke around with and be yourself. Or that great girlfriend that you got along with so well that she was also like a buddy. It's something that you have with someone when you share outlooks on life and translates to you being able to relate to each other easily. It's like the oil that makes good conversations flow effortlessly.
In this course, you are given the structure of 'having chemistry' with another person in a simple formula. Jon Sinn has done a good job of demystifying the essentials with the formula and keeping it uncluttered. By remembering a few points and putting a little effort into preparation, any guy would be able to put this into practice. It's not complicated and does the job. That's a combination we like to see because it helps you get results easier.
I've seen other systems dance around the subject of chemistry and deep rapport previously, but never in much detail and certainly not with a clear practical approach to implementation. They tend to give you a broad overview and leave you to figure it out with details yourself. Not great for helping someone to implement it.
Thankfully, that's not the case here. With a solid definition and structure to use to build chemistry or 'deep rapport' with women it is finally made easy to actually put into practice for you.
Tackles and Puts an End to "Running Out of Things to Say"
Running out of things to say when they're talking to women has to be one of the biggest complaints from men where it comes to dating. So it's really on point that the whole of the second part of this course is dedicated to helping men overcome the issue.
To help you with this Jon Sinn runs you through the causes of 'running out of things to say', and then gives you a set of tools to fix them. The causes are clearly laid out and will make it clear to you why you have the problem.
An interesting point Sinn covers is the unrealistic expectations most men have around what and how much they need to do in terms of conversation to attract and seduce women. I liked this because it cuts through some of the hype you see with some dating systems, showing you how simple and 'less complicated' it really NEEDS to be if you want results. This will set you straight giving you the reality of how much you really need to do to attract and engage a woman with conversation - and you will probably be pleasantly surprised.
The tools include some things you may have heard of such as 'transitions' and how they should be used. Sinn breaks transitions down into several tools to make these easier to implement - and highlights where they should be used. The remaining toolset includes some tricks to keep your conversation going, important preparation points, and the foundations of what will make it easy for you to keep talking (in a useful way).
Overall there is a lot of simple to implement information in this section - which is just what you need if you are having problems keeping the conversation going. Less complexity, more effective action.
Follow Through and Practical Exercises - Not Overlooked
Throughout and in timely fashion you are given exercises to put what you are learning to work for you personally. You need to do these to get the value form this course... unlike previous 'storytelling' or 'routine' courses it has to be said that these exercises are pretty short. This is because the focus is just on getting the job done without having to clutter your head with too much.
Afterwards you'll probably think, wow, that wasn't really rocket science. Why it may not sound exciting, it's a good thing and you'll like the results easier implementation will bring for you.
In part 3 there is also the beginnings of a template of how to put everything together with clarity. This part, however, wasn't followed through so well. Part 3 gets sidetracked into teaching you more about chemistry and giving you examples - useful stuff, but… the course would have also benefited from that structure at the end. That would have left you less to think about. As it is, you'll probably have to put some thought into the bigger picture of where you're taking conversations yourself to get the best results.
Weaker on Preparation and "Product Polish"
This program was produced as an audio program originally and then transcribed into ebook so you have both. I didn't realize this at first and read the ebook for this review. As a result, I found myself wondering why it was quite 'laid back' and there was unnecessary conversation added in to the advice.
The ebook does come across as a bit overly casual and unprepared in places where I felt it should've given specific examples.
It doesn't take advantage of the ebook format to provide more detail and specifics as ebooks typically do vs. audio programs because they have been edited. Keep this in mind if you prefer to read rather than listen to the program.
Still, even for an audio program, there are parts that come across as under prepared and some 'oops' that could have been edited out where he says the wrong thing and backtracks.
Examples of lack of preparation are where he makes outside references but isn't sure if he's attributing them to the right person, relating commonly held scientific beliefs that have no real grounds and making up a routine on the spot rather than taking specific examples that he has used in field.
In short: It's clear that Jon recorded this course 'on the fly' based primarily on his experience, and the quality would've been improved if he'd put more effort into preparing the course.
Having said this, what is lacking in preparation and research, is made up for with advice that is clearly grounded in a lot of experience. The 'unprepared' parts are for the most part the least important and you're not losing much, just the 'professional polish' feel really.
The Bottom Line
This product gives you a solid system for making conversation with women. For those of you with the issue of "not knowing what to say" sometimes, or not getting women engaged in conversations, or relying too much on 'attraction techniques' to keep her engaged, this program will be a great fit for you.
And it does it with a collection of pretty simple tactics that you'll be able to put into action easily. Solid.
Note: You can get this course cheaper if you purchase it with Jon Sinn's other course the "Effortless Conversation System". If you purchase this as the upgrade option you are given to The Effortless Conversation System you get both courses for a lower price than this course on its own.
Read the review of "Effortless Conversation System" for more information on this deal.
Product Information
"Secrets of 5 Minute Chemistry" by Sinns of Attraction explains what you need to know to master Jon Sinn's 5 Minute Chemistry Formula. The program includes additional training on the inner game of chemistry.
Bonuses include:
- The Approach Master Class
- 30-Day trial membership to the 5 Minutes Chemistry Master's Degree Program
- Teasing and Banter Cheat Sheets
---
Skillsets:
Attracting Women
Experience Level(s):
Intermediate
Learning Format:
Download (Audio)
Download (Video)
Online Access
Release Date:
July 01, 2011
---
Feedback
If you have a question or problem, ask us:
Table of Contents/ List of Topics Covered:
- The Golden ratio
- How to get women to chase you
- 3 methods for creating chemistry
- The main thing that stops chemistry in its tracks
- How "shy" types can become successful with women
- Four reasons why guys run out of things to say
- How to get comfortable talking to beautiful women
- How to tease a woman to create immediate chemistry
- Key skills to lead you to a lifetime of success with women
- The science behind chemistry that few people talk about
- How to create a "known for years" feeling with a stranger
- Five tools for creating attraction that leads to chemistry
- How to develop confidence to be seen as "cool" and respected
- Using the "comfort zone" to attract beautiful, high quality women
- Creating real, genuine chemistry with the women you're attracted to
- 3 magical conversation topics to create an immediate connection
- The question to ask a woman in order to decide if she is worth talking to
- What to do before having any chance of creating chemistry with a woman
- Maintaining clear and calm relaxation when talking to a beautiful woman
- Four characteristics to develop in order to get hot, high quality women
- How to develop unstoppable confidence that comes from being well-prepared
- Why the obsession with "attraction" in the dating industry leads down the wrong path
- 3 ways to move from a relaxed, fun conversation to one of explosive chemistry and mutual attraction
- How to talk about yourself in a way that makes women drawn to you and want to get to know you better

---
What You Get:
- Fast Start Video
- 30-Day Action Guide
---
Guarantee / Terms:
30 Day Money Back Guarantee
User Reviews of Secrets of 5 Minute Chemistry
Most Helpful User Reviews
17 of 18 people found the following review helpful
"Great Advice Overall. Surprisingly Bad Example of Frame Control (coming from Sinn)"
Ease of Implementation
4.0
Packaging/ Customer Service
3.0
Reviewed by
Brainbuster
January 05, 2015
All in all, this is a great program.
However, when talking about Frame Control in part 3, Sinn says,
"The best example of Frame Control is when this girl said to me,
'We're not having sex tonight,'
and I said, 'C'mon...we both know we're having sex.'
That's an example of reframing."

That is the worst and clumsiest example of frame control I've ever heard. And it's not reframing.
He just argued with her
and it happened to "work" that time
(well, at least she overlooked his mistake...but it didn't help him).

A real reframe would be,
"We're both grownups--we'll do what we feel like doing."
(unspoken subtext: we don't need to follow other people's rules,
we are free agents, I don't judge you for having sex)

Another reframe would be,
"Why do you have sex on your mind so much?
Is this all about sex to you, because that's disrespectful to me if all you see in me is sex."
(unspoken subtext: she's chasing you, you weren't even thinking about sex, you care about her for more than just sex, if you have sex with her, it will mean something).

My above 2 examples are REFRAMES.

Sinn's 'best example' is not even a reframe at all, by definition.
I've used my above 2 examples many times, especially the 1st one,
and not only do they work, but they are examples of frame control.

Sinn's example (which he claims is the best example of frame control)
is arguably one of the worst things you can say...I would almost say it sounds like a needy ultimatum.

Just arguing with her outright makes you sound hungry for sex,
and also invites her to prove to you that she's in control.

In his example, he didn't change the context at all,
he didn't change the frame around the picture.
All he did was argue with her content.

Aside from the above, I didn't notice any glaring bad advice.
12 of 13 people found the following review helpful
"Awesome Product, Almost Delivers Promise, Exaggerates "
Ease of Implementation
9.0
Packaging/ Customer Service
9.0
Reviewed by
AlphaPr1nce
July 26, 2012
So I finally finished this product today over a couple of weeks because I was busy with other stuff(all his videos except the one about sexual aggression) and here's my opinion.

1. Awesome Formats.
What I loved about product was that he has the video and the pdf of the video and that allowed me to follow the pdf while listening. And that was awesome.
He also had everything in mp3 format (i think it was everything) which was alos super awesome.

2. Newbies + A bit for the Pro's.
Well, I think Sinn really understands the material very well, which makes him one of my favorite teachers. He covers a lot of the basics really well in this product.
I wouldn't say all the basics but quite a lot of them.

3. Fails to Deliver Promises.
Well sometimes he over exaggerates how powerful his stuff is. Yes it's powerful and valuable but I think sometimes he makes it seem like it's the ultimate answer to all life's questions when it's just a tactic. Like he promises in his third video (I think it was the 3rd) that you won't ever run out of things to say after the video. That's BS. Yes, he does have really good lessons on how to keep a conversation going by not running out of things to say but it's going to help a lot. It's not going to solve everything!!

4. Exaggerations in general and sometimes distortion of the truth.
I think it's a common problem that a lot of producers have. I don't think Sinn has it that much but he does have it. Sometimes when saying over lessons he over exaggerates the application and over-all value. Sometimes you have to filter out the truth. That's super-out important. Anytime you learn something you have to try to understand how best to apply the strategies.

5. Super-Powerful Stuff. He does have some really powerful and deep concepts in these videos. Here are some examples...
a) Relax while talking with others because it will help you think of things to say.
b) Valuing the other person too much makes you look desperate that's why you have to be non-reactive to whether or not they like you.

6. It's Not Complete.
In other words, yes he does have a lot of elements that are very important (I don't think he gets really advanced in the videos but he does get deep with his concepts) but he doesn't have all the secrets to 5 minute chemistry. It's a lot of stuff but it's not everything. There's a ton more. But you kinda have that thing with a lot of products.

----
The Bottom Line.
Very good and deep product. It will help you review the basics and understand them on a deep level. I loved it! Can really help boost your game. But if you claim to know all the basics really well on a deep level maybe you could benefit for more advanced material such as the revelations book.

10 of 10 people found the following review helpful
"Attraction/Connection explained. This is why girls have crush on their best guy friends."
Ease of Implementation
9.0
Packaging/ Customer Service
10.0
Reviewed by
Trey
July 23, 2011
Really help get pass newbie's sticky point. Very natural.

Explain the whole sense of connection which, I believe, is many guys's problems. You may develop that "cool badass character" or get girls laugh like Dane Cook which both are great things, gain respects from your boys, get girls interested just from your body language and even get laid(s) but you can't be in relationship cuz there's no sense of connection.

The part I really like is him talking about being the dancing monkey. You know, trying to be the center of the attention and not being actually cool, not being yourself. Attentions are not always good attentions, they might be pathetic attentions. And like being the try hard, trying to perfect the comebacks instead of just trusting yourself cuz seriously if you look at the naturals or unnaturals like sinn himself, they're no perfectionists. Some of them even less witty,funny than most men but women still can't get enough of them. And the opposite of love is not hate but apathy (No love. No hate. No interest. No concern. Nothing.) And how you gotta be interested in what you say. And that original openers don't get you much advantages from proven openers anyway. The best part are confidence,masculinity and "never run out of things to say again" straight to the point. But I won't spoil anymore.

This fits for all you guys. Newbies. Pro PUAs. Players.

For newbies, get this product, read stuff on seduction-intuition, ezinearticle. By price, much much worth than LoveSystem's interviews.
View Other Home Study Courses (Books, DVDs, CDs, MP3/ Video)