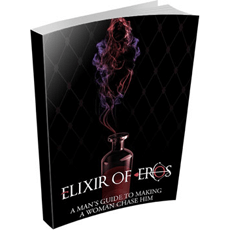 DSR Editor Rating
Go to Elixir of Eros
Editor Review
12 of 13 people found the following review helpful
"Complete Guide of the Fundamental Principles of Natural Seduction Backed by Evolutionary Psychology"
Ease of Implementation
7.0
Packaging/ Customer Service
8.0
Reviewed by


Josef
Last Update:
September 29, 2023
The Good
Complete, comprehensive course. Logically arranges all the proven methods. Combines modern art of seduction and personal development. Introduces basic practical techniques. Supports each argument by research or anecdotal experience. Focuses on healthy approach and development of natural skills.
The Bad
The whole course is presented in a PowerPoint with a voice-over. It does not bring many new original ideas, so could be boring for more advanced guys. No infield footage.
The Bottom Line
Great value for money. Provides a complete overview of all the good material from seduction-sex-relationships advice and personal development. Good balance of inner game work and techniques. Probably the best entry-level course out there that will point you in the right direction.
FULL DETAILED REVIEW
The Elixir of Eros takes inspiration from a wide spectrum of resources. The course presents books, research from neuroscience as well as philosophical arguments from evolutionary psychology.
The author, Mike Wright, splits the task of teaching seduction into two parts.
Firstly, he boils down the attributes that women find attractive in a man. He calls these attributes "the Chase Triggers". From there he pinpoints the most efficient way of acquiring these characteristics.
Secondly, he decides to break down the whole seduction procedure into chronological steps. He calls these steps the 5 Pillars. These make it easy to focus on individual stages separately.
What will you find in the EoE – The Chase Triggers
The Elixir of Eros consists of four parts: the introduction, the "Chase Triggers", the Five Pillars of attraction and the concluding remarks. Let's skip the fluff and have a look at the juicy stuff.
Mike starts the course by re-introducing the Romeo and Juliet scenario. This romance model repeats in all of the love novels that women spend more than one billion dollars a year on. (Source:
Romance Writers of America Stats
) He concludes what these stories have in common and serves you the eight Chase Triggers that women crave.
Firstly, Mike teaches you how to tease her, challenge her and give her the obstacle that made Juliet go crazy over Romeo. For example, unless she went to Harvard you can always make fun of her university. And if she went to Harvard you can call her posh. Some of you may recognise the original Cocky-Funny concept introduced by
David DeAngelo
. However, Mike goes a little bit deeper by discussing when and how much of this is appropriate based on the situation.
Humour and Ballsiness are the triggers for which this system gives you practical advice and even some lines. On the other hand, outcome independence, goals-setting and confidence are triggers that depend on your personality. These are massively important characteristics that you can't change from day to day but require consistent work.
Mike basically tries to motivate you to lift your ass off the couch. He gives ideas on how to become a man with a purpose that women will naturally gravitate towards.
There is no doubt that the number one attribute that women find attractive about a man is his confidence. Thus, the Elixir of Eros dedicates a whole one video to the 8th trigger, Confidence. The main goal of this chapter is to teach you how to de-sensitise yourself to anxiety. In addition, EoE suggests practicing affirmations and meditation to improve your state of mind.
The EoE promises to make you fearless when talking to women. Mike proposes a technique which he calls Stimulus Hierarchy. This method helps you systematically identify the specific situations that tend to shake your confidence.You can then improve step by step. Finally, the course recommends Mindfulness as a tool to tackle anxiety and develop a quiet mind.
The EoE does a good job in describing what makes women attracted. It emphasises natural skills over the "game". Therefore, about a half of the Chase Triggers focuses on developing your personality. This a solid approach but requires a long-term focus to implement.
What will you find in the EoE – The 5 Pillars
Moving onwards, let's look at the systematic seduction strategy that you will find in the Elixir of Eros.
Try recall this scenario. You are hitting on a girl and everything goes well. She gives you good signals. You are already thinking whether you brought your "travel toothbrush" for the morning. And then, suddenly, everything falls apart and she walks away. (Claim: We don't recommend bringing a toothbrush to parties with you.)
It is often hard to analyse at which point you said or did something wrong. For this reason, the Elixir of Eros divides the whole seduction into five phases, so-called pillars. These are called Curiosity, Infatuation, Connection, Arousal and Devotion.
Pillar 1 - Curiosity
No-one is 100% confident when it comes to cold-approaching women. Thus, the Elixir of Eros suggests a different strategy. It focuses on helping you build a social circle, so-called Dream Team, which will help you meet women via mutual friends. This is a great idea. A lot of the guys who get obsessed with picking up women do end up feeling empty because the women come and go. If you, however, build strong social bonds, those friends will stay. They will support you during various periods of your life, not just in introducing you to new females.
In addition to this sustainable strategy, Mike also offers some good old "pickup lines". He presents the classic Direct opener, Indirect opener, Opinion opener, Am I Right opener and other lines (search through our Top Products to learn more). Mike's message, however, is, "you can use whatever line you want to approach a girl. Try it until you figure out a way how to make it work". He then goes on to demonstrate his point. On the spot he shows how you can make even the cringe-worthy "Did it hurt?.. When you fell from heaven" line work for you.
In the end of this section, Mike also talks about online dating. He presents a few basic ideas on how to stand out on Tinder. He emphasises Snapchat's story as an instrument to get on people's radar. This can now be extrapolated to Facebook's My Day and Instagram's Story. Again, the EoE focuses primarily on getting women via building an awesome, exciting life.
Pillar 2 - Infatuation
In the second phase, Mike teaches how to tease the girl you are talking to and how not to be the "nice guy" (for definition see
No More Mr. Nice Guy
). He shows a number of techniques and principles on how to behave and what to say to build up attraction.
This chapter sums up necessary skills that every man needs to have in order to be attractive to women. There is not much new material in this chapter but it's good to review the basics.
Pillar 3 - Connection
The Connection phase teaches you how to separate a girl from the crowd in order to talk to her one-on-one. It then shows how to get the conversation to a deeper level and how to be fully present in order to build up comfort. Here Mike presents tonnes of tips, techniques and lines.
Surprisingly, unlike many other coaches, he is against you trying to brag (or "demonstrate higher value" as it is called in the pickup community). On the contrary, he emphasises to never ever brag about yourself. At this moment the EoE convinced me that it truly is a system that focuses on developing you as a genuine, confident-but-humble "alpha" man. The EoE avoids tricks and manipulation.
Pillar 4 - Arousal
"About 80-90% of dates that I go on I end up sleeping with a girl just because I've got so much practice, and you will too."
Arousal stage comes when the interaction is ready for escalation. Mike presents a set of very good tips and a system called the 3-date blueprint which, in my opinion, is one of the main strengths of the Elixir of Eros. In fact, some of the proposed techniques seem so effective that they are balancing on a very thin edge between having a good game and manipulation. Nonetheless, this stuff works. I praise the course for emphasising practice as the key to success.
Lastly, Mike presents the Sexual Tension Exercise which combines mindfulness and tantra to help you relax and let go. It is great to see a course that takes in advice and practice from a wide variety of personal development topics.
Pillar 5 - Devotion
The very last step in the EoE seduction system is the Devotion phase. This part goes back to the original idea of developing you into a powerful individual who attracts women naturally. The EoE puts together the ideas from David Deida's book
The Way of the Superior Man
, Brian Tracey's Maximum Achievement, Kamal Ravikant's Love Yourself Like your Life Depends on it and Garry Chapman's
The Five Love Languages
. This chapter focuses on developing your inner game - your confidence and attitude. The concepts here are quite general, and unlike the rest of the course, will take lot of time to implement.
What will you find in The Elixir of Eros - The Manual
The Elixir of Eros Manual regurgitates what is said in the online presentation. It adds a few more stories and examples. The good thing about it is that it reads well and does not use any of the seduction community jargon. It can be used later on after you have done the online course for revising specific parts of the program. It is easier to search through a text rather than through videos.
What will you find in Bonuses
The 9 bonus PDF's offer extra advice on specific topics and are written by the EoE team's affiliates.
Most of the bonuses will only offer one or two useful techniques. I recommend just skimming through them and picking up what is useful for you. The ones worth paying attention to are Only You by
Jason Capital
and The Art of Speaking Womanese by
Sinn
.
The Text Game Mastery and Tinder Hacks include a few tips on online dating but for more information we recommend
Conquer Tinder
and
Magnetic Messaging
. The X-ray Vision gives ideas on how to act in night club environment, however our preferred literature for "night game" is
The Magic Bullets Handbook
.
Form and presentation
The whole course is delivered in the form of a PowerPoint presentation. The presentation is clear and Mike's voice is easily audible. I personally prefer to see the person speaking rather than just audio + PowerPoint. You can take more value from seeing the presenter's body language and facial expression. Mike's voice is confident but he speaks slowly so I increased the speed of the presentation to 1.25 while watching. The website is easy to navigate and runs smoothly both on a laptop and on a mobile phone.
Is EoE legit, does it contain practical advice?
The course contains only proven advice. It does not offer any new material. However, it does the job by opening the right doors, presenting the "big picture" and offering healthy approach to the material already out there. All the advice in the Elixir of Eros is legit and backed by psychology research or experience that I can relate to. Therefore, it has been ranked 10 in our Effectiveness score.
It provides plenty of examples and templates on what to say as well as practical advice on how to develop yourself as a complete man, not just as a player. On the other hand, the rehashed material should have been referenced better to the original resources. This would have made it easier to trace back and dig deeper into specific areas.
How easy is it to implement EoE?
There are usually two levels to every course. The mindset advice and the practical "what-should-you-say". Changing one's mindset is always the hardest part. EoE contains some basic exercises but most of the work on rewiring your brain will have to be done by you.
Extra reading and consistent observation of how you act when you are around women are necessary if you want to make this course work for you. Nonetheless, looking back at my own "man-formation", I must say that all the ideas taught in the course are helpful. It would have saved me a lot of work if I had been given them all at once in a single course.
Mike uses very simple language and so his templates are easy to reproduce. I personally found most of the proposed conversation templates too simple. However, Mike encourages you to only use them to get the flavour of what you should say. After that, you should make those lines work for yourself by adjusting them. This is a good approach because every man has his own language and it is easier to personalise simple lines rather than complex ones. Lengthy difficult techniques are usually much harder to pull off and require a lot of confidence.
Who's the EoE a good fit for?
The EoE is particularly focused on men without any previous experience. If you are a beginner, the Elixir of Eros will give you the system, the tools and healthy mental approach to seduction. If you already have some experience, you will not find any revolutionary advice in the EoE. However, it will help you organise and imprint the fundamentals you have already learnt.
Does EoE live up to the video/marketing?
The marketing video makes unrealistic promises. It talks about "magic touch" and "7 magical words that will make any woman immediately fall for you. The reality is that no system works every time on every woman. Unfortunately, the video is also rather derogatory towards women.
If you are a man of manners this could put you off. In that case, I suggest you ignore all the marketing and believe that there is a lot of good information in the actual product.
"Ok I'm in but I don't like the misogynist pickup gurus"
If I forget about the bad marketing video this course is respectful towards women. No derogatory language, no motivational talk about how many girls you should score. In fact, this course focuses more on relationships rather than just sex. The majority of the course could be used to improve any social interaction and your social status in general.
Literature covered in the course
This program takes in advice from many famous books from the dating and self-help industry. The strength of this course is not in innovativeness but in fitting together all the proven good old classic pieces like puzzles. The ones to highlight include Geoffrey Miller's
The Mating Mind
, David Deida's
The Way of the Superior Man
, David DeAngelo's
Double Your Dating
and Ogas' and Gaddam's
A Billion Wicked Thoughts
.
Where to look further after you've gone through EoE?
This course is like a Swiss knife. It has everything in it but is not particularly strong in any specific area. After finishing the Elixir of Eros you will probably want to focus on the one thing that slows you down.
For overcoming approach anxiety and improving your conversational skills check out Christian Hudson's program
Say Hello
.
For advice on how to text women check out our
ranking of top texting programs
.
Last but not least this course suggests meditation and mindfulness several times. Rather than books and courses, for that, I suggest you have a look at the app called Headspace. It slowly guides you and explains the basic principle at a pleasant pace.
The Bottom Line
The Elixir of Eros is a comprehensive course that attempts to encompass all aspects of seduction and relationships. An ambitious goal, but EoE tackles the task quite well. It provides advice on everything from the anxiety of approaching women to organizing threesomes.
The Elixir of Eros does not only teach you how to pick up women but also improves your mental attitude towards your sexuality. It focuses primarily on inner game and developing natural skills. In addition, it provides a systematic step-by-step breakdown of seduction.
Help other users find the most helpful reviews
Was this review helpful to you?
Product Information
The Elixir of Eros is a system that uses "chase triggers" to make a woman horny and want to chase you. It aims to get a woman to chase you from making the first move to chasing you all the way to the bedroom.
The system includes a downloadable instruction manual on how to use the chase triggers in various dating situations.
Bonus items include:
- Only You: How to cheat-proof your relationship
- X-Ray Vision: How to decode the subtle signals that a woman wants you
- Speaking Womanese: Understanding the secrets of female communication
- Tinder Secrets: How to design an attractive Tinder profile that women can't resist
- Friend Zone To Sex Zone: Turn a platonic friendship into a sexual relationship
- Facebook Seduction: Get hot women friending you on Facebook, and out on a date
- The Online Attraction Formula: Messages that compel a woman to go out with you
- The Hook Up Handbook: Convince a woman to your place, and escalate things to sex
- Text Game Mastery: Texts that make a woman send you naughty photos, and meet for a sex date
---
Skillsets:
Attracting Women
Experience Level(s):
Beginner
Learning Format:
Online Access
Release Date:
January 30, 2017
---
Feedback
If you have a question or problem, ask us:
Table of Contents/ List of Topics Covered:
Some of the content includes:
- The Romeo and Juliet technique
- A technique to get a woman to seduce you
- The perfect time to get sexual with a woman
- 7 words to say to a woman on a second date
- The most interesting conversation topic in the world to get a woman's
---
What You Get:
- The Elixir of Eros System (9 plus hours of online content)
- The Elixir of Eros Instructional Manual
---
Guarantee / Terms:
60 Day Money Back Guarantee

Terms: The Pursuit Institute video coaching sessions is a 14-day trial. After the trial, you will be billed $24.95 per week, billed monthly. You will only be charged if deciding to stay past the 14-day trial period. Cancel anytime.
User Reviews of Elixir of Eros
View Other Home Study Courses (Books, DVDs, CDs, MP3/ Video)