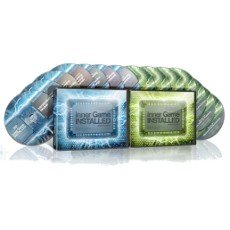 DSR Editor Rating
No Editor Review Available Yet.
Product No Longer Available.
Product Information
This home study course by Richard La Ruina (Gambler) of PUA Training is a combination of video presentations and audio installations.
It was specifically designed to help men eliminate approach anxiety, escalation anxiety, and other limiting beliefs holding them back from meeting the women they desire.
---
Skillsets:
Inner Game & Confidence
Experience Level(s):
Beginner
Learning Format:
Download (Audio)
Download (Video)
Release Date:
January 09, 2011
Product No Longer Available.
---
Feedback
If you have a question or problem, ask us:
Table of Contents/ List of Topics Covered:
- Covert non-verbal cues - a preparation for change
- Uprooting negative beliefs, states and attitudes
---
What You Get:
- 7 CD's
- 8 DVDs
---
Guarantee / Terms:
30 days to try the program (customer will pay for the $14.95 shipping/handling cost)

If satisfied with the program, you will be charged $97 for 3 consecutive months
User Reviews of Inner Game Installed
Most Helpful User Reviews
8 of 11 people found the following review helpful
"Magic Pill"
Ease of Implementation
10.0
Packaging/ Customer Service
10.0
Reviewed by
valentinus
January 05, 2015
In the beggining of the course Ben says that this is not a magic pill, well for me it was. The modules are about an hour long and they give you a lot of informations, but most importantly warm you up for the audio sessions. The audio sessions are where the real magic happens. It is some type of semi-hypnosis that affects your subconsciousness and really changes your old way of thinking and reacting. If you only do the first module, you are 10 times better than you were before. The first audio session is about carefreeness and I listened to it a couple of times then I went to sleep. I could see the results the day after because I was 100 times more carefree than before. The second session takes away your nervousness but you will find out that because you don't care so much anymore, your nervousness levels are lower. The thing is that the more times you listen to the audio, the better. There will come a time when they will be uneffective because you have eliminated nervousness and you can't feel it anymore. THIS PRODUCT IS A MAGIC PILL because all you have to do is watch 6-7 videos, fill in a couple of worksheets and listen to 8 audio sessions. It totally changed my life, I hope it changes your life too.
Help other users find the most helpful reviews
Was this review helpful to you?
3 of 3 people found the following review helpful
"A Lot of Wasted Time...But Some Gems Mixed In"
Ease of Implementation
5.0
Packaging/ Customer Service
4.0
Reviewed by
Brainbuster
March 08, 2015
My main gripe with this is the video installation,
where Ben goes on and on like Ross Jeffries
repeating all the stuff Anthony Robbins said in the 80's....
for hours and hours.
I don't think he had one original story in the video installation.
I've heard them ALL before from Anthony Robbins, Wayne Dyer, Anthony de Mello, Deepak Chopra, Brian Tracy, etc.
If you've never seen a self-help guru talk on stage,
then maybe you'll find Ben's stories fascinating.
When he's not telling second-hand stories,
he's doing his best Ross Jeffries impression.
He has a guy come up to the stage, and then you watch
him repeat RJ's NLP voodoo word-for-word,
punctuating most sentences with, "Does that make sense?"
For all I know, it may be effective
(except that if it were effective, you'd think 3 decades of research
would conclude that it's effective instead of concluding that it's just as useful as palm-reading/sphincter reading/tarot reading/fortune telling);
all I DO know is that it's excruciatingly boring to watch (especially when the microphone has way too much bass so you only hear one side of the therapy session).

At one point, he shows slides of optical illusions
(we've all seen them before, like the duck/rabbit one,
old lady or young woman one, etc....but the blond
acts like he just discovered optical illusions yesterday.

After spending half an hour or so showing different optical illusions,
he gets to the point. He says that real life is just like those pictures.
We create our reality, whatever is out there is the way it is because you perceive it that way.

Only one problem with this conclusion.
He's comparing real life with optical illusions!
Illusions were drawn specifically to be interpreted in
one of two ways.
Real life is just there.
If you look at a 90 year old lady,
she's still old no matter who's perceiving her.

Second gripe which is very minor is that
one of the "modules,"
(each "module" is a one page pdf)....
Module 2's title is, "Where You're At Right Now."
Gripe 2a is that "at" is a preposition and therefore
should not be capitalized.
Gripe 2b is that "at" is redundant and shouldn't even be in the title.
It should be, "Where You ARE Right Now."

Along with Gripe 2, the "modules" are apparently
written by a non-native English speaker.
It's also possible that they used a dictation program
and just spoke out loud the modules, and the computer
interpreted their words.
Some excerpts:

"What are 5 things that your would like to do or have in life?"
"In each box below, write down what each aspect of yourself look like?
Would that part of you say, what would that aspect of you is like, what that part of you might say, what that part of you is thinking and how it feels."

Gripe 3 is that the modules are not helpful.
They have fill in the blank questions, such as
a questionnaire to determine "Where you're at,"
and you score yourself between 1 to 5 on several
questions...but there is no key to tell you what it all means.

There is some valuable content in the video installation, and that's
when Ben is interviewing Gambler and Yad. GOLDEN.
So just watch that part and spare yourself the hours of wasted time watching the rest.

Also, I haven't given the audio installation a chance yet.
Maybe that will be good.

The PDF's (modules) are each one page, and they seem like maybe
they COULD have been useful, but they kind of seem incomplete.
Like they just stole some questionnaire and turned it into
an "inner game" questionnaire, and they forgot to include the scoring
at the end, and also forgot to explain the point of the other modules.

The modules are not explained at all, some of them,
and one of them (7) has a couple paragraphs explaining the purpose.
However, even module 7's explanation seems incomplete.
It leaves me confused as to what the point of the module is, and where to take it from there (from the 7 or 8 questions to answer about myself).


Help other users find the most helpful reviews
Was this review helpful to you?
View Other Home Study Courses (Books, DVDs, CDs, MP3/ Video)