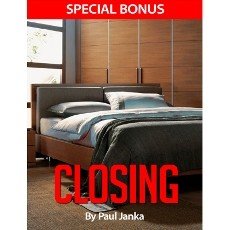 DSR Editor Rating
Product No Longer Available.
Editor Review
2 of 2 people found the following review helpful
"Concise and Practical Advice (A Good Bonus)"
Ease of Implementation
8.0
Packaging/ Customer Service
5.0
The Good
Good for revision of the most important aspects of closing, effective advice, some simple but very useful innovations (e.g. 'I' vs. 'L' girls)
The Bad
Very short (13 pages), mostly not very innovative content
The Bottom Line
This is a good little accompanying eBook to the main
Attraction Formula
program. It has some very clear and solid advice on closing the deal - there is power in its brevity - it will keep you focused on the most important things.
FULL DETAILED REVIEW
This is a short 13 page ebook that you get with the main
Attraction Formula
program. It's to be used as an add on to revise and study in a bit more detail the steps to "close the deal" and have sex with a girl.
Janka makes it clear from the start of this book that he is going to talk in a very clear manner and tell you like it is. He definitely doesn't dress anything up - or avoid any uncomfortable issues. This is typical of Janka and it makes his tips here all the more valuable - as there is a lot of advice on the touchy area of 'sex' and escalating on a woman that is diluted down out there - and thus a lot less closer to reality.
In total in this ebook there are around 10 bits of clear advice. That's it. So it's pretty short. It doesn't cover every situation, but it does hit the most important points: where you should escalate, how to get her there, how to set things up ideally and how to physically escalate.
Most of the advice is pretty common now, and if you are well read up on the latest dating advice there won't be too many surprises. The two areas where there is more innovative content that is useful are: "i" and "L" girls and how you can make the final close a lot easier and smoother, how to get a girl to leave your apartment after sex without drama (if you don't want her sleeping over).
For men who are new to dating advice I like this little book because it focuses on the top few things you need to control to get the end result (it's like the 80/20 of closing). This is a lot more effective than giving a beginner a long list of things to remember which just overwhelm him and cause him to overanalyze everything - when the truth is, closing is mostly about Acting while avoiding a few big mistakes. As a result, this is a good primer to read up on before you go out on a date.
Help other users find the most helpful reviews
Was this review helpful to you?
Product Information
The "Closing", an ebook that comes with your purchase of Attraction Formula, provides you with an idea of how to make a close (number close, kiss close, etc). It also supplies you with the 2 important qualities that every man must possess to make this possible: Clarity and Confidence
---
Release Date:
November 01, 2010
Product No Longer Available.
---
Feedback
If you have a question or problem, ask us:
Table of Contents/ List of Topics Covered:
Part I: Catch Her, If You Can...
- Why Closing is Important
- Why the Apartment is Pivotal
- Grand Irony #1: You Can't mention The Apartment

Part II: Once Inside
- The Set-Up
- When to Kiss Her...
- What about Body Language...?
- "I" Girls vs. "L" Girls
- A few words on [Pus,,,,] and [Coc,,]...
- wrapping Up...

---
What You Get:
eBook
---
Guarantee / Terms:
You can have an access with this ebook once you purchase the program "Janka Method."
User Reviews of Closing (Janka Method)
View Other Home Study Courses (Books, DVDs, CDs, MP3/ Video)