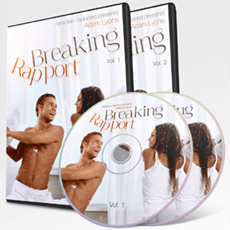 DSR Editor Rating
No Editor Review Available Yet.
Go to Breaking Rapport
Product Information
This program offers breaking rapport techniques. It shows men how to deal with interaction problems to build attraction within women.
---
Skillsets:
Attracting Women
Experience Level(s):
Beginner
Learning Format:
DVD (Video)
Release Date:
January 01, 2011
---
Feedback
If you have a question or problem, ask us:
Table of Contents/ List of Topics Covered:
Module One:
- Verbal interactions
- Conversation games and tricks

Module Two:
- Physical ways to break rapport
- How to begin having a physical interaction

Module Three:
- How to challenge a girl

Module Four:
- How to voice your own opinions

Module Five:
- How to make yourself seems unavailable

Module Six:
- How to have a sexual undertone

---
What You Get:
- 2 DVDs
- Guide Book eBook
---
Guarantee / Terms:
365 Day Money Back Guarantee
User Reviews of Breaking Rapport
Most Helpful User Reviews
6 of 6 people found the following review helpful
"This Is The Chodeliest Chodefestival - No Natural Would Ever Do This"
Ease of Implementation
3.0
Packaging/ Customer Service
1.0
Reviewed by
Brainbuster
January 15, 2015
This book really sells for $97?
The same as Revelation or Magic Bullets or How to Make Girls Chase?

You'd do better sending your Uncle Larry into the club to show the girls
his new card trick...or shoving a cigarette up your nose and pulling it out from your ear.

He suggests you tell girls riddles. Not even fun riddles, but number riddles, like give her a sequence of digits, and ask her to work out which digit follows the last digit. After she fails, you take out your
"cool guy" notepad that you always carry on you, and your "cool guy" pencil, and you write out the jaw-dropping (sarcasm here) revelation of the final digit! This is very underwhelming, I assure you. He says to just get riddles from books of riddles. So don't think it's anything special about the riddle.

If the girl doesn't like the number puzzle or finds it uncomfortable,
it just means you have to build up more comfort. He seriously concluded that. The "#1 PUA in the world."
Maybe it just means she doesn't like number puzzles.
I don't find them at all interesting or fun...and I like some brain-teasers. But those number puzzles bore the heck out of me. I seriously doubt some girl is going to enjoy them more than I would. And even if you do find that special girl who like number puzzles, chess, and stamp collecting; are we to believe she's going to link that with you just because you told her the puzzle?

"It's great fun because you know something they don't and that gives you power in the conversation." -Adam Lyons

Omg. Do I really need to comment on the above quote from this book?
I will anyway. Knowing something she doesn't know does not give you power in a conversation. I know a ton of stuff most girls don't know, and I can display it too. And I have (I used to be a pro magician and also a mentalist). I've done magic on some girls, and mentalism on other girls. It doesn't give me any power in the conversation. It's a bit of intrigue, but only in some cases. And even in the best cases where the girl loves the magic OR believes I'm a real psychic, it still has no effect on whether I get her into bed. You do the "math."

He advises us to tell girls brain-teasers.
And he says this is "really powerful."
He honestly says this is "really powerful."

Sounds like something an annoying misfit would do.
It's going to get really annoying.

He says it displays that you have a "level of knowledge" beyond hers.
This kind of reminds me of Ross Jeffries. He tells us a story or dream, then takes it apart and then gives fancy names to things within the story that will melt the brain of a rhino, 'pseudo-orientation in time,' 'time-distortion,' 'fractionation,' 'quadruple disassociation,' etc. And then says, "This is unbelievably powerful stuff, it must not fall into the wrong hands. This is genius." Even if it is clever, that doesn't mean it's effective.

There are a few things very wrong with this tactic.

One, repeating a riddle to a girl you just met
is not displaying knowledge in the first place.
It's displaying a lack of social intelligence. The riddles he offers are transparently taken from a riddle book (which he admits), and the operative word is "transparently."
The girl isn't going to think you just come up with riddles and tell them to people. Even if she does, that's even worse, that kind of intelligence or genius isn't going to make her hot for you. It might impress men, but it doesn't attract women. It's like the karate coin snatch.
It's like repeating long jokes you read out of a joke book.
Nobody likes that guy. Nobody wants to listen to a memorized joke for 2 minutes waiting for the punchline.
Two, even if it WERE displaying a "level of knowledge" far above hers, that shouldn't even be an outcome we want. Girls are attracted to intelligence, yes; but it's not attractive in any way to call a girl dumb or stupid. I don't have any problem with negs or teasing girls about stuff, but I have it on good authority (I think it was Sinn or someone) that the one thing you shouldn't tease a girl about is that she's dumb. Also I've tried this, just jokingly calling a girl
"You dumb dumb," and that usually upsets the girl way too much.
Well, Adam here says that's the whole point of this.
Repeat a riddle you got from 101 Riddles and Brain-teasers for Mensa Members (yes, he recommends you get Mensa stuff),
and then bask in the ridicule when she can't figure it out (as if you figured it out the first time you heard it).
Again, I'm not saying this offends me. I'm just saying it's not going to get you anywhere (attraction or comfort).


Help other users find the most helpful reviews
Was this review helpful to you?
View Other Home Study Courses (Books, DVDs, CDs, MP3/ Video)