What Girls Want Men To Wear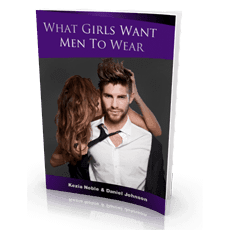 DSR Editor Rating
No Editor Review Available Yet.
Go to What Girls Want Men To...
Product Information
Fashion stylist experts Kezia Noble and Daniel Johnson have put together a style guide that helps men maximize the impact:
- Style
- Fashion
- General appearance
This is accomplished by attractively conveying a man's strengths and unique character. The book is for those men who are unable to afford the expense of a personal consultant.
It includes images, detailed advice, strategies, and tips.
---
Skillsets:
Image, Physique & Style
Experience Level(s):
Beginner
Release Date:
August 01, 2013
---
Feedback
If you have a question or problem, ask us:
Table of Contents/ List of Topics Covered:
- How to be your very best
- Maximizing impact and style
- Style turn-offs
- Using style to make a statement
- Utilizing your assets
- Eliminate being rejected immediately
- How to Increase a woman's curiosity
- What the most stylish men in the world are doing
- What do women find sexy and attractive about men
- Make a positive impression upon entering a room to attract women
- Generating looks of admiration before initiating a conversation
- Style yourself according to your lifestyle and personality
---
What You Get:
ebook
---
Guarantee / Terms:
N/A
User Reviews of What Girls Want Men To Wear
Most Helpful User Reviews
11 of 11 people found the following review helpful
"No sorry"
Ease of Implementation
3.0
Packaging/ Customer Service
2.0
Reviewed by
Masterofdolls
November 01, 2014


No... This ebook give you info you can get for free anywhere on the net... Basiclly, clothing that fits. Daniel and kezia are trying to dress you up as models here and looking at the examples, most of them actually suck.

Honestly it doesn't matter WHAT you dress like, you dress whatever way you want to attract the girl you want... If you're a goth, you dress goth to attract goth girls... Etc.

In this book it teaches you one dress style, and that's the style of Daniel only...it does have basicl tips on style. But you don't really need them... I've seen people dress in all kinds and still get hot girls, it doesn't matter...

One tip suggests not to listen to your girlfriends advice because it doesn't work... Wel in that case why is the book titled. What GIRLS want men to wear, if listening to your gf or kezia for that matter is wrong?
3 of 3 people found the following review helpful
"dont take this advice... EVER"
Ease of Implementation
1.0
Packaging/ Customer Service
1.0
Reviewed by
dont tase me bro
June 08, 2016

having reading through this book, i went onto youtubes where i seen Hayley Quinn do an experiment where she dresses people up in certain ways to get a reaction to girls in the street..

she dressed a man up in styles that reflect what this book tells them to do.. and basiclly, they girls all said he was trying too hard. that he looked like a wannabie millionaire... and its true.. if you take advice from this SHAM of a book, it will come across as a try hard catalogue model that doesnt reflect your own personality at all...

here is the only tip you need... find clothing that fits you.. stick to dark colours and get tighter jeans, skinny or slim... thats it...
1 of 1 people found the following review helpful
"rubbish"
Packaging/ Customer Service
1.0
Reviewed by
walk this way
November 20, 2016


firstly this is an ebook, big red flag already.
second, it's by kezia, another red flag.
thirdly the advice won't help here, here's why.

before this book even came out, i was dressing as a high value player, i have the look, im smart, and wear blazers when i'm out. I know i look good, but the girls don't give a shit. no one looks at me, no one cares, thats because im short, and ugly...

then i know some other guy, some meathead, who ONLY, dressed in cheap tracksuit clothing, and he has a sexy girlfriend, not once has he ever dressed up... point proven. only he has confidence, he's able to pull using the gift of the gab, even though he is very low value, needy guy, its just the confidence alone that gets the girl...

this advice is usless, it won't help, you need your inner game sorted out first. even then, this book teaches you to dress like a wanabie model, it's not cool, and no sexy, girls wont care.... dress like a badboy, or a CHAV, and it will get you the girls.
View Other Home Study Courses (Books, DVDs, CDs, MP3/ Video)