The Social Domination Blueprint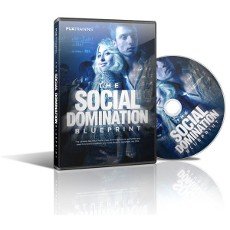 DSR Editor Rating
Product No Longer Available.
Editor Review
3 of 3 people found the following review helpful
"Simple Strategy to Expand Your Social Circle Around the Club Scene"
Ease of Implementation
6.0
Packaging/ Customer Service
6.0
The Good
Simple/ effective strategy, no fluff, inexpensive, great next step once you are comfortable approaching and attracting women in bars/ clubs
The Bad
Be aware that this is not 'advanced' material and will not teach you 'social domination' - it's intermediate level, also take not of how it is billed to avoid surprises.
The Bottom Line
Once you have acquired decent dating skills in the bar and club scene, this is a great next step.
It's simplicity makes it easily implementable and effective at taking your lifestyle to the next level.
The course is great value for money with PUA Training's current inexpensive offer.
FULL DETAILED REVIEW
This program it taught to you via an audio presentation with slides which is just under 30 minutes long. Gambler (Richard La Ruina) runs through the slides, and he also answers questions in comments below the course.
The title of the product is a little misleading, as it sounds like you will learn about all aspects of social domination. A better and more accurate title would have been "Simple Strategy for Expanding Your Social Circle around the Club Scene".
Insights into the Social Dynamics in Clubs and the High-end Club Scene
The strategy Gambler gives you in this product is based on the club scene. It explains how social dynamics in the club scene works and what you need to do to work your way up and expand your social circle into higher levels of the club scene. This means from the less exclusive to the more exclusive clubs and scene.
He quickly explains the importance of social circle to your lifestyle and its benefits over cold approaching, then he identifies the roles that women, promoters and other men in the club will play in the club and how to work with those roles and their situations to befriend people and build a social circle around them.
He doesn't give you an extensive explanation of their roles - instead he keeps it to what is important to focus on for his strategy to work. He lets you know what you have to avoid, and what you have to make sure happens to work towards your goals.
It's a simple and straight forward explanation and will keep you focused on the right things.
Simple and Effective Strategy
What I like about this program is that it is a very simple and straightforward strategy. Too often courses are made complex to substantiate the value they give to you - which paradoxically reduces their value to students because they are not easily implementable.
This is not the case for this course. Ruina keeps it very simple and walks you step by step through a basic strategy that he has used to build and expand his social circle around the club scene.
Who Will this Work for?
This course is most relevant to guys at an intermediate level who can already approach and attract women - in fact that is a requirement to make this strategy work. If you can't already approach, attract and bounce women around a venue then you will struggle to implement this strategy.
It is ideal for a guy who is getting some reasonable success with fairly attractive women and would like to leverage this to improve his overall lifestyle and get access to better club venues, higher quality women and start to work on learning how to leverage the social skills he has acquired to build more value in his life.
I recommend this product as the first stepping stone to moving from a cold approach based game to social circle game. It will get you comfortable with this more strategic approach to improving your dating and relationships lifestyle and open your eyes to wider possibilities.
Not Much Hand Holding for Implementation
Gambler gives you some lines and indications of what to see in some situations that come up as part of the implementation of the strategy - however overall there isn't much detail given to you. You are expected to be able to deal with the details yourself.
As noted above this is fine if you are at an intermediate stage - you should have basic social skills already and be able to do this comfortable. However, if you are the type of person who needs everything spelled out to you in terms of what you should say, how you should act etc. keep in mind this type of detail is not included in this product. If that is you, you should be looking at improving your social skills with other products before buying this one.
Current Offer's Billing and Other Included Products
This program is currently only sold as part of the
Master Pickup University Coaching Club
. You receive Social Domination with several other PUA Training courses when you sign up for the initial price of $4.95. If you stay on the program and do not cancel you will be billed $77 at the end of each month you remain. Check the Master Pickup University link above to see the other courses you will gain access to for that fee.
Not Comprehensive - What's Missing form a Full Social Circle Product
This product does not look at all of the social dynamics that take place and arise once you have built or are developing social circles. For this reason it is not an advanced product - and someone who has already built up a social circle and understands the high end club scene will probably be disappointed in it.
If you are looking to understand and master all of the dynamics of social circles and master your social life and the social circles you take part in or lead the best product on the market is Social Circle Mastery by Love Systems. Take note though - that product is only for the advanced.
The Bottomline
If you like the bar and club scene, this is a short course that is a great way to start off improving your lifestyle with social circle game once
you already have some decent approaching and attracting women skills
.
It's simplicity makes it easily implementable and effective.
The course is great value for money with PUA Training's current inexpensive offer.
Help other users find the most helpful reviews
Was this review helpful to you?
Product Information
This video offers a step-by-step "social domination blueprint" Richard La Ruina (Gambler) has used to build a social lifestyle. NOTE: You can get a copy of this video when you subscribe to PUA Training's The Master Pickup Artist University Coaching Club.
---
Skillsets:
Lifestyle & Social Skills
Learning Format:
Download (Video)
Release Date:
September 01, 2008
Product No Longer Available.
---
Feedback
If you have a question or problem, ask us:
Table of Contents/ List of Topics Covered:
Building a Social Circle
- Role Models
- Male Friends
- Female Friends

Getting Access, Moving Up The Levels
- The Staff
- The Money
- The Girls

---
What You Get:
The Social Domination Blueprint video
---
Guarantee / Terms:
You will need to be a member of PUA Training's The Master Pickup Artist University Coaching Club to get an access to this video. See guarantee details here.
User Reviews of The Social Domination Blueprint
Most Helpful User Reviews
0 of 0 people found the following review helpful
"it's ok, when it's free"
Ease of Implementation
6.0
Packaging/ Customer Service
6.0
Reviewed by
masterofdolls
September 29, 2014

this product comes with when you sign up to MPUAU.
it's a great introduction to the Lifestyle Domination DVDs


watch this and if you liked it and you want to try it, then your next purchase will be them dvds that will go into more detail about it...
Help other users find the most helpful reviews
Was this review helpful to you?
View Other Home Study Courses (Books, DVDs, CDs, MP3/ Video)