The Alpha Playboy Part II: Day Game and Relationship Game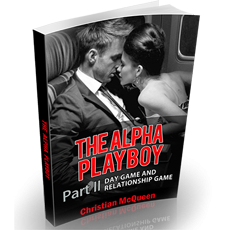 DSR Editor Rating
No Editor Review Available Yet.
Go to Product Site
Product Information
This ebook is the second installment to The Alpha Playboy. It focuses on Daygame and Relationship Game.
The book offers Day Game information on how to approach women in every day common situations, the correct mindset, and approaching techniques. It also includes long-term relationship advice, a relationship time-line guide, and how to manage your relationship.
Some of the areas covered:
- Minimizing cheating worries
- How to keep a woman interested
- Dealing with competition from other men
- Efficiently maintaining her attention and attraction
- How players can have healthy, lasting relationships
Included are bonus excerpt chapters from:
- The Alpha Playboy
- The Night Club Bible
- The Strip Club Bible
- The Players Guide to Text Game
---
Skillsets:
Meeting Women
Relationship Skills
Experience Level(s):
Beginner
Release Date:
April 01, 2014
---
Feedback
If you have a question or problem, ask us:
Table of Contents/ List of Topics Covered:
- Relationship mindset
- The do's and dont's before entering a long-term relationship
- A relationship time-line guideline
- How to tell if a woman is a keeper
- Discipline and punishment
- Tasks and rewards
- What should a playboy do about gifts?
- Creating your 'own' world with your woman
- Getting over oneitis and how to prevent getting it again
- What to do about a woman who has cheated on you
- How to test hery loyalty
- The mistress method
- The differences between infatuation and love
- Developing your mindset for day game
- How to approach women and the challenge
- Using opening lines
- The best way to get a woman's number
- The most effective day game locations
- Transitioning between day game and night game mode
---
What You Get:
eBook

Purchase options include:
- The Alpha Playboy Two $17.97
- The Alpha Playboy 1 & 2 $29.97
- The 5 Book Combo $55.97
---
Guarantee / Terms:
60 Day Money Back Guarantee
User Reviews of The Alpha Playboy Part II: Day Game and Relationship Game
Most Helpful User Reviews
2 of 4 people found the following review helpful
"Emotionally immature and just bad"
Ease of Implementation
4.0
Packaging/ Customer Service
3.0
Reviewed by
Ray
June 06, 2014
This is probably the worst book I've ever read on game. The relationship game is awful, to say the least. There's a difference between being in a dominant position in the relationship and trying to make the 1950s come back. Although I'm no fan of how men are emasculated, there's a difference between being dominant and being tyrannical.

The relationship side of this is, to say the least, unhealthy. Yes, as a man you should have boundaries, but some parts of the book are simply awful. For example, he advises a system of tasks and rewards, in which she performs particular tasks and then is rewarded for them. This system should sound familiar to you because it's basic operant conditioning (Pavlov's Dogs). He suggests that she perform 4 tasks in return for 1 reward.

However, women aren't dogs, and trying to liken them to dogs indicates both a lack of experience in dealing with people's emotions and a fair amount of emotional immaturity. You don't need to punish people for overstepping your boundaries. You need to make it clear that you won't tolerate that behavior. That does not involve physical violence (spanking her, which believe it or not, he recommends) or emotional abuse (preventing her from coming with you to something).

McQueen further recommends that you only see her once a week for the first one to three months. I can appreciate not seeing her too frequently, but like it or not, you need to spend time together to see if you're actually interested in each other beyond sex. The advice to "take her out in public and see how she acts" is just stupid.

The only things I agreed with in the relationship section was the idea of setting boundaries and refusing to deal with a cheater. If she cheats, you're done. No debate there. However, "testing a woman's loyalty" to you by having your friend attempt to seduce her is ridiculous. As long as you're in the dominant role, you'll be fine.

The day game part is equally as bad. McQueen's "Starbucks opener" (he asks "where's a Starbucks around here?") is terrible, as are a lot of his indirect openers. Also, there's no real discussion of what to do. It seems as though his model is "open, make a sexual reference, close." There's no structure to it.

This book has a few good points: 1. It tells you that nobody cares about your day game. This is generally true. 2. It says that you should dump a cheater. 3. It tells you to "give the gift of missing you." That's probably the most important thing there is. If you're constantly clingy and there, she'll lose attraction. You stop becoming her lover or boyfriend and become her gay best friend.

However, all in all, save your money. If you want a mature approach to dating women, look at the Girlfriend Activation System. If you want a good approach to day game, consider Krauser's Daygame Nitro or Daygame.com's Daygame Blueprint or "date against the machine." This book reeks of emotional immaturity and insecurity.
Help other users find the most helpful reviews
Was this review helpful to you?
View Other Home Study Courses (Books, DVDs, CDs, MP3/ Video)