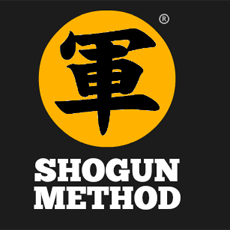 DSR Editor Rating
No Editor Review Available Yet.
Go to Shogun Method
Product Information
Derek Rake offers his Shogun Method seduction system designed to show men how to use mind persuasion techniques to dominate and seduce women. It also shows you how to generate raw, almost animalistic attraction in a woman towards you.
This method is designed to hack into a woman's mind and tap into her 'hot emotions' in order for her to feel immediate attraction for you without consciously thinking about it.
This seduction system is intended to help men:
- Get out of the "friend zone" and become a lover
- Turn a casual friend or co-worker into a devoted lover
- Develop power over women and make them fall in love
- Improve their existing relationship knowing how she thinks and feels
- Expand and explore their dating choices without drama and confusion
- Who are getting back into the game and want to improve their dating skills
- Instantly generate attraction without using lame pickup lines and "openers"
---
Skillsets:
Female Psychology
Attracting Women
Experience Level(s):
Beginner
Learning Format:
Online Access
Release Date:
July 01, 2016
---
Feedback
If you have a question or problem, ask us:
Table of Contents/ List of Topics Covered:
Module 1: Fractionation
Mind Control and extreme persuasion methods to make a woman quickly fall in love, including examples of scripts to immediately on the woman you want to seduce. Also learn how to use Fractionation to control, dominate, and seduce a woman.

- Learn the One Sentence Fractionation
- Locational Fractionation using only body language
- Conversational Fractionation to get great results like the experts
- Five seduction scripts to attract a woman and get her to surrender to you
- Downloadable Companion Guide on the 'Rollercoaster' storytelling technique

Module 2: Three Preconditions
What are the Preconditions and why they are crucial to your success? These Preconditions are important to getting the results that you want with women.

- Being comfortable accepting your true nature as a manipulator
- The Three Preconditions and why they are essential to your success
- Using the "Stealth Mode" so a woman is unable to resist your advances
- Why Mind Control and covert persuasion is extremely effective to seduce women

Module 3: Flaws In The Female Mind
Learn the psychological flaws naturally found inside the female mind in order to manipulate a woman to your benefit.

- The key to ultimate devotion by triggering the right emotions about you
- The "bug" in the female psyche and how to exploit it to dominate a woman
- How to psychologically program a woman to respond to you the way you want
- Female attraction buttons and how to push them to generate intense attraction
- How to avoid pushing the wrong buttons that make a woman find you repulsive

Module 4: The IRAE Model
This 4-stage roadmap is used to seduce a woman from start to finish: Intrigue, Rapport, Attraction, and Enslavement ("IRAE"). It provides a clear vision on what to do and say without feeling overwhelmed.

- The real reasons why guys fail with women
- Learn the IRAE Model diagram (download and print)
- The "Three Core Elements of Influence" to get a woman to fall in love
- Four stages of the model: Intrigue, Rapport, Attraction, and Enslavement
- The Desirability Scale and how to quickly gauge how attractive you are to women
- Mind Control concepts and using them to subtly get a woman to do what you want

Module 5: Intrigue
Generating intrigue to capture a woman's attention.

- Detailed FAQ Section
- The five elements of a good Intrigue Story
- Exploit the female brain so she is intrigued by you
- How to ignite her passions and transfer them to you
- How to exploit her built-in fascination for esoteric beliefs
- Why being ambiguous will automatically increase your desirability
- A mind hack technique that makes a woman eager to talk to you
- A psychological flaw that makes women vulnerable to mind control
- How to expertly capture her attention with a subtle, power technique
- Control a woman's emotions by guiding and influencing her "intuition"
- Shogun Sequences used to invoke desired emotions in a woman
- How to deliver Shogun Sequences like a pro without sounding awkward
- "Hot" and "Cold" female brain modes, and how to keep her in the "Hot" mode
- Developing your own provocative Intrigue Story to capture a woman's attention
- "Multiple Sub Plots" to get her brain in "Hot" mode and captivate her imagination
- Intrigue Ping - the first sentence that you must say when approaching a woman
- How to avoid the biggest mistake from using "Pickup Artist" (PUA) style openers
- Exploiting her inability to tell fantasy from reality, and bring out her hidden needs

Module 6: Rapport
This module provides industrial strength Mind Control rapport building tactics to make a woman submit to you.

- How to detect the smallest signals of attraction
- Mirroring "hacks" to immediately establish rapport
- A tactic to create an automatic desire inside her to pursue you
- How to deepen emotional rapport and boost your desirability
- A system to rapidly and automatically identify if a woman likes you
- Five big rapport mistakes that most guys make, and how to avoid them
- How to make her the "aggressor" by using a set of Mind Control tactics
- How a woman is psychologically designed to "seduce" herself to a man
- How to stop getting rejected for being deceitful, needy, and unauthentic
- The Shogun Method model to go from low rapport to high rapport with a woman
- Using "Mind Control Mirroring" and body language to build subconscious rapport
- The Emptiness Sequence designed to elicit a woman's deepest and darkest needs

Module 7: Attraction
Two techniques to make a woman attracted to you and how to use them in a step-by-step roadmap inside the Attraction Development Model (ADM).

- Establishing rapport first before starting to attract a woman
- Why you must repel a woman to make her fall in love with you
- How to hack into a woman's mind and push her attraction buttons
- The Dream Guy Sequence so she imagines you as her dream guy
- How to make a woman work to develop and maintain rapport with you
- A technique that makes a woman desire and think about you all the time
- How to make a suggestion to your target that gets automatically accepted
- Exploiting the two flaws in the female mind to generate attraction in a woman
- How to make a woman desire you, bypassing her conscious and rational mind
- A Negative Body Language technique that compels a woman to chase after you
- 44 Implanted Commands to attract any woman you see, anytime and anywhere
- How to get a woman to subconsciously believe what you say are her own thoughts
- Short-circuiting her rational mind and appeal to her emotions so she falls in love with you

Module 8: Enslavement
This module is about making a woman stay in love.

- How to isolate a woman emotionally
- Using "Hearsay" to covertly plant ideas in her mind
- A powerful hypnotic patter called The Black Rose Sequence
- 4-step Black Rose Sequence to dominate a woman and make her yours
- How Enslavement techniques can give you the ability to captivate a woman
- Why you should introduce "disasters" in the relationship to make it stronger
- How to get a woman to overly depend on you (at least psychologically) to survive
- "Inoculation" and protecting your woman from being mind-hacked by other guys
- Installing "virtual walls", making it impossible for her to leave you for another man

---
What You Get:
- Access to videos, audios, and study guides (digital, downloadable format)
- Free program upgrades for the next three (3) years

Bonus items include:

- MKDELTA Mastermind
- Derek Rake Insider Labs
- On-on-One coaching and support

---
Guarantee / Terms:
60 Day Money Back Guarantee
User Reviews of Shogun Method
Most Helpful User Reviews
View Other Home Study Courses (Books, DVDs, CDs, MP3/ Video)