Secrets Of Dating Asian Women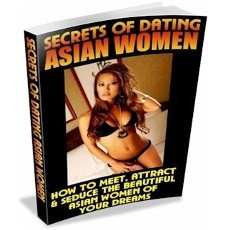 DSR Editor Rating
Go to Product Site
Editor Review
4 of 4 people found the following review helpful
"Good. Clearly Based on a lot of Experience"
Ease of Implementation
6.0
Packaging/ Customer Service
5.0
The Good
Will save any Western guy a lot of frustration: Straightforward, mature, grounded in experience and fairly comprehensive advice.
The Bad
Less advice on Chinese and Korean women, little to no bar/ club scene advice and no "high quality" women advice.
The Bottom Line
If you are involved with or interested in dating Asian women (particularly South East Asians such as Filipina women) this course can save you a lot of time, frustration and potential heartache - I recommend it particularly for beginners to 'avoid pitfalls' when they have little prior knowledge and experience of Asian culture and women.
If you are specifically interested in dating Japanese women, we recommend Japanese Girls - The Guide which provides much more comprehensive advice on dating the Japanese.
FULL DETAILED REVIEW
This is a good course with most of the value in the main eBook (pretty long at 165 pages). I've spent the last 7 years in Asia so am pretty experienced - but I still learned some new tips and insights from the book. And as for the rest of it, Dean Cortez is right on the ball. He has done a good job of putting together a lot of the important stuff.
He obviously writes from a lot of experience because he really gets how you should approach Asian women, and more importantly, what to avoid that Westerners see as normal but can sabotage things with Asian women.
Keep in mind this book relates to women who have grown up in Asia - Western born or raised Asian girls may have some of these characteristics (passed to them from their parents) but overall they act more like Western girls with western values.
So this book is really for men actually visiting Asia and in particular South East Asia and wanting to meet and date local women.
Cultural Differences and their Impact on Dating
The best material in this book concerns the cultural differences in communication, situations you'll come across and in the ways the girls think. This is where it is easy to slip up. Dean does a great job of going through all the areas that will affect your ability to date and have relationships with women.
I had to laugh really because I've been through all of the situations Dean describes (for me in China and Thailand) and remember how confusing it all was at the time. If only this book had existed 7 years ago I could've saved myself a lot of puzzlement as to why my Western dating skills seemed to be backfiring in Asia.
While he talks about all Asian women, most of the attention is placed on Japanese and Filipino women where he seems to have the most experience. These are very different contrasting cultures in themselves lying at extremes of the Asian cultural sphere and as a result he captures Asian women pretty well. I don't want to give you the impression that he doesn't have experience and give advice about other nationalities (clearly not the case), but it is clear that these two nationalities are where he has the deepest experience.
Straightforward Dating Advice
The book provides some easy to follow advice with some examples (not as many as there could have been, but good). It takes you from where to meet women all the way through to dating and escalating to sex.
There are some 'bonus' materials inserted from Love Systems which help to fill you in on key things you should understand if you are new to dating advice.
This is a great approach, some dating coaches spend too much time trying to reinvent the wheel - Dean Cortez has taken the smart approach here by partnering with Love Systems, which allows him to focus on giving the best Asian Women advice.
In particular I loved how straightfowrad Dean kept the advice - it really is a great course for beginners to start with. Not overly complicated.
Keep in mind however that he doesn't address meeting women in bars and clubs much which is a whole other ball game. The course focuses on the easier task of meeting women during the daytime.
Maturity and Wisdom
There are a lot of men who come to Asia to meet women and it's quite sad to see how they flounder. We see it daily. Most of this is because they have the wrong ideas about what they are looking for, and what is possible. Asian women are amazing, but the average foreigner for many reasons I won't go into takes some poor choices (what seem to be shortcuts) and often ends up with a bad experience.
Dean very responsibly walks you through all the relevant topics to help you make 'mature' and rewarding decisions for your dating and relationship life with Asian women. This includes covering what Asian women are looking for, the different goals and ideas they may have depending on their backgrounds, the go-go bar and prostitute scenes and the scams and other things that go on. These sections of the book in itself could save so much heartache and men walking away with very bad experiences.
I know that when we have ideas in our mind about what we want - it can be hard to change those ideas from just reading something. However, if you get this book I urge you to really take on board Dean's advice. It all reflects the reality and you really will get the most out of the experience in the long term if you heed it.
Quick note: I personally would've liked to see more talk of the higher social classes in these countries as the approach can be quite different. Keep in mind that for girls from very good backgrounds (who tend to be wealthy) things will be more challenging than Dean has made it sound - nonetheless the information will all be helpful.
Any Weaknesses?
The weaknesses are minor and for beginners mostly irrelevant.
For longer term relationships with Asian women some of these issues would be really helpful to understand better:
Giving and receiving face. Big no-no situations to avoid and how it can affect your relationship via social pressure coming from outside. Personally I blew up a few long term relationships before really understanding this subject so I know its useful.
Explanations of different situations that come up and what they mean for example. In each culture getting invited to a family or friend's event can be a big deal or not. It depends on the event whether it be national holiday (e.g. Chinese New Year) or a wedding for example.
Another weakness of the course is that it is a little more 'filipino' focused than the other Asian nationalities. There is little to no coverage of Koreans, and the Chinese coverage is weaker also (also please note that India is not included in the coverage - this makes total sense since it is a culture apart and wouldn't fit with the rest).
Boosting these areas in the book up would make it a lot more comprehensive. From my own experiences I know there is other specific advice that would be really useful to anyone dating Chinese or Korean women.
The Bottomline
If you are involved with or interested in dating Asian women (particularly South East Asians) this is a good book to get your bearings. Dating is not the same, and this book does a good job of capturing many potential 'sabotaging' factors that you see foreigners committing every single day in Asia.
It is particularly slanted towards South East Asia, which is where it will come in most useful.
Note: If you are interested in Japan/ Japanese women specifically then this book is much better - Japanese Girls - The Guide.
For South East Asia this book could save you years of stumbling around as you learn, upsetting the women or having them upset you. Until something better comes out for Chinese and Koreans it's your best guide for them also.
Help other users find the most helpful reviews
Was this review helpful to you?
Product Information
"Secrets Of Dating Asian Women" from Simon Heong offers information on how to meet, attract, and seduce Asian women.
It covers the "rules" to follow in situations, including:
- Getting her number
- How to get physical
- What to say on the first phone call
- How to approach a woman and start a conversation
Bonus items include:
- Mind-Blowing Women's Sex Secrets Revealed!
- Confessions Of Asia's #1 Pick-Up Grandmaster
- How To Meet & Start Conversations With Asian Women
- Daygame Mastery: The Easiest Way To Meet & Get QUALITY Women
- M.A.C.K Master's Advanced Persuasion & Conversation Game Techniques
---
Skillsets:
Meeting Women
Attracting Women
Experience Level(s):
Beginner
Release Date:
July 01, 2010
Price:
$67.00 - $97.00
(depending on product format or options purchased)
---
Feedback
If you have a question or problem, ask us:
Table of Contents/ List of Topics Covered:
- What Asian women really want in a man
- Four things Asian women love to talk about
- Correctly touching an Asian woman when first meeting her
- Questions you can ask to build instant connection and rapport
- One-liners and funny one-two games to get Asian woman laughing
- Funny one-liners to make it look like they are the ones picking you up
- How to develop body language skills and habits to make a woman attracted to you
- Words to say after you've approached a woman to ensure continuing the conversation
- Three words to say to any Asian woman when first approaching her to get her interested
- How Asian women like to be approached, teased, talked to, touched, 'played' with, 'handled', etc.
- Why Asian women put certain types of men in the "Friend Zone" and what to do to avoid it
- Big mistakes most guys make when "trying to be funny" with Asian women that turns them off
- Romantic fantasies all women secretly have but are too egoistic and self-conscious to admit to
- How to emotionally connect with Asian women and get them to open up, and feel comfortable

---
What You Get:
eBook
---
Guarantee / Terms:
8 Week Money Back Guarantee
User Reviews of Secrets Of Dating Asian Women
Most Helpful User Reviews
0 of 6 people found the following review helpful
"Terrible product. Very dissapointed."
Ease of Implementation
1.0
Packaging/ Customer Service
2.0
Reviewed by
JohnnyB
October 29, 2012
Help other users find the most helpful reviews
Was this review helpful to you?
View Other Home Study Courses (Books, DVDs, CDs, MP3/ Video)