Japanese Girls - The Guide: Meeting, Dating, and Loving the Most Exotic Girls on Earth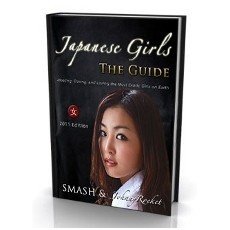 DSR Editor Rating
Product No Longer Available.
See other products and coaching from
Editor Review
6 of 6 people found the following review helpful
"A Must Have for Anyone Interested in Japanese Women"
Ease of Implementation
8.0
Packaging/ Customer Service
10.0
The Good
Excellent cultural education for Japanese dating, highly practical and easy to implement (nearly done for you with templates), mature advice that will help to build relationships
The Bad
Limited perspective on some aspects (high quality women, high end clubs, rapid encounters)
The Bottom Line
If you are going to live in Japan or have just arrived,
this book is a must to have as a reference
. You'll read it more than once.
It's worth buying just for the cultural education aspect.
It will also cut your learning and frustration time with dating down hugely - no matter how experienced you are with dating and attracting women.
Japan is different. This is the best guide we've seen to date on overcoming those differences.
FULL DETAILED REVIEW
I thoroughly enjoyed reading this book. It's well written, cleanly packaged and well thought out.
I'm not an expert with Japanese women, I've only had 4 Japanese girlfriends over the years and spent just a few weeks in Tokyo itself. However, I do know Asia and Asians well, and I feel this is enough to give you a perspective on this book and its value - I recognise and have experienced all of the challenges the authors bring up. They covered most situations that I've come across, with a couple of exceptions that I'll detail below.
Comprehensive Cultural Education
So many aspects of Japanese culture that come into play in social and dating situations are brought into this book. From situations, to communication, to activities - it's all there. Excellent job on there. These guys have deciphered Japan for you - I wish I'd had this book when I was in Tokyo.
This will help you to avoid many 'faux pas' in Japanese culture, which is your biggest concern. It will also enable you to make things smoother, which is something that Japanese women love - and respect - because it makes them feel more comfortable (an essential ingredient in dating).
There is a lot of tiny practical details to this, such as how girls like to communicate via email and phones (sekigaisen). This will allow you to eliminate the 'confusion' and 'misunderstanding' factor that your actions will have with Japanese women, which can easily sabotage a relationship before it gets started.
Practical to the Extreme
This is not some abstract, theorized book. It's steeped in practical steps and suggestions from 'date templates', to example conversations, to detailed stories from first meeting a girl to the end conclusion, to recommended lines to use when you receive typical questions or answers from Japanese girls.
The authors have obviously spent a lot of time thinking about how to make this really implementable - and it is a real success. I'm not sure you could do much more in a book format to make it more easily implementable (audio and video products or a bootcamp can achieve more of course).
At times I wondered if they had actually taken the practicality too far, by going into the detail of exactly how you structure dates - but then I looked back to my beginnings with dating advice and realized how helpful they would be. Following these templates has both 'cultural uses' (ensure that you fit activities within norms so that the girl feels comfortable) and set the logisticis up right for a good conclusion to dates. This takes thought, and here they've taken the thought out for the beginner. Great.
To give you an example, they go into detail of how to use activities such as "Karaoke", Izukaya and so on. They tell you what doesn't work in these places, how long you should spend there, what cultural issues to avoid and so on. It really is a lot of detail. If you like guidance and rules to follow - you'll love this.
The date templates themselves are focused on Japan itself and the typical activities there - so that part will be most useful to you if you are going to Japan for holiday or you live/ are going to live there.
There is quite a bit of Japanese written and verbal words and phrases are given throughout. You'll find this a pretty good language learning assistance guide, as the vocabulary is a lot more relevant than that you learn with standard Japanese language learning books and courses - trust me, I'm a polyglost, I've been there.
Things Missed Out - Limitations of the Perspective of the Authors?
This is a great book - but it's not perfect, take these comments in that light.
Judging by the comments made here and there about money, I'm going to make an assumption that the authors aren't making a lot of money in Tokyo and have a slightly limited social lifestyle. I'm not saying this to be rude, I think it's helpful background to their perspective which seems to be limited on some fronts.
Some of the places that weren't covered were the high end 'underground' clubs, the different styles of the districts in Tokyo, Shibuya and hosts.
For the high end 'underground' clubs are 'hidden' (for the exclusive effect, which I found intriguing), rather expensive, and operate on a different level which I didn't see discussed here. In these places I met the best looking Japanese women, and also the most challenging.
In each district of Tokyo, which I feel deserved more attention as most people will at least pass through there - and is the homeground of the authors - there is a completely different vibe. Roppongi is known for being more Guijin friendly, while Shibuya is a lot more Japanese. They did mention the business districts and their bars - but it sounds like the prices mean that the authors aren't experienced with them.
One of the implications of this, is that if you're the kind of guy who likes high status women, then there is more to learn beyond this book - it is an excellent start - but you'll need a lot more than the suggested practices to attract and date high class women. Part of the reason for this is that the book is 'shallow' on attraction. In reality, this isn't a big deal if you are not aiming for great women, because the advice they give you on it will take you far enough to attract most women - it will leave you still struggling with the higher class / quality women however.
It's a pity the authors didn't explain the whole 'hosts' dynamic in Japan - it is an interesting element, and as they mention is patently observable in Shibuya. There is a good TV documentary on it if you want to google it.
One last observation is that things can move a lot faster naturally than the authors let on. My personal 'limited' experiences and those of some of my travel companions in Japan were meeting girls and going home with them within the hour or them coming straight back to our place days later. I was surprised at how fast things escalate compared to other Asian cultures. And it was all very 'romantic' and natural, which was one of the things I loved about the place. The signs are subtle that this is what the Japanese girl is looking for, and there could have been more detail on this and picking up on it.
So overall, what I'm saying is, this is certainly great for beginners - but it remains too basic for those at an advanced level.
Maturity of the Advice
There is a lot of maturity contained within this book which makes it useful for 'relationships' with Japanese women and not just attracting and dating them 'short term' style.
The knowledge and information is sensitive to their needs, while not being overly indulgent of them - it strikes a pretty good balance on most accounts - certainly very useful for beginners.
The Bottomline
The authors of this book have pulled out all the stops to make this 230 page book really practical. Great work and especially relevant where it comes to a foreign culture where there is a lot more than just dating that you have to deal with (communication, social norms etc.).
If you are going to live in Japan or have just arrived, this book is a must to have as a reference. You'll read it more than once. It's worth buying just for the cultural education aspect. It will also cut your learning and frustration time with dating down hugely - no matter how experienced you are with dating and attracting women. Japan is different. This is the best guide we've seen to date on overcoming those differences.
Help other users find the most helpful reviews
Was this review helpful to you?
Product Information
The "Japanese Girls - The Guide" from the dating coaches SMASH and Johnny Rocket was first launched in November 2009. The second edition was released on December 20, 2010. This ebook teaches men the essential points and pitfalls involved in meeting, dating, and loving Japanese girls.
This manual also addresses:
- The most common mistakes that foreigners make in pursuing Japanese girls
- The things that turn Japanese girls off and the things that turn them on
---
Skillsets:
Female Psychology
Meeting Women
Attracting Women
Experience Level(s):
Beginner
Release Date:
November 01, 2009
Product No Longer Available.
---
Feedback
If you have a question or problem, ask us:
Table of Contents/ List of Topics Covered:
1. The inside track on Japanese Girls
- Japanese girls typified: How to meet and interact with them based on their whereabouts, fashion, and attitude
- Hon'ne and Tatemae - "the true feeling" and "the social façade" and sharpening your instincts to tell the difference
- Popular myths about Japanese girls - and the reality behind them
- Kotoba no ura (the "meaning behind the words"): The Japanese phrases (and their English equivalents)
- Girl talk: What Japanese women really think about foreign guys, and the life of a young, pretty, single girl in Japan
 
2. Your own place in the world of the Japanese girl
- The gaijin novelty factor: how to leverage the novelty factor so you walk out with the girl
- The Japanese Language: Tips on how to level up your language to avoid sounding like a textbook
- Top Ten mistakes foreigners make with Japanese girls every day and how to avoid them

3. Sex and Dating with Japanese Girls
- Places to meet Japanese girls: different social settings in Japan
- The Pattern... and how to break out of it: unlocking from dead-end polite small-talk with Japanese girls
- Dealing with the most difficult questions you'll get asked by Japanese girls
- Japanese Girls and Email/Mobile Communication: learn how to keep her interested via SMS/email
- Templates for great dates: learn how to structure and plan a great date
- Taking it further: how to smoothly cross that line from being "friendly" to "something more"
- In the bedroom: how you can turn yourself into a fantastic lover, for any Japanese girl
- True Stories: Real-life experiences of meeting, dating, and intimacy with a variety of Japanese girls
---
What You Get:
eBook
---
Guarantee / Terms:
30 Day Money Back Guarantee
User Reviews of Japanese Girls - The Guide: Meeting, Dating, and Loving the Most Exotic Girls on Earth
Most Helpful User Reviews
5 of 6 people found the following review helpful
"Detailed and entertaining step-by-step guide"
Ease of Implementation
10.0
Packaging/ Customer Service
10.0
Reviewed by
Turtle90
November 23, 2014
From the very first pages it's easy to grasp the good quality of the content: the book is well written, without any sales pitch, and puts everything in context. It's an entertaining read, including phrase-by-phrase examples in both Japanese and English, that spans beyond the simple pick up techniques to a more comprehensive view on Japanese girls' mind set and expectations.
It's very easy to implement and at some point it reminded me of the Mystery routine based approach, with little "theaters" and pre packaged conversations. Some shared elements are also found with the book of Bobby Rio on conversation escalation but tailored to the Japanese context, with a few different core elements.
I read the 2013 edition, which may have targeted some of the critics of Angel's review, even though I didn't focus much on high-end clubs either (maybe because I share the limited-budget assumed perspective of the authors).
Great value for money, at this price point it costs less than the entrance fee of a club in Shibuya!
If you have doubts before buying it there is an episode on the DSR podcast with the interview of the authors, very entertaining as well!
P.S. Having met Japanese girls both inside and outside Japan I noticed quite a difference in their behavior. As you might expect, Japanese girls living or even just traveling in western countries have a more "western" approach to dating and relationships and things can move significantly faster than the book suggests, as written in the review.
Help other users find the most helpful reviews
Was this review helpful to you?
View Other Home Study Courses (Books, DVDs, CDs, MP3/ Video)