Holistic Sex - Merging The Dirty & The Divine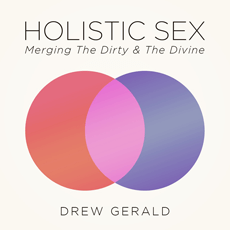 DSR Editor Rating
No Editor Review Available Yet.
Go to Product Site
Product Information
Author, coach, and entrepreneur Drew Geralds offers "Holistic Sex" as a means to enlightenment and pleasurable path to sexual and spiritual fulfillment. It addresses the conflict between our sexuality and spirituality, and the battle between masculine and feminine.
The course helps you resolve these conflicts in order to achieve greater love and sex, gracefully and peacefully. It is about transforming your attitudes, beliefs, and mythologies, and aims to empower you to transform your relationships.
The author believes by merging the dirty, sultry, sexy, and erotic parts of our sexuality with the loving, spiritual, profound, and expansive parts of our sexuality that we can use that energy to grow, heal, and have incredible sex.
Some of the topics include:
- Open yourself to real, authentic, true love
- How to satisfy each other's basic intimate needs
- Develop deeper connections and form stronger bonds
- Achieve the freedom to fully express your desires and kinks
- Discover a path to sexual enlightenment and spiritual fulfillment
- Experience more pleasure, arousal, and achieve orgasms easier
- Master your sex life by learning advanced sexual theories and concepts
Bonus interviews include:
- Destin Gerek: Erotic Rockstar
- Philip McCluskey: Sexual Presence & Health
- Galen Fous: Eros, Dark Sex Mythology, Kink
- Drew Gerald via Shana James: Secrets To Dirty Talk
- Julie Wilson: Libido Enhancers, Organic Sexual Nutrition
- Drew Gerald & Shana James: Artificial Constraints & Time Bondage
---
Skillsets:
Masculine Sexuality & Sexual Skills
Experience Level(s):
Beginner
Learning Format:
Online Access
Release Date:
November 01, 2013
---
Feedback
If you have a question or problem, ask us:
Table of Contents/ List of Topics Covered:
Part 1: Introduction to Holistic Sex
- Why this course was created
- How to increase the satisfaction of your lover
- Five rules to filter ideas around sex and love so they are the best for you
- Seven "motivations" regarding sex to understand your partner's desires and how to connect

Part 2: Our Sexual Conditionings
- Twenty-three false beliefs that are at the core of your suffering
- Your limiting factors and how your insecurities, fears, and guilt developed
- Identifying the dogmas and taboos holding you back from the sex and love

Part 3: Sexual Polarity
- The secret to sexual attraction
- Understanding duality and oneness, and the world around you
- Six major characteristics of each polarity and how to master them
- Examples and real-world application on how to use polarization in bed
- The differences between the masculine and feminine on a meta level
- How to create passion, sexual tension, and explosive, steamy hot sex
- The truth about polarity, and what the masculine and feminine means to you
- Addressing each polarity/gender in order to provide specific insights for your needs
- Dealing with the opposite sex to understand why you have so many communication conflicts

Part 4: Redefining Relationships
- Merging the dirty and the divine, the spiritual and the slutty
- What your partner really needs and wants, and how to give it
- How to harness your explicit sex side with the loving, spiritual, connecting side
- The misconception in how people see relationships and how to increase its quality
- Utilizing paradox to your advantage in order to accept ideas that appear to be in conflict

Part 5: Holistic Approach to Sex
- Why you should bypass foreplay
- A 3-step sequence to unlock female arousal
- "Holding space" and what it means for lovers
- Getting your partner to love pleasuring you
- Satisfying mutual different approaches to sex
- How to protect yourself, in addition to condoms
- How to have great sex instead of fighting over it
- The reason behind the female orgasm epidemic
- Addressing shame, guilt, sadness, or hurt in sex
- Addressing anger, frustration, hate, or violence in sex
- Using loving and explicit dirty talk to create great sex
- Why the smartest, most intelligent men are bad lovers
- How your desire to control everything is ruining your sex life
- How to utilize kinky sexual fantasies to heal and liberate your lover
- The differences between men and women when regarding masturbation
- What to do throughout your relationship so sex does not become obligatory
- What you need to know about sexual pleasure to master pleasure techniques
- Understanding role play to help overcome sexual activity experimenting barriers
- Shedding light on the dark side of your sexuality and how not to feel bad about it

Part 6: Conditioning Clearer
- Common negative emotions regarding sex and our own sexuality
- Beliefs that hold most people back from having incredible sex
- Empowering beliefs to form a solid foundation for moving forward
- 23 minute long video walk-through of how to use one of these methods
- Two powerful techniques to heal and eliminate negative emotions and limiting beliefs

Holistic Sex Workbook
- Introduction and overview of what to expect
- A track listening for each disk and all tracks
- A list of each of the emotions and beliefs for the Conditioning Clearer
- Guides you through the audio course, and provides exercises that expand upon each
---
What You Get:

- 11.4 Hours of course audio
- 60-Page Workbook
- 6 Bonus interviews
- 23-minute Conditioning Clearer HD video
---
Guarantee / Terms:
90 Day Money Back Guarantee
User Reviews of Holistic Sex - Merging The Dirty & The Divine
Most Helpful User Reviews
8 of 8 people found the following review helpful
"Sex advice not just for men"
Ease of Implementation
7.0
Packaging/ Customer Service
10.0
Reviewed by
faithr2416
October 06, 2019
I came across Drew's course by accident while looking for other work by spiritual teachers. While he seems to be focusing on more therapeutic, spiritual concepts currently, what I found here about sex seemed timeless. I found this page while researching it, and wanted to share me two cents.

Even though it seems to be emphasized for men, there was an entire section for women and is very approachable for couples. It has more of a theory and therapeutic slant, and the flawed premises changed my entire view of relationships.

The price seems to have dropped to $147 USD as of 6/10/2019 and no longer includes the extra interviews.

All in all, despite it being published awhile ago, the content remains valid, since it's not tactic-based. The perspectives shared are helpful, yet the workbook really forced me to look inside and face my demons. It's a good thing, but for some who aren't ready can be a challenge. It's not just for men, being a woman I got a lot out of it.
Help other users find the most helpful reviews
Was this review helpful to you?
6 of 6 people found the following review helpful
"One of the few holistic dating and sex advice programs"
Ease of Implementation
8.0
Packaging/ Customer Service
10.0
Reviewed by
amogspirit888
June 03, 2019
I took this course recently, even though it's been out for a while. It has helped me see the limiting beliefs around sexuality and spirituality that isn't ever addressed in most dating courses.

The amount of information and depth provided is massive. It's a huge course. Luckily it's audio, so I could listen to it on my commutes.

The workbook has a lot of exercises that helped make the audios practical.

I found the Holistic Sex course to be more around transformation, healing, and mindset vs tips and ticks and tactics, which seemed substantial. Drew's ideas were innovative and original, and it seemed a fresh take vs rehashed concepts people churn out to make a buck.

The design was beautiful and you could tell the production quality was professional and top notch. No experience with support, so I can't comment on that. However the price has been reduced.

If you want to go deep into inner game stuff with an integration of spirituality, I recommend 'Holistic Sex'.
Help other users find the most helpful reviews
Was this review helpful to you?
View Other Home Study Courses (Books, DVDs, CDs, MP3/ Video)