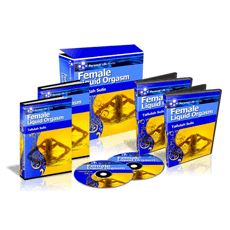 DSR Editor Rating
Go to Female Liquid Orgasm
Editor Review
1 of 1 people found the following review helpful
"Good Resource For Couples To Learn About Female Ejaculation; Might Be Too 'New Age' For Many Men"
Ease of Implementation
6.0
Packaging/ Customer Service
4.0
The Good
Presented in such a way that you would be able to go through it with your partner and learn about this subject together. Contains a lot of detailed information about female ejaculation and how to help your partner have more powerful orgasms. Video demonstrations so you can see the techniques in action.
The Bad
The overall tone of the product might not resonate very well with most men, as it has a strong slant towards new age and eastern philosophies and terminology. Heavily promotes approval seeking behaviour in bed, which could be a huge turn off to some women. The e-book is poorly formatted and generally pretty sluggish to read.
The Bottom Line
If you're not in a committed relationship with a woman, this product won't be your best resource for learning about squirting orgasms. Instead, you'd be better off checking out
Squirting Orgasm Mastery
or
Squirting Mastery 2.0
.
Rather than just teaching you a technique that you 'do' on your partner, it focuses more on exploring her body and communicating to find out what she responds best to sexually. Compared to other products that women might feel uncomfortable watching, this is probably most effective if you learn from it together.
Some of the advice is not the best, so just discard anything that doesn't fit your style. There's also some weird hippy-type stuff in some of the videos, so just do your best to ignore these elements and focus on the bigger picture if you can.
FULL DETAILED REVIEW
Female Liquid Orgasm is authored by Tallulah Sulis, an expert in female ejaculation. She has a background of teaching workshops to men and women separately, as well as to couples. So the perspective she brings is somewhat different from a lot of other products on the same subject, who are taught by and aimed at men in the dating industry.
This product comes from the assumption that you are in a loving relationship with a woman and want to learn some new ways to help her have a more satisfying sexual experience and deepen the bond you share.
So a good thing about this product is it's safe for you to watch with your girlfriend or wife - it doesn't have any references to the pick-up community that you might feel uncomfortable with if she questioned you about. It's also pretty much exclusively based on her pleasure, so it reflects that you are wanting to do this for her, not to stroke your own ego.
Communication Style
The way that Tallulah communicates, I think that a lot of men are going to have a hard time getting into the book. Her communication style is more appropriate for women, and it didn't resonate with me at all. Even though it's only 68 pages, I found it difficult to make my way through it.
I lost count of the number of times she describes everything as 'yummy'. Yummy orgasms, yummy juices, super yummy oral sex etc. And a woman's pussy is constantly referred to as a magical gem, a flower, yoni; her labia as petals and a whole host of other metaphors that just got on my nerves. It's the kind of writing style that women are more likely to respond better to, and seems as if Tallulah hasn't really considered her main audience while writing this.
Aside from the language used, the way it has been formatted doesn't make for the most pleasant reading experience. For example, on the first page of content there is a single paragraph that contains 21 lines. It makes it incredibly difficult to read and absorb the information when it is in large chunks of text like this, compared to breaking it down into more easily digestible paragraphs. This is mainly a problem in the first half of the book, as it gets better after that.
There's also a number of typos in the book, which aren't normally a big deal unless it affects the intended meaning. One of the exercises that is suggested involves placing one of your hands on your partner's pussy and the other on her heart. Except that in the book it says 'your' heart instead of 'her' heart. For people who don't read the book all the way through and see it written again correctly, they'll be doing the exercise completely wrong.
Learning By Reading Versus Seeing
When it comes to learning specific sexual techniques, it can be tough to do from a book. Particularly if you have less sexual experience, you don't have as many reference points to relate the information to.
In this product Tallulah recommends that you read the e-book first, and there are also audio lessons to accompany the corresponding parts in the book. The audio lessons are short, a few minutes each, and cover the same points as in the book.
It would probably be better to go through the book in sections and then watch the video that goes with it. Ideally, there would have been links to the corresponding video placed in the e-book so that you would know when to watch each lesson. Instead, there's actually two different video series and you'll sort of have to figure out for yourself which ones to watch at the right time if you want to stay in tune with the book.
A lot of the techniques such as g-spot stimulation and clitoral stroking are best learned by demonstration, hence why the videos are more effective. There are extreme close ups of the vagina in some of the videos, to help point out the different parts you should be focusing on. Real life people are shown here, so it's a realistic portrayal of how these techniques look in action.
How It Differs From Similar Products
Aside from focusing exclusively on couples, it also has more of a spiritual undertone to it. This is really common when sex is taught from an eastern philosophy or Tantra viewpoint, which is clearly an influence in this product.
Rather than just focusing on the physical techniques, there's a strong emphasis placed on the emotional connection between you and your partner. There's a lot of references to the fact that a woman might start crying or having other extreme emotional reactions as she experiences squirting orgasms, and that you should just accept whatever happens as a normal response.
While some women might cry and release pent up emotions from the experience, I'd say that among the general population this wouldn't be a common response. Whether you choose to focus on trying to explore this deeper emotional aspect of the product is totally up to you and might depend on what kind of relationship you're in.
Some of the techniques are quite intimate and might include a degree of discomfort at first for one or both of you. Things such as using a handheld mirror and together exploring her pussy, and you telling her your favorite parts of it and what different colors you see, might seem like a strange idea. Do what you're both comfortable with and let things just progress naturally. This is an example of why this product is really only for couples, as doing things like this with a girl you don't know well will have her running out of your bedroom.
Other products that teach female ejaculation mainly focus on g-spot stimulation and show you a fairly simple technique using your fingers to do that. This product shows that technique, but also focuses more on clitoral stimulation and how you can combine the two for a blended orgasm. Tallulah explains how some women can ejaculate better from clitoral stimulation, and goes over a number of different things to try that she may respond to.
Aside from manual stimulation, there is also some information on oral sex and different sexual positions you can try that are going to be more effective in stimulating her g-spot. For many women it can be more difficult for them to orgasm from penetration, but for other women it can lead to the most powerful orgasms they've experienced. This is one you can have fun experimenting with and see what works best for her.
Overall this product is probably more detailed in explaining different ways to try to help your partner squirt. Other products, such as Squirting Orgasm Mastery or Squirting Mastery 2.0 give a more extensive overview and better demonstration of the fingering technique to effectively stimulate the g-spot. But this product takes the view that all women are different and won't respond in the same way to one technique, so the focus is more on exploring her body and finding what works for her.
If you follow the advice in this product and communicate with your partner about what techniques she finds most arousing, you should be very successful in helping her experience more intense sexual pleasure.
Potentially Misleading Advice
While Tallulah is well aware that women respond to different approaches physically, she doesn't point out that they also respond to different things psychologically. She makes some of her instructions sound like they are the right way to do things, when in reality this might not be the case.
In keeping with the new-age and eastern type mentality, there's a huge emphasis placed on making sure a woman feels safe and respected, to the point that you are told to ask for permission before pretty much anything you do. So if you're rubbing her pussy, you have to ask for permission before you put a finger inside her. Then ask for permission again to place a second finger in.
There is a need for most women to feel safe when they are having sex, but as she's in a relationship with you it's pretty likely she already feels safe with you. I would say that most women are actually more likely to be turned off if you engage in this type of approval seeking behavior while in bed with her. Most women actually much prefer a man to take charge, lead the sexual experience and do what he wants to do without asking (within reason).
Most women prefer a man who is dominant in bed, and by following all of the advice here to the letter, you risk coming across as the opposite. The focus is on creating security, safety, trust and respect, but misses the point that many women get sexually turned on by danger, spontaneity, risk and being submissive.
So the physical techniques themselves are effective, but for some women if you are too weak and indecisive they won't feel the necessary psychological stimulation to achieve the most powerful orgasms they are capable of having.
It depends on the personality of your woman and the specifics of your relationship as to how suitable this advice is going to be for you. If you're both more into the new-age/spiritual thing then the advice in this product will probably resonate with you better.
There's a couple in some of the videos who are a pretty good example of the typical target audience here. The guy's name is 'PassionHeart' and they both fit the hippy stereotype. The videos here are often overlaid with new-age music, psychedelic images, Hindu drawings and one features a woman masturbating while a poem with lines such as 'needing the Earth to drink me, I pray for her to invent me...' is recited as background music. This type of thing won't suit everyone, so you'll have to determine if it's a good fit for you.
Bonuses
There is a bonus book included that has Tallulah's top recommendations for adult toys you might want to check out. It's a short book and has a brief description of the toy and then a link to Amazon if you want to purchase it or check out the customer ratings.
There's a number of audio interviews included as well. Some are with experts in the field and some are with regular women who are squirters. Pretty much they talk about the benefits of female ejaculation and explain how it can make women feel. These are good if you want to get an insight into how squirting orgasms can empower a woman sexually and hear about it from a woman's point of view.
Blog posts and a members forum are also advertised as a bonus, but these are extremely disappointing. The blog posts are simply advertisements to get you to check out other products or services in the dating industry, and contain no useful content. The forum has a single post on technical support, which I couldn't access as I was prompted for a password that I didn't have. It appears there is no activity at all on the forum.
The Bottom Line
If you're not in a committed relationship with a woman, this product won't be your best resource for learning about squirting orgasms. Instead, you'd be better off checking out
Squirting Orgasm Mastery
or
Squirting Mastery 2.0
.
Rather than just teaching you a technique that you 'do' on your partner, it focuses more on exploring her body and communicating to find out what she responds best to sexually. Compared to other products that women might feel uncomfortable watching, this is probably most effective if you learn from it together.
Some of the advice is not the best, so just discard anything that doesn't fit your style. There's also some weird hippy-type stuff in some of the videos, so just do your best to ignore these elements and focus on the bigger picture if you can.
Help other users find the most helpful reviews
Was this review helpful to you?
Product Information
Tallulah Sulis offers men what they need to know about making a woman squirt in ecstasy in her Female Liquid Orgasm home study course and membership site.
The membership site offers unrestricted downloads of ebooks, audio, video, blog updates, and a private members-only forum.
Some of the areas covered:
- Take a woman's ejaculatory responses to a new level
- How ejaculation makes a woman love her body and builds confidence
- Confidently approaching and introducing idea of female ejaculation
- The correct and confident way to do a stroking session, including a couples stroking exercise
- Getting to the heart of her Yoni, finding her G-Spot and its 2 most highly sensitive parts

- Reasons why women enjoy ejaculation
- Get started with a mind and body check
- Tapping into unlimited sexual potential
- 5 G-Spot stimulation exercises
- Combining some of the 7 different female orgasm types
- Detailed real-life video clips of women ejaculating
- A checklist to prepare for a ejaculatory session
- Audio of the most important sections of the program
- Knowing which of the 4 basic types of female prostates a woman has

- Understanding clit language
- 27 ways to locate a woman's G-Spot
- An exercise to observe a woman's "clit boner"
- Overcoming any shame a woman might be holding onto
- How a woman can generate orgasmic energy through her body
- Why men love squirting orgasms and how to really excite a man
- How to manage healing her G-Spot from sexual trauma or shame
- 4 specific ways for a woman to completely let go for an incredible orgasm

- Answers to workshop questions
- An 11 step guide to Yoni massage
– A sensual genital massage
- 27 slow sex warm up techniques
- Explanation of the Skene's Glands
- A scientific explanation of ejaculation
- What it means to "Hold Space" for your partner
- 24 things to bring a woman's blended orgasm to sensation heights
- 12 intercourse techniques for ejaculating with or on your partner
- 3 squirting options and how to begin your ejaculatory experiences together
- Techniques: shallow thrusting, fwap fwapping, and the man-handle, cum hither with clit-oral

---
Skillsets:
Masculine Sexuality & Sexual Skills
Learning Format:
Online Access
Release Date:
September 01, 2010
---
Feedback
If you have a question or problem, ask us:
Table of Contents/ List of Topics Covered:
Main ebook - Liquid Orgasms Revealed - for enhanced pleasure, healing, and deeper lovemaking

7 step-by-step stroking video sessions of an actual "squirt date"

Squirt Date Video
- Anatomy
- Warm Up
- Clitoral Stroking
- G-Spot Strokes
- Second Finger
- Free Form Squirting
- More Free Form Squirting
- Icon-filmstrip

9 real life demonstration ejaculation videos showing the ways that women squirt

Introduction
- What is Female Ejaculation?
- Awakening the G-Spot
- Why Women Don't Ejaculate
- The Blended Orgasm
- PC Muscles
- Giving Birth To a Squirting Orgasm
- A Beautiful Couple
- Solo Squirt Scene and Conclusion
- Icon-headphones

6 audio tutorials explaining the program and providing encouragement
– The Mind Body Check In
– Her Clit Boner
– Finding Her G-Spot
– The Blended Orgasm
– PC Muscle Exercises
– Putting It All Together

4 sexual experts interviews regarding female ejaculation

A resource guide of the most helpful G-Spot and female ejaculation toys and accessories
---
What You Get:
- eBooks
- Audio
- Video
- Blog updates
---
Guarantee / Terms:
30 Day Money Back Guarantee

Lifetime membership $97 for first month, then $17 per month after that. Cancel anytime.

User Reviews of Female Liquid Orgasm
View Other Online Membership Programs