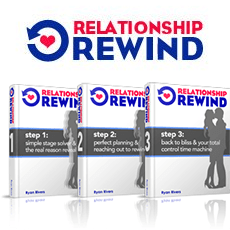 DSR Editor Rating
No Editor Review Available Yet.
Go to Product Site
Product Information
"The 3-Step Relationship Rewind System" teaches you how to get your ex back after she has already dumped you or when your relationship is starting to fail.
The idea behind the product is that it teaches you how to rewind your relationship back to an earlier stage where you both were happier with each other (e.g. when you first met and fell in love).
This course was the second biggest project to come out of DiCarlo Coaching since their extremely popular Pandora's Box System. The Dicarlo Coaching team have been working on Relationship Rewind (RR) since the beginning of 2011. While it was originally launched at the end of 2011 it wasn't released to the general public until late in 2012. Then in 2013 we began to see this course getting more attention from our users.
Note: This course comes with a 30 day trial of eX-Files Care-Coaching when you purchase it. It is a monthly program that will be charged monthly if you decide to continue with it.
---
Skillsets:
Relationship Skills
Release Date:
December 01, 2011
---
Feedback
If you have a question or problem, ask us:
Table of Contents/ List of Topics Covered:
Phase 1 – Learning the Four Stages of Relationship Decay
You will learn in detail about the four stages of relationship decay. You will learn how things change and why during the course of a relationship.

Phase 2 – Three Rules of Rewinding Your Relationship
The second phase of Relationship Rewind teaches you how to actually turn back time with your love. This phase provides the strategy for winning back your ex-wife or ex-girlfriend.

Phase 3 – How to Get Your Ex To Start Calling You Again
The third phase of the program will show you how to get your ex to start calling YOU again.

Phase 4 – 7 Innocent Words That Get Your Ex Missing You Again
The fourth phase provides you with the 7 words that will make her miss you.

Phase 5 – How to Stop Your Divorce or Breakup
This phase is an important one. This phase shows you how to stop a divorce or breakup in its tracks.

Phase 6 – Simple Tricks to Ignite Your Partner's Passion and Desire
The sixth faze will show you a few techniques that will light that fire of passion once again.

The course is organized into 3 steps:

Step 1: Simple Stage Solver & The Real Reason Reveal
- Shows you which phase you are in and have to work on and helps you calibrate the reason for which her feelings have faded.

Step 2: The Perfect Plan & Reaching Out To Rewind
- Gives you a plan of action with what to say and when and how to contact her. With the goal of reestablishing contact easily.

Step 3: Back To Bliss & Your Total Control Time Machine
- This part of the course is where you get things rolling backwards with step by step instructions to follow.

The ClearTruth Technique
This is an additional bonus course. Since ex-relationships often involve some level of deceit, as do 'waning' relationships, this helps you figure out what the exact situation is. This technique inspires her to talk with you intimately and clearly about what is going on with the goal of cutting out any confusion. It encourages her to reveal her real desires and hopes.
---
What You Get:
Access to private online membership area with the video trainings for the course.
You can optionally choose to also receive a DVD copy of the Relationship Rewind video modules (no extra charge, see shopping cart purchase page to enable the option).
---
Guarantee / Terms:
60 Day Money Back Guarantee
User Reviews of Relationship Rewind (RR)
Most Helpful User Reviews
0 of 0 people found the following review helpful
"what we gain to cheaply, we esteem too lightly"
Ease of Implementation
6.0
Packaging/ Customer Service
7.0
Reviewed by
Chad
June 07, 2015
The system, I found, gave sound advice. Unlike all the other advice folk that tell you to stop all contact with your forsaken, this tells you otherwise.

I'm a rather disappointed that a few of the things mentioned in the promo for this system are currently unavailable, and the customer support tell me that there is no date set, for these things to be made available. Otherwise, the customer support is helpful (they "compensated," me for my troubles).

I'd recommend this, if you're feeling bereft, and are willing to actually learn how to take some initiative, and go back and get what's yours. Good Luck
Help other users find the most helpful reviews
Was this review helpful to you?
View Other Home Study Courses (Books, DVDs, CDs, MP3/ Video)