Le Guide du Phone Game et de la drague par SMS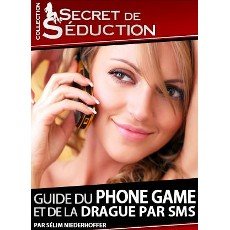 DSR Editor Rating
No Editor Review Available Yet.
Average User Rating
Product No Longer Available.
Product Information
The book discusses techniques in flirting and approaching women. It covers how to attract women as well.
---
Skillsets:
Meeting Women
Attracting Women
Experience Level(s):
Beginner
Expert/ Coach/ Author:
Unknown
Release Date:
February 17, 2004
Product No Longer Available.
---
Feedback
If you have a question or problem, ask us:
Table of Contents/ List of Topics Covered:
Introduction

Chapitre 1 : De La Rencontre a la Prise de Numero
- Pourquoi est-il indispensable de prendre son numéro ?
- Coordonnées ou numéro ?
- Mais que signifie vraiment prendre un numéro ?
- Comment identifier un risque de flake ?
- L'avis des filles
- Comment démasquer un faux-numéro ?
- L'appel immédiat
- Le texto immédiat
- La répétition du numéro
- Comment et quand prendre son numéro ?
- Techniques et phrases toute faites pour prendre son numéro
- Quand prendre son numéro de téléphone ?
- Des règles spécifiques selon le lieu : où prendre son numéro de téléphone ?

Chapitre 2 : Le Premier Contact Par Telephone
- Etat d'esprit et attentes réalistes.
- Quand utiliser son numéro pour la première fois?
- Là, immédiatement, tout de suite !
- En rentrant chez vous
- Dès le lendemain
- L'avis des filles
- Texto ou appel ?
- Comment gérer le premier appel ?
- Gestion du répondeur : que faire si vous tombez sur son répondeur ?
- Laissez-la sur sa faim
- Préparez votre messagerie

Chapitre 3: Les Deux Piliers De La Drague Par SMS
- La private joke et l'humour clin d'œil
- Le mystère

Chapitre 4 : Comment Ameliorer Vos Textos?
- Tennis et texto : la maîtrise de l'échange
- Temps de réponse : la montée au filet ou le jeu de fond de court
- Longueur des messages : variation de votre jeu
- Du bon usage du jeu de rôle
- Le surnom, c'est bon pour la séduction
- La dynamique positive et le cadre
- La tester, la défier
- La qualifier
- Pratiquer l'ouverture !
- Les Erreurs à Eviter
- Le langage sms
- Le tout informatif/logique
- Les réponses instantanées
- La salve vs. l'attentisme
- L'erreur de timing : la nuit
- L'éthylotext
- Le manque de clarté, ou « la ponctuation mystère »

Chapitre 5 : Mon Telephone Est Mon Allie
- Mon téléphone est beau, propre et fonctionnel
- Mon téléphone possède des applis de lover
- Mon téléphone possède des applis pour être sympa et me faire des amis.

Chapitre 6 : Niveau Avance. Le Dark Side Du Phone Game
- Sexualisation des Textos / Sexting
- Les sex-tapes et photos hot
- Le plan cul
- Le texto envoyé à la mauvaise personne
- L'envoi groupé
- La discrétion
- Fourberie ultime : se débarrasser d'une fille grâce à son téléphone

Bonus : 3 Cas Pratiques
- Le Contexte
- Comment je prends le numéro ?
- Autour de quelles infos/jokes bâtir mes textos ?
- Le phone game

Conclusion
---
What You Get:
eBook
---
Guarantee / Terms:
N/A
User Reviews of Le Guide du Phone Game et de la drague par SMS
View Other Home Study Courses (Books, DVDs, CDs, MP3/ Video)
"Listen In As We Share The Top Takeaways From The Best Dating Products Ever Created... Shave Years Off Your Learning Curve As You Discover What Really Creates Success With Women"
Here's just a few things we reveal in this info-packed interview:
The surefire products that are proven to work - based on 15+ years coaching men to dating success.
Why we dubbed this one product 'idiot-proof' and how it can transform a woman's reaction to you almost immediately.
Feel anxious about approaching women? Discover how to bypass that and set up a stream of dates with gorgeous women in as little as 20 minutes a week.
Dating Skills Review has been featured or quoted in: