Carefree Installation System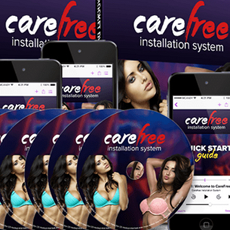 DSR Editor Rating
No Editor Review Available Yet.
Go to Carefree Installation ...
Product Information
This system by Jason Capital shows you how to become carefree. It is intended to help eliminate self-defeating, self-paralyzing behavior towards achieving everything you want in life.
Jason states that his goal is to help you build a sense of being 'self-unaware' instead of being self-aware, which hinders personal happiness.
The system aims to help you eliminate behaviors that are stopping you from being a badass, and that are associated with:
- Competing in life, unless you want to
- Pretending in order to please someone else
- Complying with society's norms, values, and morals
- Feelings of insignificance and comparing yourself to others
- Depressive feelings due to not being liked, loved, or cared about
- Living up to people's expectations and caring about what they think
- Anxiety and inhibition when approaching women due to fear of rejection
The system takes place over 30 days and provides targeted multi-media instruction.
---
Skillsets:
Inner Game & Confidence
Experience Level(s):
Beginner
Learning Format:
Online Access
Release Date:
December 10, 2014
---
Feedback
If you have a question or problem, ask us:
Table of Contents/ List of Topics Covered:
- Living in the moment
- How to relieve negative emotion
- How Zen can transform your life
- Expanding your down time
- How Richard Branson deals with stress
- How to maintain your carefree attitude
- Eliminating stress when it comes to sex
- How to be carefree around hot women
- Eleven carefree core competencies
- Jason's favorite apps for living carefree
- Achieving goals while de-stressing your life
- Being spontaneous in a structured world
- Surrounding yourself with other carefree people
- What carefree guys know that you need to know
- Understanding comfort, control and influence
- How urgency is detrimental to a carefree life
- How to stop beating yourself up over things
- How to take big risks and still be carefree as a kid
- Exercising and maximizing your carefree muscle
- Effectively and calmly detaching from stressful situations
- The importance of daily journaling and how Jason does it
- Convincing others to do the things that do don't like doing
- Communicating with people who want commitment from you
- Why and how carefree guys maintain day-tight schedules
- Getting people to do what you want without bending to their will
- Living without concrete appointments, commitments, or deadlines
- How famous people get so much done while living carefree lifestyles
- Specifically structuring and focusing your week on what and who you love


---
What You Get:
30-Day, 30-module multi-media course
---
Guarantee / Terms:
60 Day Money Back Guarantee
User Reviews of Carefree Installation System
Most Helpful User Reviews
13 of 13 people found the following review helpful
"Excellent Program!"
Ease of Implementation
6.0
Packaging/ Customer Service
9.0
Reviewed by
Faisal
June 30, 2015
Loved the program! It's a 30 day program and each day gets you one day closer to being more carefree. One of the most important things in pickup is to be less reactive than her and this program makes a great attempt to help you understand how to do so. Lot of examples of how to live a life on purpose, to be mindful and what it means to truly be a carefree man. What helped me the most was how he defined happiness - living your values and having control over your destiny (as mentioned Acceptance and Commitment Therapy) and how to apply those principles in your life.

One thing you want to know is that it is an audio program and not a video one like many of Jason's other products. Either way, it oozes values and I highly recommend it.
Help other users find the most helpful reviews
Was this review helpful to you?
12 of 13 people found the following review helpful
"Most Important Program You Will Ever Buy"
Ease of Implementation
8.0
Packaging/ Customer Service
9.0
Reviewed by
Saint
December 10, 2015
BEST program you will ever buy, for the single and most important idea that it guides you into being an individual who doesn't make excuses and removes your anxiety and attachments. You become the guy that actually gets the success, the guy who is "In the moment", free flowing, light, detached, adventurous,
and best of all CAREFREE. You can get any other program or read about how you should stand, walk and talk but MAJORITY of people in our world will not APPLY those concepts. And Jason doesn't MOTIVATE you to take action, he removes your anxiety and attachments, so that you, IF YOU WANT TO TALK TO HER, will do so. And best of all, do so in such a well hung attractive manner, that she is drawn to you, literally like a magnet. You start to stop thinking so much about your success and wasting time studying, and instead start to have fun and unconsciously achieve what you were going for. You become one with how you feel. No stress, no hardship. You get to do whatever you want and free yourself from your thoughts and social expectations. Jason teaches you about happiness and how true happinness is self generated, making you happy 24/7, and I really am greatful becuase without that id assume id be nowhere right now.

Help other users find the most helpful reviews
Was this review helpful to you?
4 of 4 people found the following review helpful
"Enlightenment"
Ease of Implementation
10.0
Packaging/ Customer Service
10.0
Reviewed by
Has
November 17, 2016
I did this program about a year ago completely changed my life. I was always a worry some kid growing afraid of doing things because of the chances of certain outcomes. This program trains you to let go of your desires, outcomes, etc. I was euphoric for a month in a state of happiness like nothing would get to me when I completed the program. Looking from a year from what I was before I'm so glad I took this program. I just recently decided to run through this program again to train and refresh my carefree muscle. If you are the type that stays in your head a lot over analyzing things, you would be out of your mind not to go through this program.
Help other users find the most helpful reviews
Was this review helpful to you?
View Other Home Study Courses (Books, DVDs, CDs, MP3/ Video)