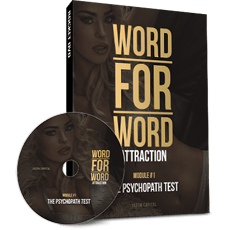 DSR Editor Rating
No Editor Review Available Yet.
Average User Rating
Go to Product Site
Product Information
In "Word For Word Attraction", Jason Capital offers seven word-for-word mind games to create intense attraction and infatuation with a woman in no more than 60 seconds. The mind games are intended for removing the guesswork out of not knowing whether a woman is into you.
This program aims to provide the necessary banter and techniques to have smoother and attracting conversation. It is also designed to help you remove the negative aspects when first talking to a woman.
---
Skillsets:
Attracting Women
Experience Level(s):
Beginner
Learning Format:
Online Access
Release Date:
August 15, 2016
---
Feedback
If you have a question or problem, ask us:
Table of Contents/ List of Topics Covered:
Module 1: The Psychopath Test
- Developing the ammo to banter with a woman all night long
- A riddle for teasing that will have a woman wanting to no more
- Create sexual tension in her mind using high status body language
- A Jason favorite "go-to" mind game to bring a woman into deep thought
- How to keep her asking for the answer to the mind game, and in your control
- How to recognize weird psychopathic tendencies that may arise in conversations

Module 2: The Sex Test
- Teasing the correct way
- Figure out how she feels about sex, within 30 seconds
- Questions that may be the key to getting in between a woman's legs
- Getting a woman to grab you and pull you back to her while walking away
- Figure out how she feels about herself, self image, and how her friends see her
- Creating compliance momentum to get her in agreement with whatever you want

Module 3: The Love Test
- How to perform one of the best HVST routines
- Figuring out if a woman is prone to falling in love
- Ways to tell whether or not a woman is quick to fall out of love
- Understanding how she feels about true love, and playfully tease her about it
- Identify whether a woman is a natural sexual creature versus natural romantic
- Figuring out if a woman is the type that wants to change a man into her perfect guy

Module 4: The 5 Lies Test
- How to use a long-time Jason test
- Why a lie might be your best move of the night
- The best way to get a woman to buy you a drink
- Casanova's rumored test used to use to seduce women
- Getting a woman to think you are a genius on a subconscious level
- How her observation of a 'red' sky will lead to you sleeping with her
- Jason's favorite game to immediately spike seriousness in a woman

Module 5: The Gullible Test
- How to create sexual tension
- How to identify if she is the "play it safe type"
- The tell tale sign that a woman is attracted to you
- Dominantly leading so she is comfortable with you
- How being cocky will intrigue a woman to your favor
- How to challenge a woman the entire night with hands test
- How to tease a woman so you are constantly in her thoughts

Module 6: The Touch Test
- Why most guys fail at complimenting a woman
- Using this test to eliminate physical escalation risks
- A special way to tell a woman she is really interesting
- Ensuring The Touch Test will work 98 percent of the time
- Initiating touch and physically escalating a woman to create mutual trust
- How to get a woman to immediately buy you a drink after you start talking to her

Module 7: The Starfish Test
- How to gauge a woman's sex drive
- Figuring out a woman's favorite sex position
- A 70s psychologist's trick that might get you laid
- Figuring out if a woman is adventurous and good at sex, or boring
- Questions to keep a woman talking about sex, for a slow turn on
- Differentiating a woman from the rest to let you know if she's into you or not
- Using this test to eliminate physical escalation risks to create a bond with a woman

---
What You Get:
Online access to audio files, modules, and transcripts
---
Guarantee / Terms:
60 Day Money Back Guarantee
User Reviews of Word For Word Attraction
View Other Home Study Courses (Books, DVDs, CDs, MP3/ Video)