The Date Younger Women Program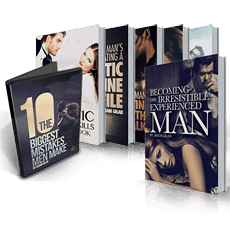 DSR Editor Rating
No Editor Review Available Yet.
Go to The Date Younger Women...
Product Information
This program consists of a collection of e-books designed to help you attract younger women and make them part of your life. The program is targeted to men 30 years and older.
---
Experience Level(s):
Beginner
Release Date:
January 01, 2013
---
Feedback
If you have a question or problem, ask us:
Table of Contents/ List of Topics Covered:
Communication skills such as what to say to make her interested in you, controlling the conversation, and being confident in conversation.

Social attraction skills designed to show you how to make a woman interested in you from first sight.

Creating an online profile which will attract younger women.

How to have effective conversations online with women.

Tips to help you appear irresistible to women.

Tips to help you avoid common mistakes made by men when approaching younger women.
---
What You Get:
7 downloadable e-books which include:
-Magnetic Attraction Skills Action Workbook
-Cutting Through The Small Talk
-Communications Wizardry
-Becoming the Irresistible Experienced Man
-21 Confident Conversation Tactics
-Creating A Magnetic Online Profile
-The 10 Biggest Mistakes Men Make With Younger Women

A 14 day trial of the Boldness 360 Membership Program is included and will cost $65 per month after the 14 day trial period. It can be removed by un-checking the box when ordering.
---
Guarantee / Terms:
If you are not completely satisfied with this product, contact the author for a no questions asked full refund within 60 days.
User Reviews of The Date Younger Women Program
Most Helpful User Reviews
3 of 4 people found the following review helpful
"Seems More Genuine than Most Gurus..very helpful"
Ease of Implementation
9.0
Packaging/ Customer Service
10.0
Reviewed by
Brainbuster
August 04, 2016
I heard some other dating coach cite Adam Gilad as one of the best he's seen,
unfortunately now I don't recall where I heard it (in fact I'm not even certain it was about Adam Gilad, but I think so--I know it wasn't about Adam Lyons).

Anyway, I've started to listen to Dating Younger Women and there's also a Boldness Code hour long webinar in it.

In all of these videos (they are really audios, but they are videos of audios with the narration transcribed with images--which is helpful because a few times I wasn't sure exactly what word he just said, so I could look at the video and there it was written out), there is a lot of helpful wisdom.

However it's a little jarring because it's so different from most PUA stuff.
I think it must work for him though, because he is older and also because he is so congruent.
For example, if Mystery or Jason Capital used some of these lines (Gilad would probably hate to hear them called lines), they would fall flat. They simply couldn't pull them off without being seen as try-hard or insincere.

I would call this a "natural game" sort of product, even though there are tons of specific examples and lines and actions/routines (by routine, I do not mean several paragraphs you memorized and recite to the girl--I just mean something like, if she's talking too much, putting your hand over her mouth and saying, "Wouldn't you rather do something else with that tongue?" then making out with her.

By the way, Gilad is a colorful speaker/writer and I enjoy listening to him,
and he surprises me. I'll give you a couple examples.
Sometimes he sounds genuine, sincere, to be honest, too AFC; talking in flowery language.
But then he'll say something like, "You could almost hear all the vaginas in the room clang shut," or "Why the fuck did I say that?" Or, an actual line he used on a girl to good effect, (after she complained about most men being wussies, basically), "You want a guy with a bigger cock than you."

So I really like how he is not like many PUA gurus who never go near "romantic" talk,
or maybe dip into it just barely. Many of them seem to emphasize being a bad-ass or proving that you're alpha--but it's like, the whole persona.
Adam Gilad, however, seems to be a genuine man who just happens to be able to be brazen and fearless, and not give a shit, but in exactly the right dose.

In other words, I would describe most PUA advice as "How to be alpha as much as possible," like, 90% of the time, be "alpha," challenge her, tease her, etc... the other 10%, mention your grandma.

Adam Gilad, however, has a different formula. His ingredients are more 50/50, or maybe he's just both all the time. He DID mention that when you are being playful, be playful completely. And when you are being sincere, be sincere completely. Do NOT mix the two.

Oh, another bit that I've heard only from Adam Gilad, and it was a shocker to me.
He said that one of the hotties he dated (my words, not his),
literally heard the opener, "Excuse me, I just saw you and I had to come say Hello," around 10 times every single day. It was so frequently that she had her own canned response to it, "No you didn't. [You didn't have to say Hello]."
Adam Gilad has a great variation on this simple opener however, that pretty much guarantees a better response from her and it is slightly more original than the above. His variation also contains in it a bit of a challenge or non-neediness to it. It is, "I saw you there.. and I had to come over to tell you.. I had to tell you that you look adorable, and I know I'd end up regretting it for 5 or 10 minutes if I didn't come say Hello." That's from memory, so I'm sure the wording is a bit different from how he said it. But basically, you add in the--actually, I think Adam Gilad said 15 or 20 minutes--part about the time limit to your regretting it. I think that makes the opener way better.

Honestly I had no idea that hot girls actually get approached that much. I've heard that they do not get approached much because they are so hot and intimidating. But I've also heard that they get approached constantly. Of course, there can be no doubt that everyone TREATS them better overall, every day, and they get free stuff (I've witnessed this). Also, I've hooked up with a handful of stunners, and I recall 3 of them would get "approached" every day, depending on your definition of "approach." One of the girls was a white girl with a big booty but slender. Black guys would call out to her every day, in the grocery store, everywhere. Another was my most recent ex-gf, who is 6'3" (I'm 5'7", btw). She's very tall, blonde, blue eyes, very slender (even skinny). Men and women open conversations with her (not sure whether that counts). Then another, from 2012. She turned heads wherever she went. I remember, even while we were walking TOGETHER out of the grocery store, a black guy approached her and was pretty forward.

Anyway, I suppose the lesson is to stand out. I've heard from other girls whom I had approached directly that nobody had ever approached her like that. Maybe I just haven't been with a 10.

Back to the review of this program.
If you are like me, a wordy kind of guy, then Adam Gilad will probably appeal to you.
He may appeal to you even if you're not.
But most dating products, when they give "good examples" of there strategy,
I usually reword them and find them to be much punchier and better when re-worded.
I'm even talking about something as short and simple as David DeAngelos cocky/funny lines,
or Mystery's stuff. Usually too verbose, as if they were written as opposed to said to a girl (which makes it harder to sound uncanned).


Help other users find the most helpful reviews
Was this review helpful to you?
View Other Home Study Courses (Books, DVDs, CDs, MP3/ Video)