Online Dating Success For Men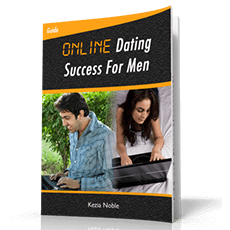 DSR Editor Rating
No Editor Review Available Yet.
Go to Online Dating Success ...
Product Information
Kezia Noble's "Online Dating Success For Men" is a guide to help men transform their online dating profile and increase their success rate with women.
The book offers ways for men to generate more enquiries from women by making the necessary adjustments to their online profile and photos. It also includes steps to increase the chances of turning online messages into phone calls and solid dates.
---
Skillsets:
Attracting Women
Experience Level(s):
Beginner
Release Date:
January 01, 2012
---
Feedback
If you have a question or problem, ask us:
Table of Contents/ List of Topics Covered:
Introduction

Photos
- Main photo
- Posing and angles
- Settings and location
- Photo mistakes
- Photo quality
- Activity and album photos

Profile information
- Your fun activities
- A case study: before and after

Describing yourself
- Generic attributes that fail to make impact
- Giving her an insight
- Past,present and future
- Student case study before and after

Your job
- Impress a woman the correct way
- Student case study before and after

Describe the ideal women
- 3 common mistakes men make

Your message
- When making first contact
- The first message mistakes
- The contents of your first message

When a woman responds
- The time it took her to respond
- How long is her response

Your aim
- Mistakes
- Planning ahead of time
- Bring it all together
- To go after her, or not

---
What You Get:
eBook
---
Guarantee / Terms:
NA
User Reviews of Online Dating Success For Men
Most Helpful User Reviews
2 of 3 people found the following review helpful
"one of the worst products kezia has done"
Ease of Implementation
1.0
Packaging/ Customer Service
1.0
Reviewed by
masterofdolls
July 14, 2016

look, here is the deal... after all of kezas products failed to get me laid, i felt really down and depressed.

i had a ten hook lead conversation with a girl and it led nowhere... i tried to make deep connections with girls, they didnt give a shit...
i tried to make impact by walking around like a gorilla and standing in nightclubs with my phone out, that didnt work... i even learnt about myself so that i truely know myself, but girls dont know that i know myself because they cant read my mind, so it makes NO difference to how they see you.
i even tried her book about how to dress and i dressed up. nothing worked.. so i turned to her online product

LOL.

i followed all the advice here.. i made a clever witty profile that showed up how funny i am, how great i am, and how much i know myself, an di even had a good username just like she suggested. i went to Paris, london, prague, boy i went everywhere to get all the cool photos of all my travels just like it was suggested, there was no badly taken webcam shots in my bedroom on this profile.... i was gonna clean up here, my profile was ready...

i sent out tons of great witty icebreaker messages, there was no way i could lose.... all i had to do was wait.

and wait....


and wait.... erm, somethings not right... yup the girls have read my messages and seen my amazing profile showing how high value i am. wtf, no one is replying... wtf why???? im standing in front of the effiel tower ffs, and im standing by the clock in old town in Prague... im on a boat in Spain, im in a plane flying to Germany, im standing with a celeb, wtf more do you bitches want me to DO?

not one reply...

the other profile shows some CHAV in a tracksuit outside his house with a bottle of beer, but hes over 6 foot, with a shaven head, he has no job, no value, no money, no nothing, but hes able to get these girls...

so let me understand this, someone like me who knows game and has all of kezias products, can not compete with this ugly chav in a tracksuit who has blurry pics of him smoking joints in his bedsit...

i guess the only way to pull is to look like a Jeremy Kyle guest, i best quit my job and get on the dole fast. i also need to knock some teeth out and develop a drug habit... forget my nice clothing from Zara, oh no, im getting a tracksuit, and i best leave my nice apartment over looking the water, i'll need to move into a dirty rundown bedsit in a suburb and make sure im behind on my rent too....
Help other users find the most helpful reviews
Was this review helpful to you?
View Other Home Study Courses (Books, DVDs, CDs, MP3/ Video)