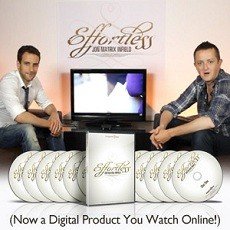 DSR Editor Rating
No Editor Review Available Yet.
Product No Longer Available.
Product Information
Effortless Infield is the first infield product from DayGame.com. This program features infield videos of instructor Jon Matrix approaching women in the streets of New York, London, and Oslo. The exclusive footage shows you how Daygame should be done, and there are in-depth analysis and breakdowns of each video interaction as well.
---
Skillsets:
Meeting Women
Attracting Women
Experience Level(s):
Beginner
Release Date:
August 01, 2012
Product No Longer Available.
---
Feedback
If you have a question or problem, ask us:
Table of Contents/ List of Topics Covered:
The Effortless Infield course focuses on teaching you how to "look natural" and avoid fancy techniques when approaching women.

Some topics taught in the series include:

- How To Stop The Girl In A Relaxed Manner
- How To Keep A Conversation Going In A Cool And Relaxed Way
- How To Close
- How To Challenge Women So You Don't Come Across As Needy
- How To Deal With Groups Of Women
- How To Approach A Woman Who's Talking On The Phone
- How To Approach A Woman Who's Standing Still
- Flirting With Subcommunication and Body Language


Using exclusive footage of Jon Matrix interacting with women, you will learn natural techniques and body language and communication that avoids flashy strategies taught by other instructors. Each interaction is discussed in detail and analyzed both by Executive Bootcamp Instructor Tom Torero, and by Jon himself.
---
What You Get:
The Effortless Infield program can be paid in two monthly installments of $77.00. The product includes:

12 Full-length Infield videos featuring Jon Matrix

Breakdown of each Infield video interaction featuring Jon Matrix and Tom Torero

Free first episode of upcoming product "The Yad Show"

---
Guarantee / Terms:
Effortless Infield comes with a 60-day money-back guarantee. If you are not happy with the program, you can send an e-mail to customer support in order to receive a full refund of the program cost.
User Reviews of Effortless Infield
Most Helpful User Reviews
7 of 9 people found the following review helpful
"Great infield product from "The King of Cool" Jon Matrix"
Ease of Implementation
9.0
Packaging/ Customer Service
9.0
Reviewed by
DaygameBrad
December 03, 2012
Great infield product from "The King of Cool" Jon Matrix
Jon Matrix is one of the main instructors for the Daygame.com street pickup company based in London.
Having attended one of their bootcamps a year ago which started me off on the whole day game lifestyle, i was keen to see what Jon could produce as a product.
And i am very impressed.
So what do you get?
nearly 20 fully downloadable infield pickup clips, with perfect sound and perfect video, filmed mostly in Oxford street London.
So you get to watch Jon up close in action, and this means (take note Love systems) you actually hear everything he is saying, in perfect quality. So there is none of the fake muted pickups sold by other companies. Video and sound is 10/10.
Each pickup comes in 2 forms - infield Raw, just the pickup, and infield discussed, where Jon is with Tom Torero in the studio and breaks down the important bits for you. Perfect, if you want a little instruction, or just want to see the pickup.
I found this product truly inspiring. I was always under the wrong impression that pickup had to be complicated, full of witty lines and flashy techniques. Not so - Jon has a very simple style, which is inspiring to watch. After watching him pickup with very basic verbal skills 15 times or more you will see for yourself how he does it and know that you can do it too. Jon truly unveils his style for you.
A small, small criticism - all of these clips are from street approaches using the Yad stop. Id love to see Jon do pickup a little more in different venues such as cafes, shops etc. If you dont live on Oxford street it might not work in the same way..
Still - a 90% product that honestly exposes Jon's full style so you can watch him and take on his attitudes. The best street pickup product ive seen yet.
Help other users find the most helpful reviews
Was this review helpful to you?
View Other Home Study Courses (Books, DVDs, CDs, MP3/ Video)