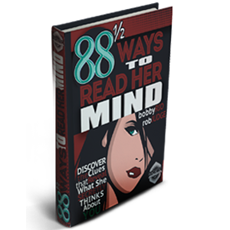 DSR Editor Rating
No Editor Review Available Yet.
Go to 88 Ways To Read Her Mind
Product Information
This manual by Bobby Rio offers 88 techniques to read a woman's mind by using subtle "tests" that reveal what she's thinking, how she responds, and what those responses mean.
The manual is designed to teach you:
- How to quickly size up a woman
- The odds of making her girlfriend
- To determine how likely you are to sleep with her
- How to identify patterns, signals, and give tests that lead her back to your bedroom
Bonus: Secrets Of The Kiss Close
---
Skillsets:
Female Psychology
Experience Level(s):
Beginner
Learning Format:
Online Access
---
Feedback
If you have a question or problem, ask us:
Table of Contents/ List of Topics Covered:
- Three signs that a woman is a teaser
- How to tell if she is faking an orgasm
- How to identify naughty party girls
- Signs she regrets hooking up with you
- Signs a female friend is falling for you
- Methods to get her to confess her true feelings
- Compliments that signal you are in the friend zone
- An innocent text that reveals her feelings about you
- Gut feelings about her you need to pay attention to
- The difference between good weird and bad weird
- A bold kiss that lets you judge a woman's interest level
- The worst thing to do when you are called a player or jerk
- A technique to immediately know how much she's into you
- How to recognize when a women want you to approach them
- Recognizing habits that let you know she's your girlfriend
- A quiz to find out why she goes from hot to cold towards you
- What women are pre-programmed to notice about you
- A silent clue that let's you know a woman is falling in love with you
- Why your hands are your biggest weapon in reading her mind
- A subtle move from a woman that tells you she's uncomfortable
- How to to quickly gauge how sexual a woman is willing to get with you
- A series of questions to discover if she's ready to have sex with you
- A specific touch from her that signals you're going to get lucky later
- A 30 second technique to find out how much chemistry she feels for you
- Why you must act fast when you have her interest, or end up in the friend zone
- Decoding her caresses and what they mean to your chances of having sex with her
- What it means when a woman does not call you back, ignores a text, or is slow to respond
---
What You Get:
Online access
---
Guarantee / Terms:
100% Satisfaction Guarantee
User Reviews of 88 Ways To Read Her Mind
Most Helpful User Reviews
5 of 5 people found the following review helpful
"Very good book"
Ease of Implementation
8.0
Packaging/ Customer Service
6.0
Reviewed by
Michael
June 17, 2015
I am French, so it is more difficult for me to understand UK/US ways since we Latins of Europe and especially French people, behave quite differently in the matter.

However, I found the ebook fairly written (some typos and errors spotted though - check again for more proofreading, dudes!). Content is pretty well laid out and relies on hands-on experience that you can quickly verify IRL. This is a good summary on how to "read" female's minds and I recommend it.



Help other users find the most helpful reviews
Was this review helpful to you?
View Other Home Study Courses (Books, DVDs, CDs, MP3/ Video)