101 Ways To Increase Testosterone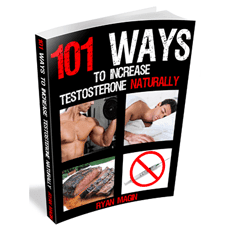 DSR Editor Rating
Go to 101 Ways To Increase T...
Editor Review
0 of 1 people found the following review helpful
"Cheap Product That Has Some Good Suggestions, Not A Complete Program To Boost Testosterone"
Ease of Implementation
6.0
Packaging/ Customer Service
5.0
The Good
Cheap product at only $9. Following much of the advice here will lead to developing healthier nutritional habits.
The Bad
Not a great deal of information, and some of it is factually inaccurate. No real information on training, just links to other products that you'll need to buy if you want to see this advice.
The Bottom Line
This is a pretty short e-book that basically lists a bunch of different ways to improve your testosterone levels. Each idea has about one paragraph devoted to it, so don't expect much detail here.
It exaggerates the testosterone-boosting effects you are likely to experience, and is likely based on insufficient research in parts. If you're looking for an effective way to boost your testosterone levels, backed up by scientific data, we suggest you check out Testosterone I/O.
FULL DETAILED REVIEW
Ryan Magin claims he used to suffer from low testosterone, so wrote this book to show other guys how they can also improve their T levels. The book contains about 25 pages of content, so be aware that there isn't a lot of depth here. But it's also only $9, so for that price you wouldn't expect too much.
Magin looks like he is healthy and in good shape. He does a lot of strength training and appears to follow a pretty healthy diet. It's unclear though to what extent he has improved his testosterone as he doesn't share any data about himself.
It's also unclear what scientific studies he has used to base his recommendations on. It seems likely that he has used whatever information he could find online to justify some of the inclusions in the book, and as a result I think some of the claims here are misleading.
I should also point out that you aren't given any kind of program to follow, more like a list of ingredients to use however you see fit. There's a number of things in here that weren't corrected, and just comes across as poor. One of the recommendations is to eat grapefruit, and instead of information on this it just says 'unable to find anything usable so far'.
And in another instance Magin writes that 'soy increases testosterone almost immediately', when he has meant to say decreases. There are also incorrect figures given for sugar consumption and advice to watch out for 'sneaky sugar' hiding in some products, yet earlier he recommends these same products. These things can easily come across as confusing for people.
Weight Training
Near the beginning of the book you'll see a few links to either products from Magin or others that he recommends. So just be aware that if you're looking for information on exercise and training, you won't find it here. You'd need to purchase the other products to find out what he has to say on this topic.
There is about a page and a half near the end of the book on basic weight training principles, all of which is fairly common knowledge. Some of the advice is good, while some is either confusing or perhaps damaging.
He suggests to keep your workouts to between one and two hours long. If you are training for two hours at a time you are almost certainly overtraining and it could lead to negative effects on your testosterone levels. Once you've been working out for about forty minutes to an hour, your cortisol levels will rise, which puts you into a catabolic state. So for most guys it's generally better to keep your workout to under an hour.
There's also a paragraph where Magin recommends using volume training, and I found what he had to say very confusing. He says to focus on lifting as much weight as possible with as few repetitions as possible. This is actually the opposite of volume training, which involves doing a higher number of reps and sets with a lighter weight than what you could handle if you were only doing fewer reps. Not really sure what he is trying to say here.
Nutrition
The core content of this product is the nutrition principles that Magin recommends. Basically it involves eating fresh, natural foods and staying away from processed and packaged items.
There's a number of different fruits and vegetables that are recommended, as well as meats and animal products. For each of them, Magin touts their testosterone boosting potential, but it's unclear what studies he is basing them on, or to what extent they actually work.
I would suggest that many of the foods listed here have no real noticeable impact on T levels, at least not enough to be of any practical benefit. If only it was as simple as eating some apples and broccoli, however it doesn't quite work just like that.
There isn't any mention of overall calorie consumption, or nutrient timing, or other principles like these that can have a dramatic effect on your hormone levels.
One of the recommendations is to consume 50% of your calories from protein sources. This is an approach taken by a number of people in the health and fitness industry, but is likely too high. From the research shown in a more detailed product, Testosterone I/O, eating this much protein has been shown to have negative effects on T levels. Magin also suggests a low fat diet, where research has shown that higher intakes of fat can boost T levels.
If your goal is specifically to boost testosterone, the guidelines in this book probably won't give you all the best information on the subject of nutrition. But most people would benefit from a general health standpoint of incorporating the foods that are listed here into their diets. Eating more fruits, vegetables, nuts and organic animal products certainly isn't bad advice.
Supplements
There are a number of other recommendations here, including herbs and spices, vitamins and supplements most commonly used by the fitness community.
You're going to be better off doing your own research here into these items and seeing which ones may have some practical benefits for you. The herbs and spices are all straight forward, and are easy enough to incorporate when cooking meals, but are likely to have negligible testosterone benefits. But they are cheap to buy, can improve the flavor of your meals, and can have positive health benefits.
When it comes to vitamin supplementation, there is debate on both sides as to whether this is a good idea or not. It's possible that having high doses of certain vitamins can effect how your body responds to other vitamins, and you can create an imbalance. So it might not be a good idea to blindly take a bunch of supplements without knowing if you are deficient in it.
One thing you can do is get tests done to determine what you are lacking in, and use this to figure out what vitamins and minerals you might want to buy in supplement form. Depending on which ones you buy, this can get a bit expensive, so not point wasting your money on things that you don't actually need.
You'll also see many people suggest using Tribulus Terrestris to help raise T levels, as Magin does here. However research has shown that the only positive effects on T levels from this herbal supplement occur in men who are infertile. So if you're a fertile guy, it will have no noticeable effect on your testosterone. It can have other benefits and may well be worth taking, but just not for the supposed boost to your T levels.
Creatine is another one that is recommended. This is one of the most used supplements in the fitness world, particularly for men looking to add mass to their frames. Research has shown it clearly has a positive effect on muscle mass and power output, however there isn't conclusive evidence that it has any effect on testosterone.
Another thing to keep in mind that it's possible to inflate the findings of a research study to present the facts in a misleading way. For example, a certain supplement may result in an increase in testosterone 20 minutes after taking it, but then after another 20 minutes they return to normal.
So while it's technically accurate that the product increases testosterone, for practical purposes it has no real benefit. The supplement industry is a huge money-maker, and the benefits of many are often exaggerated. Do your own research and determine if something is a good investment for you or not.
What To Do And Not To Do
There are a number of suggestions also on things to avoid that could lower your T levels. All of these are pretty good and generally involve limiting your exposure to potentially harmful chemicals.
The ideas mentioned here will certainly have a positive effect on testosterone, as well as your overall health. Without going into detail on what they all are, you may have to make some lifestyle changes and buy healthier versions of certain items. Some might seem inconvenient at first, but in the long run will be worth it.
Aside from what not to do, there are also suggestions of what you should be doing. Some of these, such as getting more sleep, will seem fairly obvious. And others, such as having morning sex, will be one of the more fun ways to naturally increase your testosterone levels.
The Bottom Line
This is a pretty short e-book that basically lists a bunch of different ways to improve your testosterone levels. Each idea has about one paragraph devoted to it, so don't expect much detail here.
It exaggerates the testosterone-boosting effects you are likely to experience, and is likely based on insufficient research in parts. If you're looking for an effective way to boost your testosterone levels, backed up by scientific data, we suggest you check out Testosterone I/O.
Help other users find the most helpful reviews
Was this review helpful to you?
Product Information
Ryan Magin introduces his manual to help men naturally increase their testosterone. It is designed as a simplified and organized reference guide to learning the most important testosterone building techniques.
The manual includes 101 herbs, spices, foods, and information to help men:
- Minimize hair loss
- Slow the aging process
- Correct erectile dysfunction
- Normalize blood pressure
- Increase energy and libido
- Lose undesirable stomach fat

It addresses the loss of testosterone as men get older, the effects, and what to do about it.
---
Skillsets:
Image, Physique & Style
Experience Level(s):
Beginner
Release Date:
June 01, 2013
---
Feedback
If you have a question or problem, ask us:
Table of Contents/ List of Topics Covered:
- The best muscle building proteins
- 15 safe testosterone boosting supplements
- 10 fruits to gradually boost testosterone levels
- The affects of alcohol on testosterone production
- Sugar could be harming your testosterone levels
- How much sleep is needed for optimal recovery
- The best workouts to maximize testosterone levels
- 9 spices to sustain energy, burn fat, and increase libido
- Household items that may be draining your testosterone levels
- An explanation of grains and if they are counter-productive to building muscle
- 7 vegetables packed with testosterone to increase energy and fat burning power
---
What You Get:
Downloadable PDF
---
Guarantee / Terms:
60 Day Money Back Guarantee
User Reviews of 101 Ways To Increase Testosterone
View Other Home Study Courses (Books, DVDs, CDs, MP3/ Video)