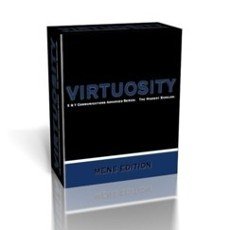 DSR Editor Rating
No Editor Review Available Yet.
Average User Rating
Go to Product Site
Product Information
"Virtuosity" from Scot McKay of X & Y Communications is for men who will not settle for mediocrity when it comes to success with women. This program consists of six components that together comprise a complete toolkit for becoming a man who can identify and attract women, and attain total control over his dating life.
---
Skillsets:
Meeting Women
Attracting Women
Image, Physique & Style
Inner Game & Confidence
Learning Format:
Online Access
Release Date:
August 20, 2007
---
Feedback
If you have a question or problem, ask us:
Table of Contents/ List of Topics Covered:
Targeted Audio and Video Programs:
- Differentiating Novice Skills From Advance Skills
- On Finding Great Women
- On Attracting Great Women (Igniting Femininity)
- On Objectively Qualifying Women (Choosing vs. Chasing)
- On Defining Great Men
- On Becoming A Great Man
- Hidden Detractors From Success
- A Tour Of Dating And Seduction Resources On The Web
- On Self-Esteem vs. Confidence
- Free Yourself From The Need To Impress Women

Co-Hosted Advanced Sessions:
- How To Choose The Right Path To Getting Better With Women
- Dealing With "Games"
- Unleashing Your Charismatic Personality
- How To Please A Woman In The Bedroom
- Female Ejaculation: How To Give Your Woman Ultimate Orgasmic Pleasure
- How To Get Women Interested And Keep Them That Way
- How To Make Her Think About You Constantly: Emotional Management vs. Desperation And Trickery Featuring
- Building Rapport And Escalating Attraction
- Blow Her Away With Amazement: How To Knock A Woman's Socks Off
- How To Make Women Laugh
- Character-Based Pickup And Seduction
- Daytime Game: Meet And Attract Women Everywhere
- Growing Up But Not Old: Why All Women Love What Happens To Men Around Age 30
- Secrets To Success With Women For Men Over 40
- Approaching Women Made Easy
- First Date Mastery: How To Get The Second Date Every Time
- On Exterminating Excuses
- How To Date Tens
- Masculine Wiles: Leverage Your Attraction To Win With Women
- All About Relationship Management
- From Multiple LTRs To Exclusivity
- Any Man's Guide To Dating Celebrities
- The Average Man's Guide To Maximizing His Appearance
- Confessions Of A Touring Musician: How To Leverage Your Natural Talents To Attract Women Like A Rock Star
- On Being A Man Of High Value
- Authenticity
- Combating Guilt And Shame
- Ultimate Body Language And Eye-Contact
- Eliminating The Age Gap: Attract Younger OR Older Women
- How To Ignite Femininity: The Woman's Perspective
- How To Understand Women
- The Dreaded Just Be Friends Zone
- Devastating Style
- The Man's Guide To Understanding And Igniting Femininity
- The Nice Guy vs. The Good Man
- The Alpha Man Vs. The Jerk
- The Truth About Your Weight When It Comes To Success With Women
- The Divorced Man's Guide To A Wildly Successful Dating Life
- Making The Comeback After Divorce
- Understanding Your Rights As A Man
- Dating For Single Dads
- How Important Are Fatherhood Qualities To Women?
---
What You Get:
Virtuosity Program

Bonus Items:
- Never Ever Settle
- E-mail coaching included for 90-days from initial purchase
- 30-minutes of direct 1-on-1 consultation
- Special surprise bonuses
---
Guarantee / Terms:
365 Day Money Back Guarantee
User Reviews of Virtuosity
View Other Online Membership Programs