Ultimate Calling Women & Texting Women System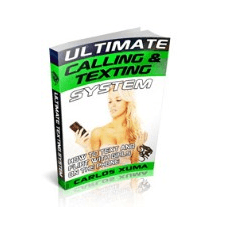 DSR Editor Rating
No Editor Review Available Yet.
Average User Rating
Go to Ultimate Calling Women...
Product Information
The Ultimate Calling Women & Texting Women System is an e-book teaching men different techniques for approaching women, getting their phone number, and calling them back to set up a date.
Written by Carlos Xuma, and based on his real-life experiences flirting over the phone with customers in call centers, the program claims that its different tactics in calling and texting women can improve a man's chance of setting up subsequent dates and even getting a long-term relationship.
---
Skillsets:
Attracting Women
Experience Level(s):
Beginner
Release Date:
August 10, 2010
---
Feedback
If you have a question or problem, ask us:
Table of Contents/ List of Topics Covered:
In the Ultimate Calling Women & Texting Women System, Carlos takes men through the following procedures:

- The big secret to why asking for a phone number ruins your success with women. Then it shows you why TAKING a phone number is much better, and you'll see how to take any number you want

- How to use his "Stalker Objection" Technique to stop women from saying "NO" when you tell them you would like to have their number

- 3 simple, word for word sentences you can use to get a woman's number, every time

- 3 techniques for writing down a woman's phone number that make her feel insanely attracted to you

- 2 powerful tactics that will tell you exactly when to call a woman, and what time of day to call women

- How to know if a woman is too busy to talk

- 1 thing you need to do before calling women that will set you up for an awesome conversation

- Discover the secret of why calling women is like the stock market

- 5 techniques for teasing women on the phone that drive them crazy - with desire

- How to deal with women who flake on you. This takes care of women who never pick up your call - or never call you back after you leave messages, as well as women who keep saying "NO" when you talk about taking them out

- The 5 key parts of any successful phone call.

- The truth about how many times you should call women...

- The technique that gets women to call you the first time after exchanging numbers with them

- 6 phone attraction strategies will make a woman call her BFF (best friend forever) to brag about you

- What to do when a woman calls you. This "Rule of 5" lets her wait - AND creates attraction for you - while you haven't even talked to a woman yet

- 3 KEYS to any successful text message conversation

- When it's better to call a woman and when it's better to text her

- 3 situations that are PERFECT for texting a woman

- How texting women is the doorway to something much greater: "Text Game Online"

- Seven strategies for how to send text messages to women

- The rules of calling women - the confidence mindset that gets dates FOR YOU

- 4 powerful tactics that will get a woman to want to go on a date with you

- How to use your phone to test if a woman is going to show up for a date

- The best technique to get a SECOND date with a woman - and a third date, and a fourth using only phone techniques - cell phone, home phone, business phone

- How to use my "R3 process" to get date after date after date

- How to treat the 3 types of girls on the phone

- The #1 secret to creating a connection with women while talking to them on the phone

- How to use my "storyboarding" technique when texting women to make them want more

- Come up with spontaneously fun and attraction boosting text messages with Carlos's "S3™ Method"
---
What You Get:
- Ebook
- Bonus Video: Extra Conversational Tactics For Calling Women
- Bonus Video: Extra Conversational Tactics For Texting Women

---
Guarantee / Terms:
100% Satisfaction Guarantee
If within the first 30 days of purchasing the e-book you are not able to get 3 "booty calls", contact support and get 100% of your money back, plus get to keep your copy of the program.

Carlos Xuma also has a 365-day double guarantee for this program. If for any reason you are not completely satisfied with The Ultimate Calling & Texting Women System, you can e-mail Carlos and get a full refund, plus keep the product. He also offers to work one-on-one with you on any of the techniques shared in the program, and if it doesn't improve your game, you will get a full refund and keep your copy of the system.
User Reviews of Ultimate Calling Women & Texting Women System
View Other Home Study Courses (Books, DVDs, CDs, MP3/ Video)