The 7 Sexually Addicting Orgasms Program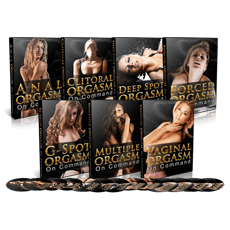 DSR Editor Rating
No Editor Review Available Yet.
Average User Rating
Go to The 7 Sexually Addicti...
Product Information
This program is designed to show a man how to give a woman intense, powerful orgasms so she becomes sexually addicted to you. Presented by porn stars Alexa Aimes and Lexi Love, the program consists of 7 live demonstration orgasm techniques.
Bonus product includes:
- Erogenous Pleasure Zones That Make Your Crave Sex
---
Skillsets:
Masculine Sexuality & Sexual Skills
Experience Level(s):
Beginner
Learning Format:
Online Access
Release Date:
November 01, 2015
---
Feedback
If you have a question or problem, ask us:
Table of Contents/ List of Topics Covered:
Multiple Orgasm On Command
- Ten methods to drive a woman wild with lust
- A technique to give a woman incredible multiple orgasms
- The reason a woman thinks she cannot have multiple orgasms
- A technique to give a woman the best orgasm that she has ever had
- A technique to "chain" a woman's orgasms to make her continuously cum

Clitoral Orgasm on Command
- A clitoral massage technique
- What to do before touching a woman's clit
- Identifying a woman's "instant orgasm button"
- Signs that tell you a woman is being satisfied
- What men do wrong when touching a woman's clit
- What you can learn from how a woman masturbates
- Techniques for giving a woman a powerful clitoral orgasm
- How to bring a woman to an uncontrollable shaking orgasm

Deep Spot Orgasm On Command
- How to make a woman wetter
- The fastest way to hit a woman's deep spot
- How to get a woman turn on as fast as possible
- How to make a woman have and immediate deep spot orgasm
- Whey sex researchers all the deep spot orgasm the easiest to give a woman
- Techniques that stimulates a woman's "secret spot" to induce powerful orgasms

G-Spot Orgasm On Command
- A diagram showing a woman's "hot spots"
- 11 sex positions to easily hit a woman's G-spot
- Techniques to hit a woman's G-spot with accuracy
- A special stimulation that a woman's G-spot responds to
- What to do with a woman's G-spot to make her lust uncontrollably for you
- A biological sign that lets you know you have directly touched a woman's G-spot

Vaginal Orgasm On Command
- How to ignite a frigid woman's sex drive
- Techniques to give a woman a vaginal orgasm
- What a woman needs to have an intense orgasm
- A 2-finger technique to activate an explosive orgasm
- What women want you to know about vaginal orgasms
- Top reasons women find it difficult having vaginal orgasms and how to bypass them

Forced Orgasm On Command
- How to prolong a woman's orgasm
- How non-stop orgasms make a woman sexually devoted
- The fastest way to make a woman orgasm and how to keep it going
- "Orgasm-stacking" methods that keep a woman's orgasm going longer and stronger
- The difference between regular sexual intercourse and sex during a non-stop orgasm

Anal Orgasm On Command
- The best lubricant for anal sex
- How to avoid an anal sex mess
- Best positions for the best anal orgasm
- Techniques to give a woman intense anal orgasms
- Steps to make sure first time anal sex does not hurt
- Turning a woman's fear of anal sex into excitement about her pleasure
- How anal orgasm triggers unique pleasure in a woman's brain that turns her on
- Introducing the topic of anal sex to an uncomfortable partner to spark her curiosity

---
What You Get:
Video series
---
Guarantee / Terms:
60 Day Money Back Guarantee

The optional bonus trial to starts when you hit click the Proceed to Checkout button to purchase The 7 Sexually Addicting Orgasms program. If choosing to continue The World's Best Lover Program after the trial, you will be billed $59.95 per month for four months. Every two weeks you will receive a new sex technique.
User Reviews of The 7 Sexually Addicting Orgasms Program
View Other Home Study Courses (Books, DVDs, CDs, MP3/ Video)