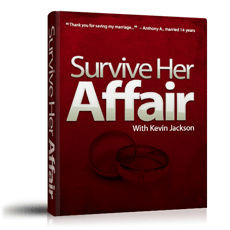 DSR Editor Rating
No Editor Review Available Yet.
Go to Survive Her Affair
Product Information
"Survive Her Affair" was written to help men recover from their wife's cheating affair. It is a guide to dealing and healing from this painful ordeal.
The book is for men that are fed up with heartache and betrayal. It addresses whether a man that has been cheated on should try to save their marriage, or if it is too late. It also helps them to understand their situation in order to try to get back to a well-balanced life.
Bonus:
Audio book MP3 version
---
Skillsets:
Relationship Skills
Experience Level(s):
Beginner
Release Date:
September 01, 2012
---
Feedback
If you have a question or problem, ask us:
Table of Contents/ List of Topics Covered:
- Why women lie about affairs
- How to recognize the lies
- Learn not to be the victim
- Eliminating sexual insecurity
- Facts to give you peace of mind
- The five stages of grief
- The reason why a wife cheats
- How power plays a role in infidelity
- How long is the healing process
- A technique to minimize the pain
- 5 things to protect your kids from an affair
- An explanation of the "good husband trap"
- Knowing whether to stay or leave a marriage
- The factor determining who a wife will cheat with
- Get the right kind of details in order to move on
- How to tell if a cheating wife is telling the truth
- Understanding the "I Can't Live Without Her Syndrome"
- How to transition from being married to being single
- What to do if your wife is still involved the affair
- How common it is for a wife to cheat with someone you know
- The options for confronting the other guy if you know him
- 5 things that can be done to immediately start feeling better
- How to avoid the mistake of not confronting the other guy
- Why men have a harder time dealing with affairs than women
- The societal myth that makes it easier for a wife to cheat
- Handling a lack of remorse or regret from a cheating wife
- Your wife should accept the blame and responsibility for the affair
- How to eliminate the haunting images of your wife with another man
- Your wife should accept the blame and responsibility for the affair
- The 5 phases men go through when finding out their wife cheated
- 2 mental shifts that will allow for a sense of relief from the pain of an affair
- 5 common mistakes that will dissolve hopes of saving your marriage and family
- Whether dating another woman will make your wife interested in saving the marriage


---
What You Get:
eBook
---
Guarantee / Terms:
60 Day Money Back Guarantee
User Reviews of Survive Her Affair
Most Helpful User Reviews
0 of 1 people found the following review helpful
"At last, some hope"
Ease of Implementation
10.0
Packaging/ Customer Service
5.0
Reviewed by
chris
December 10, 2018
I bought this online content a week or so ago. I soon felt a whole lot better when I realised I wasn't going insane as my wife kept trying to tell me. I didn't need my head read, I didn't need a psychologist, and it was normal to feel distraught and have depression and other feelings when your wife tells you she doesn't love you any more and it is not abnormal to not be able to just "get over it" without some assistance and compassion from the person who caused the trauma. I managed to get my wife to read how to help your husband get over your affair- and immediate results. So far (less than a week, but great start) she is trying not to be ultra defensive and has started to stop blame me. It is a work in progress, but I finally feel there is some hope.
Help other users find the most helpful reviews
Was this review helpful to you?
View Other Home Study Courses (Books, DVDs, CDs, MP3/ Video)