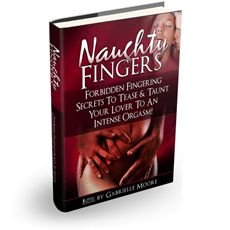 DSR Editor Rating
No Editor Review Available Yet.
Average User Rating
Go to Naughty Fingers
Product Information
"Naughty Fingers" reveals things that satisfies a woman the most in bed. It details the right spots that turn a woman on. It focuses on the art of using fingers for your lover's pleasure and offers fingering techniques to help improve relationships and sex lives.
---
Skillsets:
Masculine Sexuality & Sexual Skills
Experience Level(s):
Beginner
Intermediate
Advanced
Release Date:
July 19, 2011
---
Feedback
If you have a question or problem, ask us:
Table of Contents/ List of Topics Covered:
Introduction : A Helping Hand

Chapter 1 : The Elusive Orgasm
All Or Nothing
- The State Of Orgasm
- How She Comes
- One Way Or Another
On The Fast Track To Nowhere
- Sands Through The Hour Glass
- The Dirty Thirties
- The Fighting Forties
What Women Don't Want
- Fear
- Discontent
- Judgement
- Divorce

Chapter 2 : Riding the Roller Coaster
Foreplay For The Finish Line In 60 Seconds
- It Only Takes A Minute
- You Aren't Just A Lawn Mower
- A Vibrator Can't Cuddle
- Throw Out The Calendar
- Be A Musician, Not A Technician
Testing The Waters
- Treating Desire And Orgasm
- Taking A Dip
- Wet Doesn't Mean Ready
Are We There Yet?
- It's Not Always About Orgasm
- No Pushing
- A Watched Pot Never Boils
- Great Expectations

Chapter 3 : The Upper Hand
Hands, An Introduction
- The Science
- The Math
- The Sport
- The Art
What's There To Say?
- Bad Touch
- Good Touch
- The Magic Touch
A Little Libido Goes A long Way
- Sensual
- Erotic
- Dependent
- Reactive
- Entitled
- Addictive
- Stressed
- Disinterested
- Detached
- Compulsive

Chapter 4 : Demystifying the Female Orgasm
What Is Female Orgasm?
- Rising Desire
- Building Arousal
- Orgasmic Release
Types Of Orgasm
- The Terminal Orgasm
- Refraction And Recovery
- The Plateau
- The Valley
- Look, No Hands!
Multiple Orgasms
- Keep On Coming
- I Think I Can, I Think I Can
- It's All In Your Head
- Treasure Map Of Pleasure
- Tongue-Twisters
- Tease To Please
- Going For Gold
- Squeeze!
- Combo Moves
- The Triple Threat
- Handy Helpers

Chapter 5 : The Body Erotic
Your Body Map
- The Reproductive Cycle
- A Man's Eye View
Hot Spots
- Not So Obvious
- Breasts
- The Mons Pubis (Mons Veneris)
- The Labia
- The Clitoris
- The Urethra
- The Vagina
- The Perineum & Anus
Body Exploration
- Just Breathe
- Head & Shoulders
- Knees & Toes
- Boobs, Bellies & Butts
- Romancing The Pearl
- Opening The Jade Chamber
- Knocking On The Back Door
See Spot Scream!
- A-Spot
- G-Spot
- U-Spot
- X & Y-Spot

Chapter 6 : The Warm Up
Flex Your Fingers
- Pull Your Finger
- Around The Bend
- At Arm's Length
Be A Strong Man
- Squeeze Your Balls
- Go For A Walk
- Wring The Bell
- Doggy Style
Learn Some New Tricks
- One At A Time
- Slight Of Hand
Oh, What A Feeling!
- Needle In A Haystack
- Balloon Animal
- Human Layers

Chapter 7 : Hot on the Outside
Warming Up To It
- Don't Forget To Stretch!
- Tugs Of Love
- Pull Back The Curtain
Getting Warmer
- Cupping The Vulva
- Beat Of The Drum
- Rumble In The Jungle
- Her Easy Button
- The Metronome
- Wax On, Wax Off
- Ring Around The Rosie
- U-Turn
Hot, Hot, Hot!
- U-Turn Again
- Rollie-Pollie
- Heavy Petting
Opening The Floodgates
- The Electric Slide
- The Tick-Tock Clit Clock
- Jack & Jill Knuckle Down
- Turning On

Chapter 8 : Wet on the Inside
The Tao Of The Jade Chamber
- Reflexology And Genital Massage
One (Finger) Or Two
- Pulling You In
- Do The Twist
- Come Hither
- The Bottom Floor
- Wall Stretch
- Stirring The Pot
- Twist & Shout
- Upping The Ante
Three, Four And More
- The Three-Way
- The Pubic Press
- Two-Handed Variations
Fisting For Begginers
- Oil & Lube
- Loosen up
- Stay In The Game
- Thumbing A Ride
- Twister
- When She Comes
Back Door
- Oh, Crap
- Yes, More Stretching
- Baby Steps
- See-Saw
- Teeter Totter
- Passing The Time
- Making An Entrance
- The Waiting Room
- Check The Clock
- Hit The Spot
- The Five-Finger Surprise

Chapter 9 : Taking It All The Way
Touching Me, Touching You
- Show Off
- Take A Break
- Lube Up
Positioning Systems
- Missionary
- From Behind
- She's On Top
- Side By Side
- Standing At Attention

Chapter 10 : Taking The Plunge
Get Ready
- Talk It Out
- Make A Deal
- The Erotic Being
- Sex & Self-Control
- Cleanliness Is Next To Sexiness
Get Set...
- The Routine
- The Playlist
- The Scene
Go!
- Consent
- Decisions
- Lights, Camera, Action!

Chapter 11 : Diving In The Deep End
Choosing A Lubricant
- Oil & Water
- Silicone Valley
- Au Natural
- Hot, Cold And Delicious
The Feedback Loop
- Show & Tell
- Compliments
- Responsiveness
- Stop, Slow, Full Speed Ahead!
All Together Now
- Pre-Foreplay: The Realm Of Desire
- Foreplay: The Art Of Arousal
- Pleasure: Don't Get Too Fancy
- Orgasm: The Grand Finale

Chapter 12 : The Extra Mile
Erotic Massage For Couples
- What's The Point?
- In Position
- Just Breathe
- Rub Just Right
- Hand Over The Reigns
The Reversal
- Hot Hand Jobs
- The P-Spot
Kick-Up The Kink
- BDSM
- Exhibitionism

Coclusion : Don't Stop... Really!
Combo Moves
- Funky Furniture
- Finger Accessories
- Sex Machines
The Student Becomes The Teacher

Bibliography
---
What You Get:
eBook

Bonus: Forbidden Sex Toys Audio Playbook
---
Guarantee / Terms:
60 Day Money Back Guarantee
User Reviews of Naughty Fingers
View Other Home Study Courses (Books, DVDs, CDs, MP3/ Video)