Dating, Relationship and Conversation Skills For Men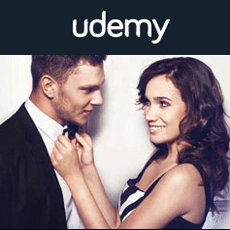 DSR Editor Rating
No Editor Review Available Yet.
Average User Rating
Go to Dating, Relationship a...
Product Information
This course was created to give men the freedom to choose their life partner(s), life style and the confidence to succeed with women and in all aspects of their life.
It includes lectures and relevant "real world" exercises to help you develop the skills, knowledge, and experience in order to approach women in any situation, have continuous conversation, and spark desire.
Some of the areas covered include:
- Texting / phone game
- Eye contact exercises
- Strategies for closing a kiss
- How to build a social circle
- Confidence building tools
- The elements of attraction
- Transitioning, with examples
- Ways to help you persevere
- Many examples of how to open
- How to act on a date, with ideas
- Fashion tips from a celebrity stylist
- Conversation skills for every setting
- Understanding verbal and physical escalation
- Strategies for number closing, with examples
- How to set up an instant date, including ideas
- Understanding the psychology of attraction and relationships
---
Skillsets:
Relationship Skills
Lifestyle & Social Skills
Experience Level(s):
Beginner
Learning Format:
Online Access
Release Date:
February 01, 2015
---
Feedback
If you have a question or problem, ask us:
Table of Contents/ List of Topics Covered:
Section 1: Introduction
- Lecture 1: Introduction
- Lecture 2: Introduction Challenges

Section 2: Opening and Transitioning
- Lecture 3:What Is Opening?
- Lecture 4: How To Start A Conversation
- Lecture 5: Opening Challenges
- Lecture 6: Transition
- Lecture 7: Transition Challenges
- Lecture 8: Progress Check In

Section 3: Keys To Success and Mindset
- Lecture 9: The Element of Time
- Lecture 10: The Element Of Time Challenges
- Lecture 11: Mindset
- Lecture 12: Mindset Challenges
- Lecture 13: Progress Check In

Section 4: How To Think About Interactions
- Lecture 14: A New Definition Of Success
- Lecture 15: Definition Of Success Challenges
- Lecture 16: Acting Congruently
- Lecture 17: Acting Congruently Challenges
- Lecture 18: Authority / Ownership
- Lecture 19: Authorship / Ownership Challenges
- Lecture 20: Authenticity
- Lecture 21: Authenticity Challenges

Section 5: Fashion
- Lecture 22: Fashion
- Lecture 23: Fashion Challenges

Section 6: Confidence
- Lecture 24: Confidence
- Lecture 25: Confidence Challenges
- Lecture 26: Puzzle Piece
- Lecture 27: Puzzle Piece Challenges

Section 7: Conversation Skills
- Lecture 28: Connection
- Lecture 29: Connection Challenges
- Lecture 30: Conversation Skills
- Lecture 31: Conversation Skills Challenges
- Lecture 32: Commonalities
- Lecture 33: Commonalities Challenges

Section 8: Number Closing, Texting and Instant Dates
- Lecture 34: Number Closing and Instant Dates
- Lecture 35: Number Closing and Instant Date Challenges
- Lecture 36: Texting / Phone Game
- Lecture 37: Phone and Texting Game Challenges

Section 9: Dates
- Lecture 38: Dates
- Lecture 39: Date Challenges

Section 10: Escalation
- Lecture 40: Physical Touch
- Lecture 41: Physical Touch Challenges
- Lecture 42: Eye Contact
- Lecture 43: Eye Contact Challenges
- Lecture 44: Eye Contact Practice
- Lecture 45: Isolation / Kiss Close
- Lecture 46: Isolation / Kiss Close Challenges
- Lecture 47: Verbal Escalation
- Lecture 48: Verbal Escalation Challenges
- Lecture 49: Logistics
- Lecture 50: Logistics Challenges

Section 11: Attraction
- Lecture 51: Attraction Principles
- Lecture 52: Attraction Challenges

Section 12: Social Circle
- Lecture 53: Hosting An Event
- Lecture 54: Hosting An Event Challenges
---
What You Get:
54+ lectures and 4.5 hours of video content
---
Guarantee / Terms:
30 Day Money Back Guarantee
User Reviews of Dating, Relationship and Conversation Skills For Men
View Other Home Study Courses (Books, DVDs, CDs, MP3/ Video)