Body Language Mastery for Men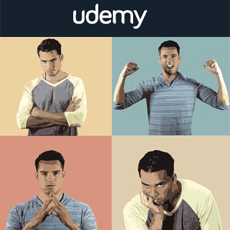 DSR Editor Rating
No Editor Review Available Yet.
Average User Rating
Go to Body Language Mastery ...
Product Information
This 1.5-hour course is designed to teach men everything they need to know about body language to effectively interact with people, especially women. It aims to provide an understanding of the interrelation between body language and attraction, as well as showing men how to send the right signals.
This 3-part course includes:
- Using body language to effectively convey yourself
- Relieving anxiety and boosting your state by modifying your own body language
- Accurately reading female body language
The course also intends to:
- Provide an understanding of why body language is very important for men
- Learn the body language types in order to be seen as confident and attractive
- How to eliminate bad habits and correct troubled body language
---
Skillsets:
Inner Game & Confidence
Experience Level(s):
Beginner
Learning Format:
Online Access
Release Date:
August 01, 2015
---
Feedback
If you have a question or problem, ask us:
Table of Contents/ List of Topics Covered:
Section 1: Introduction to Body Language
- Lecture 1: Introduction
- Lecture 2: How We Communicate
- Lecture 3: Why Body Language Matters
- Lecture 4: Body Language vs. Spoken Language
- Lecture 5: Three Uses of Body Language

Section 2: Using Your Body to Convey Strength, Power, and Confidence
- Lecture 6: Words of Caution
- Lecture 7: Passive Nonverbals & Active Nonverbals
- Lecture 8: Passive Nonverbal Overview
- Lecture 9: Passive Nonverbals: Posture
- Lecture 10: Posture Exercise: Wall Stance
- Lecture 11: Five Exercises to Fix your Posture
- Lecture 12: Moving and Speaking
- Lecture 13: Learn to Speak Slowly
- Lecture 14: Smiling
- Lecture 15: Active Nonverbals: Overview
- Lecture 16: Warm Intent & Physical Intent
- Lecture 17: Active Nonverbals: Warm Intent
- Lecture 18: Eye Contact Exercises
- Lecture 19: Active Nonverbals: Physical Intent

Section 3: Pumping Your Emotional State
- Lecture 20: Pumping your State: Power Poses
- Lecture 21: Power Pose Exercise
- Lecture 22: Pumping your State: Coherent Breathing
- Lecture 23: Pumping your State: Tapping

Section 4: Reading Female Body Language
- Lecture 24: Discerning the True Feelings of Women
- Lecture 25: Female Interest Cues
- Lecture 26: Female Disinterest Cues
- Lecture 27: Direction of the Feet

Section 5: Thank You!
- Lecture 28: Thank You!
---
What You Get:
29 lectures and 1.5 hours of video content
---
Guarantee / Terms:
30 Day Money Back Guarantee
User Reviews of Body Language Mastery for Men
View Other Home Study Courses (Books, DVDs, CDs, MP3/ Video)