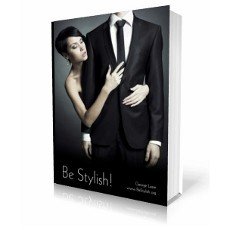 DSR Editor Rating
No Editor Review Available Yet.
Average User Rating
Go to Be Stylish!
Product Information
"Be Stylish!" from image consultant George Lazar provides men with a system on improving ones physical appearance. This product is mainly focused on hygiene, and selecting the right clothes to wear.
Bonus items include:
- Advanced Fat Loss Nutrition
- The 37 Rules of Men's Style
- The Book of Good Manners
- What Women Look At The First Time They See a Man (Report)
---
Skillsets:
Image, Physique & Style
Experience Level(s):
Beginner
Release Date:
July 01, 2009
---
Feedback
If you have a question or problem, ask us:
Table of Contents/ List of Topics Covered:
Module 1: Grooming and Hygiene
- Hair loss prevention tips
- Choosing the right hair style for you
- How to eliminate excessive sweating
- The right cologne for your body type and personality
- A 5-step formula for taking care of your facial skin
- Grooming mistakes that ruin your life's most important events
- How to eliminate pimples and red spots with the right products
- The reasons why 3-blade razors are not good for your skin and what to do instead

Module 2: The Suit
- How to take care of your suits
- Where to find reasonably priced quality suits
- The difference between a quality suit and a complete rip-off
- The textures, colors, fabrics, lapel, and style that best fit you
- The suit to buy that will "fit like a glove" and to your body type

Module 3: The Shirt
- How to look stylish in a t-shirt
- How to choose the right colors to compliment your skin tone
- Deciding which shirt to wear for formal and informal situations

Module 4: Blazers and Jackets
- How to wear a blazer like James Bond
- The type of jacket that suits you (classic, leather, denim, etc.)
- A crucial factor in choosing a jacket, and looking and feeling comfortable
- How to wear a parka

Module 5: Pants and Jeans
- How to dress up denim
- Dressing for the occasion in chinos, kakhis, and cargo pants
- The best quality denim and how to save money by buying durable jeans

Module 6: Shoes and Socks
- How to match socks to your outfit
- How to match shoes with the rest of your outfit
- Coordinating brown shoes with your wardrobe
- When and when not to wear socks with shoes
- How to pick comfortable, stylish, and quality shoes
- The shoes to wear that will have women thinking about you

Module 7: The Overcoat
- Which men's coats make you look "manly" and those to avoid
- Being stylish with overcoats when it's freezing or raining outside

Module 8: Accessories
- How to spice up boring formal wear
- Step-by-step instructions on how to tie a scarf
- The pitfalls to avoid when purchasing a watch
- The bracelets and rings to wear that are sexy
- Choosing the right belt depending on your outfit
- Step-by-step instructions to make the Windsor knot
- How to pick, wear, and coordinate ties with your shirt, suit, and blazer
- Choosing the right pair of sunglasses that compliment the shape of your face, eyebrows and hair style

Module 9: Taking Care of Your Clothes
- Prolonging the life of your clothes
- Salvaging stained suede shoes
- Removing common and dangerous stains

Module 10: Matching Your Outfit
- How to avoid fashion fatal pitfalls
- Wearing a sweater that exhibits your personality
- The secrets behind casual style and putting together stunning outfit combinations

Module 11: Put It All Into Action
- Effective first date style tips
- How to make yourself look taller
- Tips for smart shopping and saving money
- Ways to make yourself look slimmer instantly
- The big mistake guys make during a job interview
- Techniques to get your prospective employer to hire you
- Dressing appropriately for your age without looking like your kid self from the past

Module 12: Inspirational Style Icons
- Special bonus chapter revealing celebrity style icons that know how to dress really well
---
What You Get:
eBook
---
Guarantee / Terms:
60 Day Money Back Guarantee
User Reviews of Be Stylish!
View Other Home Study Courses (Books, DVDs, CDs, MP3/ Video)