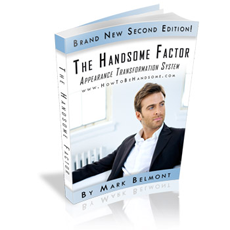 DSR Editor Rating
No Editor Review Available Yet.
Average User Rating
Go to The Handsome Factor
Product Information
This is a step-by-step guide to looking great. This system begins with the best-selling book that one expert called the "appearance transformation bible".
Bonus items include:
- The "No-Fail Body Makeover Package"
- The Body Transformation Tracker Software
- 10 Laws of Sexual Attraction
---
Skillsets:
Image, Physique & Style
Experience Level(s):
Beginner
Release Date:
January 01, 2009
---
Feedback
If you have a question or problem, ask us:
Table of Contents/ List of Topics Covered:
- Mastering the perfect shave
- How to cure bad breath
- How to choose deodorant
- Foods you should avoid
- The secret to preventing acne
- Hairstyle tips and hairstyles to avoid at all cost
- Learn to wear clothing that hides body flaws
- What women really think about chest and back hair
- How to make yourself look like a fitness model
- Which skin care products you must own and use
- A check list of 5 things before leaving the house
- How you can get perfectly straight teeth without braces
- What to take into account when choosing a hair style
- Learn how you can lose weight while eating the foods you want
- How being overweight works against you and creates prejudices
- A way to safely and quickly remove moles and birth marks
- Why almost every product that claims to "whiten" your teeth is a scam
- How to go shopping and buy great-looking clothes without going broke
- Why women subconsciously avoid men who don't have perfect hygiene
- Ways for smokers to mask the scent and hide your habit from strangers
- Ten rules of fashion that you must not break if you are serious about attractive looks
- Why your hairdresser might be preventing you from looking good, and replacing them
- The type of skin you have and how it can make a difference in the way you view skin care
- Why poor hygiene habits have a profound impact on your interaction with other people
- A key factors that separates inherently beautiful people from their less attractive counterparts
- How an inexpensive product will change the way you view grooming, facial hair, and save you time
- The secret behind Ron Jeremy's success and improving your sex appeal by using a hair trimmer
- How you can lose weight, add muscle, and feel healthier with a weight training program
- Assemble a quality wardrobe with step-by-step techniques to shopping, fitting, and wearing clothes
- Natural, homeopathic methods of improving your complexion and skin tone

---
What You Get:
- eBook
- Grooming & Style Mistakes audio course
- Email coaching

---
Guarantee / Terms:
60 Day Money Back Guarantee

$1 initial trial payment, followed by a future payment of $47.
User Reviews of The Handsome Factor
View Other Home Study Courses (Books, DVDs, CDs, MP3/ Video)